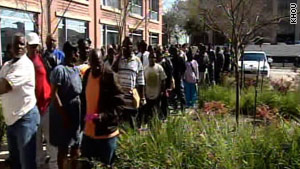 Applicants line up at a job fair for ex-cons in Houston, Texas.
STORY HIGHLIGHTS
More than 3,000 people stood in line in Houston for a job fair designed for convicted felons
Sponsor: They came out "because they want to be productive members of society"
Organizers, employer says people deserve a second chance and society benefits
Job seeker hopes people will think less about his past and more about what he can do now
(CNN) -- More than 3,000 people turned out in downtown Houston, Texas, Wednesday for a job fair designed for convicted felons.
Organizers of the Road to Re-entry Employment Fair, created to help those with criminal records find work and reintegrate into society, had expected a few hundred job people. The line of job seekers, which ran for a few blocks and tied up traffic, as reported by CNN affiliate KHOU, took the planners by surprise.
"These were not individuals trying to get concert tickets or a free dinner," said Jarvis Johnson, a Houston City Council member who helped sponsor the inaugural event. "They were individuals who were waiting in line because they want to be productive members of society."
Lavell Byrd was just one of the people who came out in search of work. He told KHOU that he hadn't had a full-time position since December.
"I'm an ex-con, and that's the main thing that's holding me back," Byrd said to KHOU. "It's a very, very, very hard thing that people still look at what you did in the past and not what you can do in the future."

Video: Stimulus funds felons job fair
Giving people like Byrd a chance to succeed and be a productive part of the work force is in the interest of all of us, said council member Johnson. If ex-criminals can't find jobs, they're more likely to land back in prison, he said.
"They made a mistake, but they've paid their debt to society," he said. "At the end of the day, we are all going to pay if we don't open the doors of opportunity -- whether we become the victims [of future crimes] or we have to use our tax dollars to imprison them."
And according to the Road to Re-Entry Web site, there are incentives in place to make hiring ex-offenders more appealing to employers. For one, the Federal Work Opportunity Tax Credit gives tax credits to those who open their doors to those with criminal records.
Only about 35 to 40 positions were available at Wednesday's job fair, said Jaa St. Julien of St. Julien Communications Group, a marketing and public relations firm that was one of the coordinating organizations.
One of the vendors offering positions was Certified Traffic & Flagger Solutions of Texas. Don Jones, the president and general manager, told KHOU "I'm a second-chance company. I believe that anybody, once they've been incarcerated ... we need to give them a second chance."
St. Julien said the overwhelming turnout of job seekers illustrated the need for more employers to step up. He also emphasized that background information on prospective employees is readily available, employers can be selective and that, as his experience shows, ex-felons -- whom he described as "very hungry" -- can be great hires.
He has worked closely with programs in Houston that provide job training and transitional support for convicted felons. He said graduates of the Professional Sales Institute of Houston have gone on to be some of the top salesmen in their companies.
After Wednesday's success, organizers said they are already planning a follow-up.