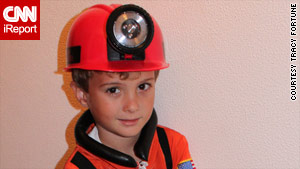 Tracy Fortune says her 6-year-old son, a space aficionado, acted out the rescues in the living room.
STORY HIGHLIGHTS
Most parents don't let their kids watch bad news
Parents, children worldwide watched miners being rescued
Expert: Life lessons to be learned from this feel-good story
(CNN) -- With all the bad news being reported in the world, many parents steer clear of letting their young children watch the news.
But parents recognized a rare opportunity this week as news outlets broadcast nonstop coverage of the dramatic rescues of the 33 Chilean miners. They invited their young ones to clamber on the couch and watch the feel-good news story as a family.
Kathie Collins of Modesto, California, called for her 3-year-old daughter, Addison, to come watch as Claudio Acuna Cortes, the 26th miner, was brought to the surface. The miner's 2-year-old daughter was crying, waiting to see her father.
"See that little girl? She has not seen her daddy for long time," Collins explained to her daughter. "Could you imagine not seeing your daddy for a long time?"
Her daughter said the girl on the TV looked sad. She then asked for some paper and coloring materials and came back with a red-marker stick drawing of the miner and his daughter. The little girl was crying in the drawing, she told her mother, because she was happy her dad had been saved. Kathie held it in amazement and placed it on the bookshelf, writing 'Miner #26' on the back.
See Addison's drawing of the miner's reunion

Video: World riveted by mine rescue

Video: Families celebrate as miners surface
"For the most part, it's not recommended that parents have kids watch news with them because there's so much bad news out there," said child psychologist Dawn Huebner, who has a private practice in Exeter, New Hampshire. "The visual images are so powerful for the kids. They stick more than just hearing it."
Huebner feels differently about the story of the miners, saying it's a "great idea" for parents to discuss the successful rescues, but they need to be careful about how they broach the subject. Hearing about how things can go wrong can often scare children, she said.
Kids can learn a few life lessons from what they saw on TV, she said.
The trapped miners held onto hope and helped each other survive for more than two months. Everyone involved in the rescue worked hard, never gave up and got resourceful with how to send down supplies. Families and friends of the miners and the whole world watched, channeling hope and support to the people affected.
Huebner says good news worth sharing with children is hard to come by. Another recent example could be Capt. Chesley "Sully" Sullenberger's emergency plane landing on the Hudson River in January 2009.
"It's nice for kids to see that they're part of a broader community and that community can pull together in a positive way," she said.
iReporters and their children celebrated as the miners came to the surface and rushed into the arms of their joyous family members. People from multiple continents shared images of their children reacting to the experience, both in English and Spanish.
In Madrid, Spain, 3-year-old Inés Castillo Pike was curious why her parents were glued to the TV. Her mother, Natasha, used a paper towel roll with a Prince Charming toy inside to explain the rescue process.
"We decided to make the connection to the miners in 'Snow White and the Seven Dwarfs,' " Pike said. "We explained how the miners were really, really far underground, and then we proceeded to explain to her what they were doing to get them up because there was an accident."
The impromptu learning experience came up as the family was watching the rescue over breakfast. Pike, a teacher, looked around the kitchen for anything that was handy to illustrate the situation. Prince Charming fit right into the tube. Voila, the familiar object became a visual learning display.
Inés learns how the rescue works
Tracy Fortune of Virginia Beach, Virginia, got a kick out of watching the coverage with her 6-year-old son, who was home sick for the day. Once he started feeling better, the young space aficionado pulled on his astronaut costume rigged to be a miner. He started acting out the rescues in the living room.
Fortune's son dresses up for the rescue
"He lets me know how many guys are left to be rescued," she said. "He doesn't understand the concept of how deep they are because he wants to know why it takes so long."
When the second miner, Mario Sepulveda Espinace, reached the surface, Fortune's son liked that he was known as "Super Mario." Her son is a big fan of Mario and Luigi from the Nintendo video games.
Fortune says her son watches other big news events too, mostly shuttle launches. He dresses up and acts those out as well as using his toy shuttles.
When Miguel Truzman of Fort Mill, South Carolina, came home from work on Wednesday, he heard his daughter, Danielle, yelling along with the miners and rescuers. "Chi Chi Chi le le le los mineros de Chile," the 2-year-old chanted repeatedly.
Watch Danielle chant with the rescuers
Danielle had been listening to the coverage while playing, and her mother was working from home. It only took a few hours before she memorized the heroic chant.
Every time a capsule reached the surface and applause erupted from the television, Danielle clapped with them.
Truzman, speaking in Spanish, says it was a joy to watch Danielle captivated by the event.
"She would get close to the TV and jump around with excitement as if she understood what was going on," he said. "I don't think she understands how serious this event is, but she was sharing our excitement as well as the people on TV."
FOLLOW THIS TOPIC