The magic touch that makes a great teacher
Join the conversation
CNN iReport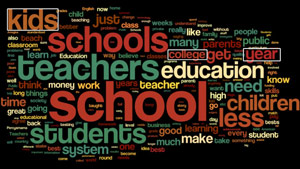 (CNN) -- In the third grade, the worst thing you could tell me was that my cat had been taken down from the board. What did that mean?
It meant I had lost my shot at an ice cream-fueled joyride through town in Ms. Bolduc's Camaro, a year-end honor bestowed on the student(s) who successfully navigated the school year without a single admonishment.
(Secret: A crude joke at the expense of the Venus de Milo blew my shot.)
What makes Ms. Bolduc different from the dozens of other teachers who occupied my earlier years? Well, her obsession with cats, mostly. But it was just that eccentricity that made class fun, something that's important to an 8-year-old.
More than entertaining, Ms. Bolduc's class in Winslow, Maine, provided me with a creative outlet. I liked building (and destroying) things back then. I liked her and her class so much that I skillfully and artistically crafted a gift for her: wooden re-creations of my two ... you guessed it, cats.
Do you remember your favorite teacher? What made him or her stand out in your memory? America is facing an unprecedented crisis in education, and all this week, we're exploring possible solutions.
So today, we are asking you one simple question: What makes a great teacher?
Share your answers in the comments section below and watch CNN today between 10 and 11 a.m. ET, and I'll discuss your responses on air.