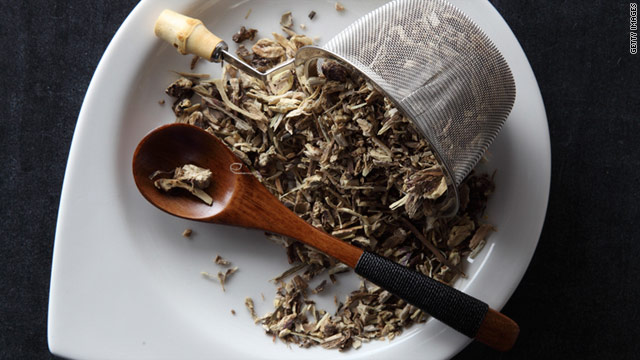 STORY HIGHLIGHTS
Study: Echinacea pills not measurably better than placebo at speeding recovery time
Studies in past have also shown that the herb has no discernible impact on colds
But doctors aren't ready to discourage patients from taking echinacea quite yet
(Health.com) -- People who swear by the cold-fighting properties of echinacea may want to skip the herbal remedy -- and save a few bucks -- the next time they feel the sniffles coming on.
In a new study of more than 700 people who came down with colds, echinacea pills were not measurably better than placebo at speeding recovery time or reducing the severity of runny nose, sore throat, cough, and other symptoms.
Echinacea has flunked similar tests before. Over the past eight years, several high-quality studies in which cold sufferers were randomly assigned to receive echinacea or placebo have arrived at the same conclusion: The herb has no discernible impact on colds. (This type of study is considered the gold standard for medical research.)
Health.com: Do these 7 natural cold remedies work?
"The benefits [of echinacea] were not dramatic," says David Rakel, MD, the director of integrative medicine at the University of Wisconsin School of Medicine, in Madison, and one of the authors of the new study. "There are quite a few studies done now on echinacea which show that it has a mild effect, at best."
Despite the consistently disappointing results, doctors aren't ready to discourage patients from taking echinacea quite yet. The plant, a staple of traditional American Indian medicine, has been shown to stimulate immune cells, and some experts say it could still play a small role in fighting or preventing the common cold.
"Echinacea may be a supportive treatment if used early enough, in combination with other [products] such as mushroom extract -- something more powerful," says Richard Firshein, DO, director of the Firshein Center for Comprehensive Medicine, in New York City, and the author of The Nutraceutical Revolution.
Health.com: Stop a cold in its tracks
And echinacea's ability to prevent (rather than improve) colds still isn't fully understood, says Jordan Josephson, MD, a sinus specialist at Lenox Hill Hospital, in New York City.
"I think they need to figure out if echinacea thwarts the common cold from coming on," he says.
The effect of echinacea may vary according to the dose, how it's prepared, and even whether it's taken on an empty stomach, Dr. Firshein says. The echinacea sold in drugstores comes in a wide range of liquids, pills, powders, and tinctures, which can be derived from some combination of the plant's root, flower, or stem.
Dr. Rakel and his colleagues used pills made from the roots of two species of echinacea, Echinacea purpurea and Echinacea angustifolia, which are found in most commercially available echinacea products.
Health.com: 5 myths about the common cold
The study, which appears in the Annals of Internal Medicine, was funded by the National Center for Complementary and Alternative Medicine (part of the National Institutes of Health) and the Robert Wood Johnson Foundation. The echinacea pills were provided by MediHerb, an Australian manufacturer of herbal products.
The company's director of research and development is listed as an author on the study, but did not participate in collecting or analyzing the data.
In the study, 719 Wisconsin residents between the ages of 12 and 80 with early signs of a cold were assigned to receive placebo, nothing at all, or echinacea. (Some of the participants knew they were taking echinacea, and some did not know what kind of pills they were given.)
The participants initially took two pills, then six more within the first 24 hours. After that, they took four pills per day for the next four days. That added up to about 10 grams of echinacea on the first day and roughly 5 grams per day thereafter.
Health.com: How to sick-proof your winter
Although echinacea proved ineffective, the people who took it experienced no side effects of note, which suggests that the remedy is generally safe, says Michael Perskin, MD, an assistant professor of medicine at NYU Langone Medical Center, in New York City.
"If it doesn't hurt the specific patient, what's the harm?" he asks. "I would explain the evidence to the patient and say that I think you're wasting your money. But the point is, it's the patient's money to waste."
Copyright Health Magazine 2011
FOLLOW THIS TOPIC