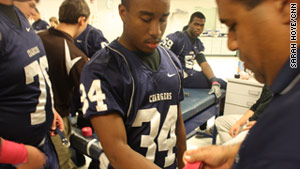 Marc Cephas, a New Jersey high school football player, gets ready for a game. He and other student athletes will be closely watched for head injuries under the new state law.
STORY HIGHLIGHTS
The law requires school coaches to pull players if there are concussion signs
Governor: "This is about protecting someone's long-term health"
CDC: 3.8 million sports- and recreation-related concussions occur every year
(CNN) -- New Jersey Gov. Chris Christie is playing defense against brain injuries for student athletes.
Christie signed a bill into law Tuesday requiring public and private school coaches to remove any athlete from play who shows signs of a concussion. Students who suffer a concussion will also need clearance from a physician before they can compete again.
All New Jersey public and private school districts are required to develop policies to handle head injuries.
"This is not about someone not willing to play hard in whatever sport they're in," Christie said. "This is about protecting someone's long-term health from being overwhelmed by the sense of competition we sometimes feel in our country."
Christie signed the bill at the New Meadowlands Stadium in East Rutherford, New Jersey. He was joined by National Football League Commissioner Roger Goodell, New York Jets Chairman and CEO Woody Johnson, and several former New York Giants defensive players.
New guidelines for diagnosing concussions
Calvin Lowe is the starting quarterback for Timber High School football team in Erial, New Jersey. He suffered a concussion during last year's state championship game.
Following a successful recovery, he continues to play football as his parents cheer him on from the sidelines. Considering many of the same mandates already occur at Timber Creek High School, the new law is a "good thing," said Curtis Lowe, Calvin's father.
"In a lot of cases state law overreacts, but when it comes to the mental health of a child, it's a good thing," Lowe said. "Most parents don't know what happens."
Concussions are generally caused by a blow to the head and can lead to long-term neurological problems.

Warner: 'Something has to change'

Playing despite concussion risk

Brain injuries steal player's memory
Scrutiny of concussions among professional and student athletes alike comes in the wake of the NFL becoming more vigilant about ejecting and/or suspending players who have made flagrant hits, and in the aftermath of an incident in which Rutgers defensive end Eric LeGrand was paralyzed from the neck down after his tackle on an Army player during a kickoff return.
Concussions extra dangerous for teen brains
Concussions among student athletes at Timber Creek prompted the south Jersey school to be proactive when it comes to players.
"We're been more cautious than most schools," said Robert Hinson, head football coach at Timber Creek. "I'd be really surprised if after this a coach doesn't pull a kid out it he suspects any concussion-related effect."
Student athletes at Timber Creek are required to take an ImPACT (Immediate Post-Concussion Assessment and Cognitive Testing) computerized evaluation prior to starting the season, to establish a baseline for their neurocognitive assessment, Hinson said.
According to the federal Centers for Disease Control and Prevention, 3.8 million sports- and recreation-related concussions occur every year. Experts say the vast majority of concussions are suffered at the high school level, but few schools have rules governing how concussion is treated, and few coaches are trained to identify it.
Calvin Lowe's father welcomes the attention.
"It's a good thing to get educated and to sit out," Curtis Lowe said. "My son had a favorable outcome but some other parents the results were different."
FOLLOW THIS TOPIC