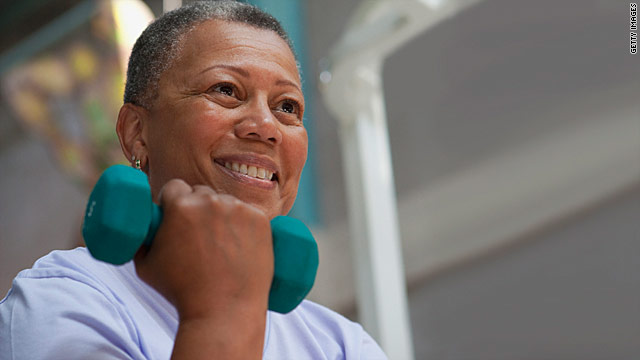 STORY HIGHLIGHTS
Guidelines recommend people get at least 150 minutes of walking a week
Combine walking with two or more days a week of resistance training
The best aerobic exercise is the one that you'll do, expert says
(Health.com) -- Walkers who squeeze a bit of light weight training into their workout get more bang for their buck in terms of being fit and trim without increasing their total workout time, according to a new study of sedentary people with type 2 diabetes.
What's more, those who mixed up their workouts showed the greatest improvement in blood sugar control after nine months, says Timothy S. Church, MD, Ph.D., of the Pennington Biomedical Research Center in Baton Rouge, Louisiana, who led the study.
"Our findings really support the 2008 federal physical activity guidelines, and our findings support those guidelines for everybody," Church says.
These guidelines recommend people get at least 150 minutes of walking or 75 minutes of running a week, along with two or more days a week of resistance training.
Health.com: Could you have Type 2? 10 diabetes symptoms
And that two days a week means a couple of 15- to 20-minute sessions on weight-training machines in the gym.
"It's actually a pretty quick undertaking," Church says.
Although exercise has long been recommended for people with diabetes because it can lower blood sugar almost as much as some medications, the best "prescription" for physical activity hasn't been determined, Church and his colleagues write in the November 24 issue of the Journal of the American Medical Association.
How are you managing your diabetes? Take a test
To find out, the researchers randomly assigned 262 sedentary men and women with type 2 diabetes to a control group that remained sedentary; an aerobic group that walked on a treadmill each week (equivalent to a brisk, 4 mph walk for 50 minutes 3 times a week); a resistance group that did three weight-training sessions per week (2 to 3 sets of 10 to 12 repetitions of 9 exercises); and a combo group that walked on the treadmill (42 minutes 3 times a week at 4 mph) and did two weight lifting sessions each week (1 set each of 9 exercises per session).
Health.com: How to estimate carbs in 10 common foods
The workouts were designed so that each would take about the same amount of time.
After nine months, the researchers estimated that the aerobic group worked out for an average of 140 minutes a week, the resistance group for 141 minutes, and the combination group for 140 to 150 minutes (110 minutes on the treadmill and 30 to 40 minutes lifting weights).
The key measurement Church and his team were looking at was hemoglobin A1c (HbA1c), a blood test that looks at the percentage of red blood cells that have glucose "stuck" to them and is a good measure of how well a person's blood sugar has been controlled over the past two or three months.
The average HbA1c for the group was 7.7 percent at the beginning of the study. (Most guidelines recommend people with type 2 diabetes shoot for an HbA1c level of 7 percent or less.)
Health.com: 15 exercise tips for people with Type 2 Diabetes
Although HbA1c didn't change significantly for people who did aerobic training only or resistance training only, it fell by 0.34 percent in the combination exercise group.
People in this group were also the only ones who showed a significant increase in their maximum oxygen consumption (which measures the capacity for aerobic exercise) compared to the non-exercising control group.
Men and women in all the exercise groups trimmed their waists by 2 to 3 centimeters (0.8 to 1.2 inches). The weight lifters lost an average of 1.4 kilograms (3.1 pounds) of fat compared to the control group, while the combination exercisers lost 1.7 kilograms (3.7 pounds) of fat compared to their sedentary peers.
The reduction in HbA1c seen in the combination exercisers would translate to a 5 percent to 7 percent reduction in heart disease risk, according to Church and his colleagues.
It would also slash the risk of so-called microvascular complications, such as damage to the eyes, nerves, and kidneys, by 12 percent, the researchers say.
Although several studies have looked at exercise for diabetes, the current investigation is unique for its long duration, as well as the fact that it included an ethnically diverse group of patients, says Ronald J. Sigal, M.D., of the University of Calgary in Alberta, Canada. African Americans made up 44 percent of study participants; nearly two-thirds were female.
Health.com: 8 tips for controlling portion sizes
Sigal co-authored an editorial accompanying the new study, but wasn't involved in the current research. In 2007, he and his colleagues published the DARE trial, which showed that resistance training plus aerobics was the most beneficial approach for people with diabetes.
"Unlike the DARE trial, they made a real effort to keep the total time involved the same" in the new study, Sigal says.
Resistance exercise likely increases the size of muscle fibers, while aerobic exercise boosts muscle's efficiency in using glucose, which explains why combining the two has the strongest effect on blood sugar control, Sigal says.
"What's the biggest consumer of blood sugar in the human body? Well, it's muscle," Church says. "If your body chews up more sugar, you've got less sugar in the blood and your diabetes is better. You're kind of stimulating two different systems in the muscle."
Sigal says the kind of resistance training people did in his study and Church's study isn't something you can accomplish at home with a few sets of dumbbells. (The study participants did their exercises under a trainer's supervision at a gym.)
"It's not realistic for most people to have the quality and variety of equipment at home that they could get at a gym," he says.
Another benefit of going to the gym, he added, is that you can get help from trainers, who will push you to do more.
Health.com: How exercise lowers blood sugar in Type 2 Diabetes
Although trainers are great for some people, Church says, other people want nothing to do with them.
"If there's one thing I've learned about exercise, it is such a personal thing," he adds. "What's the best type of aerobic exercise? The one that you'll do."
About 24 million people in the U.S. have diabetes, and 90 percent of those cases are type 2 diabetes, which is more likely to occur with aging, excess weight and a sedentary lifestyle.
Copyright Health Magazine 2011
FOLLOW THIS TOPIC