France: 500 patients may have died after taking diabetes drug Mediator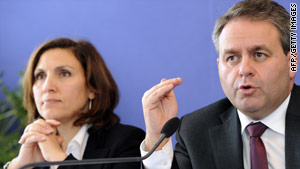 French health officials Xavier Bertrand and Nora Berra sound the alert Tuesday for patients who took the drug Mediator.
STORY HIGHLIGHTS
French agency reports as many as 500 people may have died over about 30 years
A health agency recommends patients who took Mediator get tested
Mediator was discontinued in 2009
The drug was prescribed to diabetic and overweight patients
Paris, France (CNN) -- A French health agency is recommending patients who took the diabetes drug Mediator get tested for heart valve damage.
The recommendation was made by the French medical watchdog agency l'Afssaps.
How well are you managing your diabetes?
A report conducted by France's national health insurance entity CNAM revealed that in about 30 years, as many as 500 patients may have died from complications directly related to Mediator.
The drug had been prescribed to diabetic and overweight patients.
The drug, which was discontinued in November 2009, was issued to more than 303,000 patients, according to the health insurance entity, and was found to cause heart complications for some.
The French General Practitioners Union has been alerted of the situation and is prepared to test patients who have taken Mediator for more than three months during the last four years, officials said, and a monitoring committee will be established.
CNN's Niki Cook contributed to this report.
FOLLOW THIS TOPIC