STORY HIGHLIGHTS
Children end up being unplanned caregivers for parents with Alzheimer's, dementia
Alzheimer's Association estimated in 2003 that 250,000 caregivers are under age 18
Teen describes helping mom is like reteaching a baby new skills she'll never remember
(CNN) -- One Saturday morning, Austin Mobley noticed his mother staring at him blankly.
"Who are you?" Tracy Mobley asked, he recalled.
"Mom, are you joking with me or what?"
"No," she replied. She was adamant. "Who are you?"
It's a gnawing fear that one fateful day, the memories of aging parents will fade and they won't be able to recognize their own children.
For Austin, it started early. He was 6.
Austin is in an emerging generation of young caregivers of parents who have dementia.
The boy from Elkland, Missouri, would make sure his mom didn't leave the stove on or wander out of the house. His dad, Allen Mobley, worked the night shift to support the family, so Austin watched his mother when he came home from school.
"What often happens is the kids end up being the unplanned caregivers," said Ruth Drew, director of family and information services at the national Alzheimer's Association.
"I've talked to kids, adolescents, who are helping their parents eat, bathe or are providing direct care, as well as being the person in the house to make sure everything's OK. This is happening across the country. It's happening more and more."
The most recent data available from the association, released in 2003, estimated that 250,000 U.S. kids under 18 are unpaid caregivers for people with Alzheimer's.
"It's not at an age to care for a parent with Alzheimer's," Drew said.
The circumstances creating these young caregivers have several factors, she said. About 10 percent of Alzheimer's cases begin to show symptoms before age 55, according to the association. That means adults in their 30s, 40s or 50s grapple with the disease while their children are younger. Parents having children later in life could be another factor, Drew said.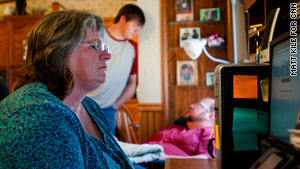 Austin Mobley often has to remind his mom, Tracy, 46, how to use a computer.
Austin, now 16, helps his 46-year-old mom put on her socks and shoes. Before they leave the house, Austin reminds her with an almost parental nudge, "Mom, put on your coat."
He reminds her to take her medication three times a day. At the dinner table, he takes her plate and cuts her food into bite-size pieces. He repeatedly shows her how to use the washer and dryer, dishwasher, vacuum cleaner and computer.
"It's kind of like taking care of a baby, trying to teach her how to walk," Austin said. "It's like a baby who'll never learn to walk, but you constantly have to teach them how to do things, but they still forget. You still have to re-re-re-teach them how to do things."
Tracy Mobley can have good days, when she shows no symptoms of frontotemporal dementia, which affects the areas of the brain associated with personality, behavior and language. On a good day, she is sharp and cracks jokes. On those days, her family forgets about dementia.
But other times, the unpredictability kicks in, and Mobley's mood shifts instantly.
"I would start screaming at [my husband] for no reason," Mobley recalled. "A few times, my son would see it and say, 'Mom, why are you doing this? Dad didn't do anything wrong.' I didn't know I was doing this."
She said, "It was scary for him. He didn't know why his mom was losing it ... parts of it is nothing a child should have to remember."
The unpredictable outbursts can be frightening for young caregivers.
Lindsey Jordan, 16, would be startled by her dad's increasingly strange behavior.
Charles Jordan, who has Alzheimer's disease, would undress in the bathroom at the shopping mall. He once shoved his wife. He became unhinged because of the frustration and confusion from the disease.
"That was the worst," recalled his wife, Darlene Jordan. "He just cried all the time. He was just so frustrated. He didn't know what to think, so he just cried and cried and cried."
Lindsey would fix his breakfast, help him put on his shoes and get him ready for adult day care. In her youthful mind, Alzheimer's was like a cold.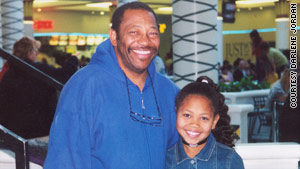 Lindsey Jordan says she thought her father would heal from Alzheimer's disease when she was younger.
"When you're so young, it's hard to know what's going on," she said. "I'd think, 'Dad is sick. He's going to get better.' "
Up until three years ago, her mom and Lindsey took care of him at home. As she grew older, the progression of the disease became obvious.
"Toward the end, he started to get violent," Lindsey recalled. "He'd hallucinate and slap himself. He wouldn't know what he was doing."
Jordan ultimately moved into an adult care home.
"It's bad from the beginning, and it keeps getting worse," Lindsey said about Alzheimer's. "I don't remember him as a normal man. My family tries to tell me stories through pictures and videos."
Looking back at her childhood, she said: "I grew up pretty quickly. He's my dad. I knew we had to do this. We had to help him out. It wasn't a burden. I'd do it again."
Children such as Lindsey and Austin are "13-, 14-, 15-year-old regular kids and they're doing heroic things," said Drew, who works with child caregivers. "It seemed like they were honored to do it and they wanted to do it. There was also an incredible sadness and an incredible weight. They're dealing with something the other kids can't relate to."
That responsibility wears on teenagers. Austin often retreats into his room and buries himself in Xbox games "Halo" or "Call of Duty."
"If she had to have this problem, I wish things would've happened when I was 10 or 11, because then I would know what a mom was," Austin said. "I was so young when it first happened. I don't know what my mom was without this problem."
He added, "There have been days that I've thought about packing my bag up and leaving, honestly. It's gotten that far for me. But I haven't."
Mobley said she worries about the stress on her son.
"I was beginning to see anger from my son at the disease," she said. "I'll hear him saying, 'I'm so tired of this dementia. I hate it.' I know he has anger issues with it."
When Austin was 13, she started an annual camp, called Austin's Camp Building Bridges, for children of Alzheimer's held in Oklahoma.
The purpose of the camp is to build a support group for young caregivers. Mobley said she hopes the camp and the experience she has created will remind Austin that he's not alone.
"He has been my strength in all of this," she said. "He and I have such a strong bond; it's what's kept me strong and going as long as I have been."
FOLLOW THIS TOPIC