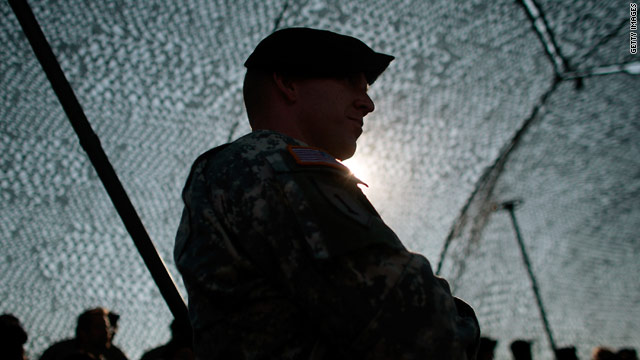 STORY HIGHLIGHTS
More soldiers are dealing with combat-related health issues
Many express frustration at "cookie-cutter" approach to dealing with unseen war injuries
Inadequate training sometimes delays proper treatment
Editor's note: Freelance war correspondent Alex Quade recently returned from nearly 18 months in Iraq and Afghanistan covering U.S. special operations forces on combat missions, including for CNN. Quade moderated the recent Defense Forum on Capitol Hill dealing with post-traumatic stress disorder and traumatic brain injury.
New York (CNN) -- His vivid memories from the battlefield won't go away: a Taliban surface-to-air missile striking a Chinook helicopter, killing everyone on board. The ensuing firefight that nearly killed him.
Shooting down an enemy combatant and watching his body fall, lifeless, in his tracks.
The flashbacks led to post-traumatic stress disorder for the soldier, who shared his story but did not want his name used.
"The helicopter shoot-down stands out as the number one 'Holy s--t, I might die' experience," he said. "But the personal nature of killing [the enemy combatant] bothered me the most."
His mental anguish began the night after killing the man.
"We had hunted him down; I remember laughing as the bursts missed as he [was] running for his life," the soldier said. "I was euphoric when he finally went down. That night was my first panic attack as I slept.
"It haunted me then, and now, that I actually enjoyed hunting a man and killing."
After the panic attack, he did everything he was supposed to do. He checked the box on his post-deployment questionnaire that he wanted to seek help when he returned home from Afghanistan.
But, he said, "the Army never followed through."

Mental health toll of war

Helping vets with PTSD

Veterans healing through art
He broke down a few months after he returned home. So he called a crisis hotline number listed in an Army pamphlet.
"They talked with me, and set up some free sessions with a local counselor," he said. "The first session did not turn out well."
That's because the woman was a marriage counselor, he said.
"I still remember the shocked look on her face as I described the events during my deployment," he said. "She was totally unprepared to work with a combat vet."
He said he felt he would have gotten better treatment if he'd had his leg blown off, or sustained any injury that could be seen.
"For some reason, mental health issues ... they [the Army] let go ... until the soldier gets into crisis mode, which can be too late for some," he said, referring to the spike in military suicides.
"For me, when I was in crisis mode ... dealing with post-traumatic stress and trying to seek help, I didn't have the strength, at times, to care for myself," he said.
His experience represents what many troops and their families say they are going through as they try to re-integrate with unseen injuries at a time of Department of Defense budget cuts, health care industry changes, and political upheaval.
Army Chief of Staff Gen. George W. Casey has acknowledged that the military is too bureaucratic when it comes to dealing with transitioning war veterans back to civilian life.
"It's overly complicated, and we have not made the strides in fixing that that we need to," Casey said at the Defense Forum on Capitol Hill in September.
"Wounded soldiers know the story. The longer you're someplace, the more uncertain and the more difficult it becomes," he said. "We have to reduce the time that the soldiers are in the system and still make sure that they get the fair and equitable treatment that they so well deserve."
War veterans suffering from post-traumatic stress disorder and traumatic brain injury and their families say military commanders, policy-makers, health care providers, and communities need to take more steps to help make their transition into the civilian community seamless.
"Even some of us have had difficulties over the years," said Maj. Gen. Patrick Brady, who received the Medal of Honor for his actions in the Vietnam War.
His fellow Medal of Honor recipients -- Col. Leo Thorsness, Col. Roger Donlon and Staff Sgt. Drew Dix -- added that communities need to be more aware of the stressors of unseen injuries.
That way, they say, the country can better deal with the results, including substance abuse, homelessness, rising divorce rates, and the mental anguish that can lead to suicide.
Those who suffered injuries as a result of war, their families, and caregivers offered this advice to end the "cookie-cutter" approach to dealing with mental health issues and start addressing the issues:
1. There is no "quick fix" solution for unseen injuries
Programs should be conceived as five-, 10-, 15-, even 20-year endeavors. There needs to be dedicated follow-up treatment and therapy for both the service member or veteran, and the family. This should be the norm, not the exception, advocates say.
"Society is focused on the wounded. Families of those suffering unseen injuries have needs, too," said Ronni Schlitz, mother and full-time caregiver of a retired wounded soldier.
One program that families say is addressing the long-term issues is Navy Safe Harbor. It helps ill or injured members of the Navy and Coast Guard, and their families, with "concierge-like" support for nonmedical needs.
"We avoid a cookie-cutter approach to caring for our shipmates, particularly those who suffer from post-traumatic stress or traumatic brain injury," said Capt. Key Watkins, commander of the program. "We provide a lifetime of individually tailored assistance designed to optimize the success of their recovery, rehabilitation, and re-integration activities.
"Our goal is to return our recovering service members back to duty, but when they are unable, we assist them with their transition back to civilian life and re-integration into the local community," he added.
2. Education is key
For those in charge of military programs dealing with troops suffering from PTSD and TBI, education needs to be more than a two-week course, advocates say. Many of the "wounded warrior" programs on military installations are run by personnel who went through a two-week indoctrination course and often have never been in combat, according to soldiers in the Army Warrior Transition Units.
Troops with unseen injuries repeatedly said their demeanor and actions are often misinterpreted or misunderstood as "being a difficult soldier." The wife of one soldier shaved her husband's head so his trauma scars would be apparent.
"That way, the cadre [military chain of command] would remember that he does, indeed, have unseen injuries," she said. She asked that their names not be used because her husband is still working in the special operations community.
Casey said he recently had the U.S. Army inspector general look into all of the Army's Warrior Transition Units.
In addition, there need to be classes on helping soldiers re-integrate back into their units after suffering from post-traumatic stress. Many military personnel say the emphasis is on suicide prevention, instead of educating soldiers about PTS.
"Troops suffering from unseen injuries tell me they often find themselves ostracized or criticized for short-term memory loss, lack of or over-concentration, panic attacks, and anger management," said Roxanne Merritt, a civilian employee of the U.S. Army John F. Kennedy Special Warfare Center and School.
Military leaders need to step in while the troops are still deployed in war zones, experts say. Many soldiers suffering from PTS said in Afghanistan and Iraq, they would just chalk up their "headaches" as part of "the daily slog in the suck." The overuse of stimulants such as caffeine and chewing tobacco may mask some traumatic brain injury symptoms.
And most troops say they want to stay with their units "in the fight," so they may not report symptoms of their exposure to blasts.
"At some point, a senior guy or leader must directly intervene and save the operators out there from themselves," said Maj. Gen. Michael Repass, head of Special Operations Command Europe, and former commander of U.S. Army Special Forces. "People with experience know when someone isn't up to full speed. Direct intervention is too often the only way to head off problems."
Back home, the families of these war veterans suffering from unseen injuries need to be placed in therapy programs to learn to recognize triggers and understand that memory lapses are the norm, not the exception.
And the first responders and hospital personnel in the United States also need training to recognize the triggers and symptoms of unseen injuries.
"If a first responder with flashing emergency vehicle lights approaches a soldier who's off-duty [not in uniform] or a veteran suffering from post-traumatic stress or other unseen head injuries, they may very well trigger a negative reaction," said Peggy Sue Meininger, a first-line responder to several veterans and their families at Fort Carson, Colorado.
3. This is not just a military problem
As more and more veterans return home from war, the civilian community will have to address the issues that arise from PTSD, TBI, and PTS, particularly if veterans are not getting timely treatment at overloaded Veterans Affairs facilities.
"We can't do it alone in the military, and we can't do it in the Department [of Defense]," admitted chairman of the Joint Chiefs of Staff Adm. Mike Mullen at the Defense Forum on Capitol Hill.
"These are America's citizens, the best I've ever seen in the military, who are going out and doing our country's bidding without question. And they are sacrificing, and we owe them a response to this that is equal to their needs."
Employers should be giving incentives to assist and support the re-integration process, as well as the rehabilitation and treatment program over the long haul.
"Yes, there are some guys out there who are violent and have some serious issues," said Meininger. "But there are also some wonderful men and women who do not want to sit at home, and do have something to offer their community if they have employers who are willing to take a chance on them and be educated about their needs.
"People need to know that their brains are still healing and there are major improvements at even five years out from time of injury."
In addition, halfway houses and retreat centers should be established to provide a protected environment for troops still healing from unseen injuries.
"We know that the cumulative effects of the last nine years at war are going to be with us for awhile," Casey said. "Since 2000, we've diagnosed almost 100,000 soldiers with some form of traumatic brain injury, and since 2003, we've diagnosed about almost 45,000 soldiers with post-traumatic stress.
"And I'll tell you, I honestly think those numbers are probably low, because we wrestle hard with reducing the stigma of getting care for behavioral health problems."
FOLLOW THIS TOPIC