Hospital: Drill-bit piece accidentally left in patient's head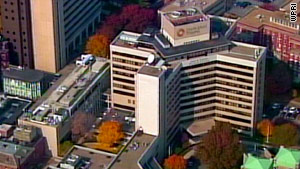 The mistake was made at Rhode Island Hospital on August 4. The piece was removed from the patient two days later.
STORY HIGHLIGHTS
The hospital says it has suspended the doctor and operating-room team involved
The piece was removed two days after the original procedure and the patient went home
(CNN) -- A prominent Rhode Island hospital says a piece of a medical drill bit was accidentally left in a patient's head during surgery and later had to be removed.
"On August 4, a small piece of a drill bit used during a procedure broke off and was not accounted for at the end of the procedure, as is required by one of our policies," Rhode Island Hospital in Providence said this week in a statement released by hospital spokeswoman Ellen Slingsby.
The drill bit "was subsequently identified through diagnostic imaging," removed on August 6 and the patient was released, the statement said.
The doctor and the operating-room team involved have been suspended, the hospital said. Peter Hanney of the Rhode Island Department of Health told CNN that, "the suspension of the doctors is on behalf of Rhode Island Hospital," as his department's investigation "is still not complete."
The hospital statement added, "As with any unanticipated outcome, we have apologized to the patient and have conducted a full investigation."
Citing doctor-patient confidentiality, the hospital did not identify the doctor or the patient, or release other further details.
An investigation by the Providence Journal newspaper has cited other incidents involving the hospital; in particular, six "wrong-side" surgeries since 2001, according to the newspaper.
Neither officials of the hospital or the Department of Health would comment on that newspaper's reports but Hanney said the incident "is not a wrong-side surgery, this is a medical device left inside a patient."
FOLLOW THIS TOPIC