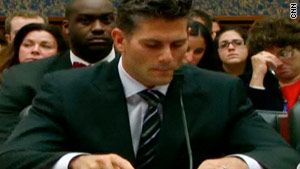 Sean Morey, who retired from the NFL this year, testified at a Congressional hearing on head injuries.
STORY HIGHLIGHTS
Congress considers establishing standards on head safety and concussion management
House committee holds a hearing Thursday with grieving mother and athletes
From 2005 to 2008 school years, an estimated 400,000 concussions occurred sports
(CNN) -- Concussions for student-athletes not only cause headaches and impair concentration and everyday function, they can be deadly, experts testified in a congressional hearing Thursday.
Congress is considering a bill that would establish standards for student-athletes who get concussions.
"Unlike broken legs, concussions are not easily identified and can be equally or more dangerous," Rep. George Miller, chairman of the committee, said in his opening statement. "Many students don't know that they're injured."
Concussions are believed to be widespread and undertreated in youth sports. A Government Accountability Office found that between the 2005 and 2008 school years, an estimated 400,000 concussions occurred in high school sports.
The bill called the Protecting Student Athletes from Concussions Act would enforce evaluations for students who have suffered concussions before they return to play.
"Schools are not adequately prepared with the necessary systems, knowledge and skills to properly support the return of the concussed student-athlete," Dr. Gerry Gioia, chief of pediatric neuropsychology for Children's National Medical Center in Washington, said in his opening statement. "We must provide the same academic support structure for students with concussions as we do for more severe brain injuries."
Pediatricians believe that the developing brains of children and adolescents are much more vulnerable to injury than those of adults.
"We need to empower students to know when they're at risk," Miller said. "They deserve to know the signs, risks of concussion to take the appropriate next steps."
The NFL has backed the legislation. Several states have passed similar concussion laws already.
The bill requires all U.S. schools to develop policies and methods for concussion education and training of school, parents, students and coaches.
It also states that student-athletes who've suffered injuries should not return to sports and physical activities such as physical education classes or recess until they are cleared.
Earlier this month, an 11-year-old Wisconsin boy died after suffering a concussion and later hitting his head during recess, according to WTMJ Newsradio.
Alison Conca-Cheng, an honors high school student from Ellicott City, Maryland, suffered a concussion in August during a soccer game and continues to feel its effects.
"The headaches lingered. And I began to forget things. Not just day to day, but morning to evening, or even moment to moment," she said.
Conca-Cheng, who takes five advanced placement classes, said her focus fluctuated constantly.
"Reading textbooks and articles for homework was particularly difficult," she said. "It would take me twice as long, and it would be a constant battle with my concentration.
Sean Morey also testified. This year, Morey announced his retirement from the NFL on the eve of training camp with the Seattle Seahawks after two doctors warned him he shouldn't play.
"I've suffered more concussions than I care to admit," said Morey, a Pro Bowl pick. Read more about his retirement on Sports Illustrated. "On the eve of my 12th training camp, I disclosed what the doctors told me and had to walk away from the game.
"I took it as far as I could," Morey said about his football career.
The House Education and Labor Committee's hearing came after news last week about the first active college football player known to have a debilitating condition usually seen in retired or aging athletes who've suffered repeated head injuries.
Researchers at the Boston University School of Medicine Center for the Study of Traumatic Encephalopathy revealed that a 21-year-old defensive lineman, Owen Thomas, had mild stages of a type of brain damage called chronic traumatic encephalopathy.
Thomas, a captain of the University of Pennsylvania football team and a student at the Wharton School of Business, hung himself in his room in April.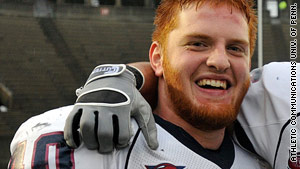 Owen Thomas, 21, was found to have mild stages of a type of brain damage called chronic traumatic encephalopathy
CTE, which is a type of brain damage, has been more typically seen in older former athletes and can cause neurobehavioral disorders and bizarre behavior, including suicide. It is impossible to determine whether Thomas' brain condition and suicide were linked.
"The only possible explanation we can see for the presence of CTE is that Owen started to play football at the age of 9," his mother, Rev. Katherine Brearley of Allentown, Pennsylvania, said in her testimony at the hearing.
"He was a very physical and intense player who threw himself into every sport he played. In precollege football he often played offense and defense and was on the field for much of the game. Maybe he had mild concussions that he never reported," she said. "That would be Owen, anxious to return to the game, not a coach pressuring him."
The progressive brain disease is caused by repetitive brain trauma, but Thomas had no known concussions or head injuries.
Brearley backs the proposed law.
"In speaking out about Owen's brain disease it is my hope that parents and coaches will unite to improve the safety of younger players so football can continue to be a powerful and exciting sport that unites families and communities all across the United States," she said.
FOLLOW THIS TOPIC