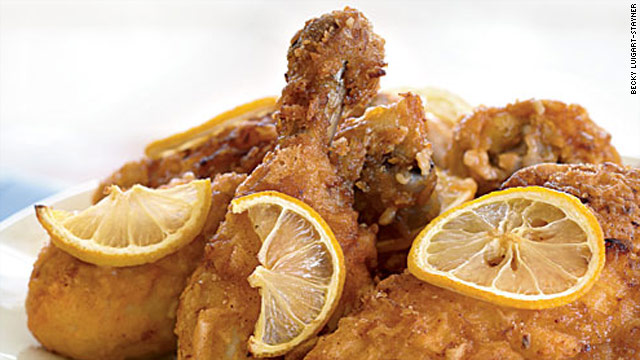 STORY HIGHLIGHTS
Fried chicken is great for picnics, tailgates and weekend dinners

Removing skin from the chicken reduces fat content by more than 17 grams

Reader: Flouring skinless chicken twice gives it a 'wonderful crust'

Preparation takes more than four hours, so allow time to marinate, cook

(CookingLight.com) -- September weekends are time for tailgates, whether it be on a college campus or at professional football stadium.
A successful tailgate includes friends, some cold drinks and food. It's a lot of food that's usually not the most healthful cuisine -- hot dogs, burgers, ribs, fried chicken.
But fried chicken doesn't have to be swamped full of fat and sodium. Here's a recipe makeover that contains the secret to creating a skin-like crust (without the skin) on lightened pan-fried chicken.
The reader: Robby Champion, independent education consultant, Staunton, Virginia
The story: This entrée's great taste made it a Champion favorite for years. In 1987, when Champion and her husband, Jim, discovered the recipe, it didn't have nutrition information.
"We absolutely love this dish, but it's easy to tell it isn't as healthful as we would like it to be," she says.
They tried to lighten the recipe several times without success.
"We are trying to lead more healthful lives and want to enjoy this meal without feeling guilty," she explains.
CookingLight.com: Tailgating menus
The dilemma: With one whole chicken serving two people, portions were oversized, yielding high calorie, fat, saturated fat, and sodium counts.
The solution: For starters, the gargantuan portion sizes had to be brought down to size. A serving now includes either one breast half, or one thigh plus one drumstick; this brought the calories per serving down by about 300.
Removing the skin from the meat and double-dredging the chicken maintained a crisp crust while shaving 317 calories, 17.4 grams of fat, and 4.7 grams of artery-clogging saturated fat per serving.
To bring sodium under control, we swapped fat-free, less-sodium chicken broth for the regular version, and used 1 teaspoon kosher salt to season the four-serving yield. This trimmed 494 milligrams of sodium per serving.
CookingLight.com: Healthy grilled burgers
The feedback: "Jim and I enjoy this version as much or more than the original," says Champion. "Flouring skinless chicken twice gives it a wonderful crust. I'm thrilled the new version maintains the flavor and texture of the original."
CookingLight.com: Foods to boost your mind

Video: Recipe makeover: Pan-fried chicken
Before | After
891 calories | 375 calories
45g total fat | 15.5 total fat
9.3 g saturated fat | 3.3g saturated fat
1,179mg sodium | 578mg sodium
Giving the chicken a double coat of flour mixture creates a golden crust (without the skin) when pan-fried. We use lemon rind instead of the lemon extract called for in the original. Carefully pour in the broth so you don't wet the crispy brown coating on the chicken. The broth mixture turns into a glazey sauce that can be served with the chicken.
Ingredients
* 1 teaspoon grated lemon rind
* 1 cup fresh lemon juice (about 4 lemons)

* 2 teaspoons minced peeled fresh ginger
* 1 1/2 teaspoons minced garlic
* 2 bone-in chicken breast halves, skinned
* 2 bone-in chicken thighs, skinned
* 2 chicken drumsticks, skinned

* 4.5 ounces all-purpose flour (about 1 cup)
* 2 teaspoons ground ginger
* 1 teaspoon paprika

* 1/2 teaspoon ground red pepper
* 1 teaspoon kosher salt
*1/2 teaspoon freshly ground black pepper
* 1/4 cup peanut oil
* 1/4 cup fat-free, less-sodium chicken broth
* 2 tablespoons brown sugar
* 1 lemon, thinly sliced
CookingLight.com: Grilled chicken recipes
Preparation
1. Place rind, juice, and next five ingredients (through drumsticks) in a large zip-top plastic bag; seal and shake to coat. Marinate in refrigerator 1 hour, turning bag occasionally.
2. Sift together flour and next three ingredients (through red pepper). Place flour mixture in a large zip-top plastic bag.
3. Remove chicken from marinade bag, reserving marinade. Sprinkle salt and black pepper evenly over chicken. Add chicken, one piece at a time, to flour mixture; seal bag and shake to coat chicken.
4. Remove chicken from bag, shaking off excess flour mixture. Reserve remaining flour mixture.
5. Place chicken on a wire rack; place rack in a jelly-roll pan. Cover and refrigerate 1 1/2 hours. Let stand at room temperature 30 minutes.
6. Preheat oven to 350°.
7. Return chicken, one piece at a time, to flour mixture; seal bag and shake to coat chicken. Remove chicken from bag, shaking off excess flour mixture. Discard remaining flour mixture.
8. Heat oil in a large skillet over medium-high heat. Add chicken to pan; cook 3 minutes or until golden, turning once.
9. Arrange chicken in single layer in a shallow roasting pan. Combine broth and reserved marinade in a small bowl; carefully pour broth mixture into pan. Sprinkle chicken evenly with sugar, and top with lemon slices.
10. Bake at 350° for 45 minutes or until golden and a thermometer registers 165°.
Nutritional information
4 servings
Serving size: 1 breast half, or 1 thigh plus 1 drumstick
Calories: 375
Fat: 15.5g (sat 3.3g, mono 6.6g, poly 4.7g)
Protein: 30.8g
Carbohydrate: 30.5g
Fiber: 2.4g
Cholesterol: 85mg
Iron: 2.6mg
Sodium: 578mg
Calcium: 48mg
CookingLight.com: The best recipes of 2010
FOLLOW THIS TOPIC