STORY HIGHLIGHTS
Everyone, no matter the age, is vulnerable to flu complications
Depending on the season's severity, flu complications can kill 3,300 to 49,000
Health officials are encouraging people to take advantage of early availability of vaccines
Adults should need only one flu vaccine this year
(CNN) -- It was the fifth game of the 2009 Ohio State University football season, and offensive lineman Andy Miller cheered as the Buckeyes sprinted past the Indiana Hoosiers, 33-14, the fourth win of the year. The campus was brimming with excitement, yet for Miller the occasion was bittersweet.
"I was in my bed, watching them on television," recalls the 22-year-old senior, who could not participate last October because he was sickened with the flu.
Standing 6 feet, 7 inches and weighing more than 300 pounds, Miller says exercise and daily training keep him fit, so when flu shots were administered on campus, he thought he didn't need one.
"I had heard horror stories about the flu," Miller says, "but, I've never gotten very sick, so I didn't worry about it."
That, he says, was not a good play.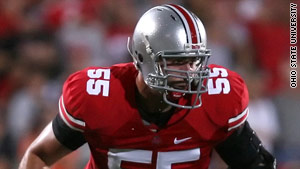 "I never thought I would be so sick it would prevent me from weeks of activity," says Andy Miller.
For three games, nearly a quarter of the NCAA season, Miller was too weak to attend practice or travel with his team. As the Buckeyes battled opponents on the football field, he lay in bed battling fatigue, high fever and body aches. By the end of his bout with the H1N1 flu, Miller had lost more than 30 pounds, and it took weeks to ease back into the game.
"With me, sickness has always been a day or two," says Miller, who took nearly a month to fully recover from the virus. "I never thought I would be so sick it would prevent me from weeks of activity."
Everyone is vulnerable to serious flu complications
A survey from the RAND Corp. finds that many U.S. adults chose not to get a flu vaccine last year. Even amid fears of the novel H1N1 flu virus, only 32 percent of the adults surveyed had been vaccinated against seasonal influenza by November 2009, and fewer than one in five specifically recommended to get the vaccine -- which include people with existing health problems, medical professionals and those living or working in close contact with children younger than 5 -- intended to get a vaccine before the season ended.
Like Miller, many said they didn't think they needed a vaccine, while others cited concerns about side effects and mistrust in the effectiveness of a flu-prevention drug.
"Some people just look at the flu as a mere nuisance, so they don't feel vaccination is important," says Tom Skinner, senior public affairs officer with the Centers for Disease Control. "But we know that it can be life-threatening," he stresses.
The CDC began tracking and reporting the number of laboratory-confirmed hospitalizations and deaths from H1N1 last spring, and by March 2010 the agency estimated that 60 million Americans had contracted the H1N1 virus, more than 270,000 had been hospitalized and there were about 12,270 H1N1-related deaths.
"What was unusual about the H1N1 virus is that it led to serious complications in all ages and not just vulnerable groups," explains Dr. Norman Edelman, chief medical officer for the American Lung Association.
The ALA recently launched the Faces of Influenza to help put a face to the thousands of otherwise healthy people who die from flu each year. Edelman says the H1N1 virus that circulated in 2009 had the ability to bypass certain biological pathways, and that made it more deadly for the lungs of even young healthy people who are not normally at high risk.
"What H1N1 proved is that everyone is vulnerable to serious side effects of the flu."
Epidemiologists say it is difficult to predict whether the 2010-2011 flu season will be equally as severe, because unlike other vaccine-preventable diseases the flu is a "moving target."
A recent report found flu related complications could kill anywhere between 3,300 and 49,000 people each season, depending on the strain of the virus circulating. Seasons when H3N2 was the predominant strain have historically been the most deadly.
This flu vaccine approved by the Food and Drug Administration in July has already been shipped to most states, and an estimated 155 million doses will be available by winter. Health officials are encouraging people to take advantage of early availability and begin getting vaccinated as soon as the vaccine is available where you are.
"If you don't want to get the flu, then getting a flu shot is the single most important thing you can do," Skinner advises.
If flu vaccines are on your radar, here are five things you should know:
All people 6 months and older need to be vaccinated
The Advisory Committee on Immunization Practices recommends the influenza vaccination for all people ages 6 months and older. This is a change from previous guidance, which stressed the need for vaccination for a few groups including the elderly, the chronically ill and women who were planning to become pregnant.
The advisory committee says that with the expanded recommendations they hope to minimize confusion about who should and should not get the annual vaccine.
Adults will only need one flu vaccine this year
Unlike last year, when both a seasonal flu vaccine and an H1N1 flu vaccine were recommended, this year only one vaccine is necessary.
Each year, government health officials make predictions on which influenza viruses will be the most prominent to circulate, and a vaccine is created to combat those specific strands. The vaccine approved for this year protects against the H1N1 virus that circulated in 2009, as well as H3N2 and an influenza B virus. The CDC answers several questions about the 2010-2011 inactivated flu vaccine on their website.
Some children need two doses of the flu vaccine
The American Academy of Pediatrics recommends that children between ages 6 months and 9 years who have never been vaccinated, or who received only one dose of the H1N1 flu shot last year, should have a minimum of two doses this season. On the Healthy Children website, the AAP provides information for parents to help you determine the number of influenza vaccine doses your child needs.
Flu vaccines are available now in most locations
Flu manufacturers began shipping doses of the flu shot and nasal spray in August, and many pharmacies have already begun offering them. Here is a comparison of prices for some national pharmacy chains where flu shots are currently available. Click on the name to find a location in your ZIP code.
Rite Aid pharmacies offer the seasonal flu shot for $24.99 and many insurance plans cover the cost of the shots.
Walgreens is offering seasonal flu shots for $29.99 and the FluMist Intranasal Spray for $34.99.
CVS is offering seasonal flu shots for $29.95. The cost is covered by many insurance plans.
Wal-Mart offers the seasonal flu shot for $24.00, or the co-pay as designated by your insurer.
Target pharmacies are offering the seasonal flu vaccine for $24.00, and some clinic locations also will offer the nasal spray for $36.
You can also check out the Flu Clinic Locator from the American Lung Association to find local clinic in your area. The resource should be available late September.
A new high-strength vaccine is available for people ages 65+
This year an alternative vaccine that provides a higher dosage will be available for people ages 65 and older. Fluzone High-Dose, an inactivated influenza vaccine produced by the drug manufacturer Sanofi Pasteur, was approved by the FDA in December 2009.
"Elderly people have less responsive immune systems," explains Edelman. "The higher dose induces a stronger immune response, and provides better protection for this age group."
More detailed information about this vaccine option is available on the CDC website.
As the Ohio State Buckeyes prepare for their season opener Thursday against the Marshall Thundering Herd, Miller says the only place he plans to get tackled this year is on the field.
"I put a little scare into some people, and I've seen what flu can do to me," Miller admits. The flu vaccine is not available where he is yet, but when it becomes available Miller assures that he plans to be first in line.
"I'm looking forward to not letting anything else get in my way this season," Miller says. "I'm definitely being proactive about my health."
FOLLOW THIS TOPIC