Federal agents visit Iowa farms that recalled eggs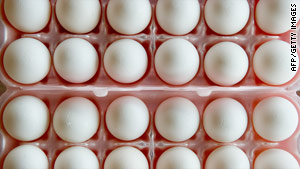 The two farms visited by agents Tuesday recalled more than half a billion eggs in the wake of the salmonella outbreak.
STORY HIGHLIGHTS
Federal agents visit Wright County Egg and Hillandale Farms facilities
Formal investigation goes beyond inspections, FDA chief says
FDA inspectors have documented numerous violations at nine egg farms
(CNN) -- Federal agents visited Hillandale Farms and Wright County Egg, which have recalled more than half a billion eggs in the wake of the salmonella outbreak, a U.S. Food and Drug Administration spokeswoman said Wednesday.
The agents were at two Iowa locations on Tuesday, said Patricia El-Hinnawy.
She referred further questions to the U.S. attorney's office in Cedar Rapids, Iowa. A phone call to that office was not immediately returned Wednesday night.
FDA investigators visited offices in New Hampton, Hillandale Farms spokeswoman Julie DeYoung said. She said she did not know how long they were there or if they took any material with them. The company is cooperating, DeYoung added.
Agents also traveled to a Wright County Egg facility in Galt.
"I can only confirm that, yes, there were FDA officials at the farm, and that we continue to fully cooperate with their review of the farm, as we have been doing throughout this process," said Wright County Egg spokeswoman Hinda Mitchell.
The criminal division of the FDA and the Justice Department are joining an investigation that goes beyond farm inspections, the Wall Street Journal quoted FDA Commissioner Margaret Hamburg as saying Wednesday.
"There is a formal investigation going on that extends beyond the FDA inspections that are focused on farm practice," she said. "We are pursuing it with our partners in law enforcement."
Hamburg declined to say whether Federal Bureau of Investigation agents have visited Wright County Egg facilities, the Journal said. The FBI's field office for Iowa did not immediately return a call.
Inspection reports released by the FDA earlier this week noted numerous violations at six farms operated by Wright County Egg and Quality Egg, which are owned by the same family, and three Hillandale Farms locations.