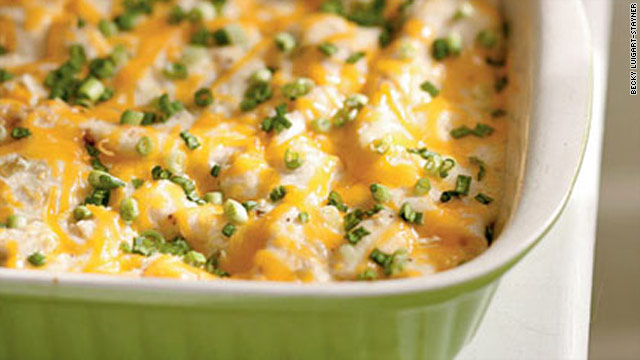 STORY HIGHLIGHTS
Recipe calls for using half as much cheese in the mix and cutting way back on the topping

To cut fat, replace sour cream with a yogurt/butter combination

Don't fry the tortillas in oil, brushed them with canola oil and pan-toast them

(Cooking Light) -- A cheesy chicken casserole is revamped to meet a Texas reader's health goals.
Anna Marie "Rie" Lotti, a life insurance broker from Katy, Texas says: "My son-in-law, Marc, is from a traditional Mexican family, and we're Italian. This is a dish we all love because it's cheesy and good."
It's a recipe that's been in her family for two decades. Lotti notes their lifestyle has changed a lot since she started making the casserole: Both she and her husband, Tom, keep tabs on sodium, saturated fat, and calories since Tom was diagnosed with type 2 diabetes a few years ago.
"I'm glad my daughter, Dawn, sent the recipe to Cooking Light for a makeover," she says.
CookingLight.com: Surprisingly unhealthy foods
The dilemma
Plenty of cheese and sour cream, as well as canned cream of chicken soup, contributed to the hefty 773 calories per serving of this filling entrée. Plus, the soup and abundant 2 pounds of cheese added to the dish's sodium content.

Video: Recipe makeover: Cheesy enchiladas
The solution
Cheese: Using half the amount of cheese and opting for a reduced-fat Mexican blend in the filling cut 149 calories, 13.4 grams of fat (8.4 grams saturated), and 126 milligrams of sodium per serving.
Topping: We topped the casserole with one-fourth the original amount of cheese and employed a sharp reduced-fat cheddar to trim 97 calories, 8.3 grams of fat (5.2 grams saturated), and 134 milligrams of sodium per serving.
CookingLight.com: Healthy Convenience Store Foods
Sour cream: In place of 2 cups of the full-fat sour cream, we used a combination of 1 2/3 cups low-fat plain yogurt and 1/3 cup butter to shave 29 calories and about 4 grams of fat (2.4 grams saturated) per serving.
Canned soup: We substituted a reduced-fat, reduced-sodium version of canned cream of chicken soup for a savings of 1.5 grams of fat and 102 milligrams of sodium per serving.
Tortillas: Instead of frying the tortillas in oil, we brushed them with a prudent 1 tablespoon canola oil to keep fat and calories in check and pan-toasted them.
The feedback
"The family thoroughly enjoyed the new version of the enchiladas," says Lotti. "The tortillas were tender, and the filling was flavorful and creamy with extra onion and garlic and the combined [yogurt] and butter."
Yield
8 servings (serving size: 1 enchilada)
Ingredients
* 2 1/2 cups chopped cooked chicken breast
* 2 cups (8 ounces) preshredded reduced-fat 4-cheese Mexican blend cheese
* 1 2/3 cups plain low-fat yogurt
* 1/3 cup butter, melted
* 1/4 cup chopped onion
* 1 teaspoon minced garlic
* 1/4 teaspoon freshly ground black pepper
* 1 (10 3/4-ounce) can condensed reduced-fat, reduced-sodium cream of chicken soup (such as Healthy Request), undiluted
* 1 (4.5-ounce) can chopped green chiles, drained

* 8 (8-inch) flour tortillas
* 1 tablespoon canola oil
* Cooking spray
* 1/2 cup (2 ounces) finely shredded reduced-fat sharp cheddar cheese
* 1/4 cup chopped green onions
CookingLight.com: The Best Light Scoops of Summer
Preparation
1. Preheat oven to 350°.
2. Combine first 9 ingredients in a large bowl. Remove 1 cup chicken mixture; set mixture aside.
3. Heat a large skillet over medium-high heat. Working with 1 tortilla at a time, brush oil over both sides of tortilla. Add tortilla to pan; cook 5 seconds on each side or until toasted and soft. Remove from pan; arrange 1/2 cup chicken mixture down center of tortilla. Roll jelly-roll style; place filled tortilla, seam side down, in a 13 x 9--inch baking dish coated with cooking spray. Repeat procedure with remaining 7 tortillas, remaining oil, and remaining chicken mixture. Spread reserved 1 cup chicken mixture evenly over enchiladas. Cover and bake at 350° for 20 minutes. Uncover; sprinkle evenly with cheddar cheese and green onions; bake an additional 5 minutes or until cheese melts.
Wine note: Just as a crunchy green salad with mango will complement Cheesy Chicken Enchiladas, so too will a crisp, tropical fruit-filled California chardonnay, like Kali Hart Vineyard Chardonnay 2007 ($17). With its medium body and lively acidity, this white wine slices through creamy dairy products, like cheese and yogurt. A shot of citrus flavor and a nice bit of lingering sweetness also give it the ability to balance spicy chiles. -- Jeffery Lindenmuth
Kitchen notes: Serve with a salad of fresh mango, jicama, and shredded lettuce topped with a lime vinaigrette.
CookingLight.com: 8 healthy office snacks
Nutritional information
Calories: 454
Fat: 20.3g (sat 10.4g,mono 6.7g,poly 1.5g)
Protein: 30.8g
Carbohydrate: 36.6g
Fiber: 2.2g
Cholesterol: 73mg
Iron: 2.3mg
Sodium: 757mg
Calcium: 347mg
CookingLight.com: Healthy foods that can kill you
Enter for a chance to win in our $5,000 Grocery Giveaway
Copyright 2011 Cooking Light magazine. All rights reserved.
FOLLOW THIS TOPIC