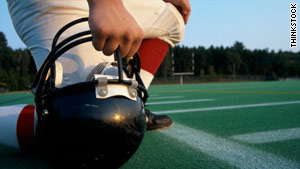 All Division I student athletes will need to undergo genetic screening for the sickle cell trait effective August.
STORY HIGHLIGHTS
NCAA requires genetic screening of all Division I college athletes for sickle cell trait
Nine college football players with the genetic trait have died since 2000
Critics say players could be subject to discrimination and differential treatment
(CNN) -- A controversial new rule by the National Collegiate Athletic Association went into effect this month, requiring all Division I athletes to be screened for a genetic sickle cell trait.
While some applauded the new requirement, critics say it could expose players, mainly African-Americans, to genetic discrimination.
The rule requires all incoming student-athletes to get tested for sickle cell trait, show proof of a prior test or sign a waiver if they decline testing.
The mandate was part of a settlement between Rice University and the parents of college football player Dale Lloyd, who carried the sickle cell trait and died during a 2006 workout.
Unlike sickle cell disease, the trait is usually harmless and is inherited through a defective gene passed on by one of the parents.
People who inherit copies of the defective gene from both parents have sickle cell disease. Instead of round, flexible, doughnut shapes, the red blood cells look like rigid rods or sickles. This abnormal shape can clog blood vessels and deprive the body of oxygen.
But people with just sickle cell trait "have normal life spans and can perform just as well as other people in athletics," said Dr. Martin Steinberg, director of Boston University's Center of Excellence in Sickle Cell Disease.
While they rarely see complications, their bodies can breakdown during intense exercises or heat-related exertion, doctors said.
Sickle cell trait is found in about 8 percent of African-Americans. It appears in less than 1 percent of whites, although one example is Mark Richt, head coach of the University of Georgia football team, who has a son who tested positive for the trait.
Nine collegiate football players' deaths have been related to sickle cell trait since 2000, making exertional sickling the leading cause of death in NCAA football players this decade.
While the Sickle Cell Disease Association of America supports athletes knowing their genetic status, the chief medical officer, Dr. Lanetta Jordan, called the latest screening mandate troublesome.
"What we don't support with the NCAA ruling is that this ruling primarily is based on someone getting sued," she said. "So it's not linked to screening for the purpose of genetic counseling or parenting. It's screening for protection of the universities, not protection of the athlete."
Schools and coaches might treat athletes with sickle cell trait differently, she said.
"Will recruiters be as quick to recruit someone with sickle cell trait?" Jordan asked. "It's too early to tell, but will these students have the same opportunities as some without sickle cell trait? We don't know that."
The NCAA should follow the military's lead, Jordan said. Back in the 1970s, the U.S. military screened for sickle cell, but decided to abandon testing in favor of revamping the training protocol to eliminate the risk of heat-related illnesses and exhaustion for everyone.
"The NCAA has not chosen that route," Jordan said. "The route they chose is to identify everyone. If they are positive, those students will have an alternative practice protocol, which identifies them once again as being different."
Student athletes have been screened for sickle cell trait for more than a decade at the University of Oklahoma. Scott Anderson, the school's head athletic trainer, said modifications tailored to an individual's health needs do not create divisions or fuel discrimination.
"Modifications within sports are not unique to sickle cell trait," Anderson said. "We know and understand there are settings and circumstances that create risk for them."
For example, some players do not participate in certain conditioning or use heavy weight loads because of their health needs such as sickle cell trait, diabetes, asthma or muscular-skeletal syndromes.
The NCAA guidelines "emphasize that student-athletes with sickle cell trait should not be excluded from athletics participation," an association spokeswoman wrote to CNN.com.
The medical field is divided over whether there is enough evidence to warrant the mass screenings (outside from newborns), said Dr. Jeffrey Hord, medical director of the Showers Family Center for Childhood Cancer and Blood Disorders at Akron Children's Hospital in Ohio.
The exact mechanics of how sickle cell trait is related to the deaths during intense exertion are unclear, he said.
"Were there other conditions that contributed to this? Maybe it's sickle cell trait with asthma? Are there factors there we don't recognize at this point?"
Players with the trait should hydrate, pay attention to their bodies and communicate with trainers and coaches, Hord said.
Devard Darling and his twin brother learned they carried the trait when they were screened before joining Florida State University's football team but were given no further information.
During a February 2001 football practice, Devard saw his twin, Devaughn, with his head slumped slightly with an ice pack on his neck. They exchanged a glance, acknowledging how grueling football practice had been, and parted ways since Devard played offense and Devaughn was on defense.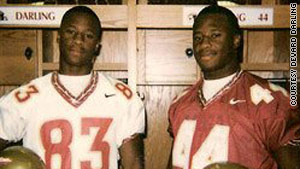 Devard and Devaughn Darling dressed identically until they were in the 10th grade and signed up to play for Florida State.
Devaughn went to mat practice, a series of drills that include dropping to the floor, rolling and sprinting repeatedly.
"It was not really air-conditioned," Darling recalled. "It's so hot and muggy in there. You have trash cans for people to throw up in. People are throwing up, passing out or fainting."
The next time Darling saw Devaughn, the linebacker was on his back, with trainers pumping his chest, trying to resuscitate him. A few hours later, Devaughn, 18, died.
"I have no idea why it happened to Devaughn," Darling said. "It was in the Lord's plan."
Nine years after his brother's death, Darling supports the NCAA screening.
"I think it's about time," he said. "Over the past years, there's been too many deaths related to it. Kids need to know they have the trait."
After his brother's death, Darling played at Washington State University and has played for the National Football League for four seasons without any sickle cell-related incidents. He's currently a free agent.
The complications are "easily preventable for people who have sickle cell trait," Darling said. "Number one is to stay hydrated and know when to take breaks. It's about knowing your body."
FOLLOW THIS TOPIC