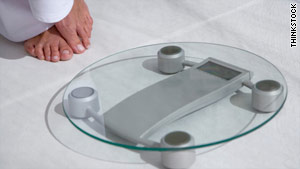 "We've got to think of obesity as a disease, with 400,000 preventable deaths each year," says one diet expert.
STORY HIGHLIGHTS
Rejected obesity drug a blend of phentermine, seizure drug topiramate
Panel member: "We just didn't have enough data to say the FDA should approve" Qnexa
Concerns included increased heart rate, suicidal thoughts, possible birth defects
Drug maker says it's close to completing larger study that will satisfy safety concerns.
(CNN) -- Dr. David Edelson, a weight-loss specialist in Manhasset, New York, hears the stories of dozens of patients each day -- most of them grappling with serious weight problems, after a lifetime of obesity.
Along with coaching on diet and exercise, Edelson gives about half of these patients a pair of prescriptions. One for phentermine, an amphetamine that made up the "Phen" half of "Fen-Phen," the ill-fated diet drug that was pulled from the market in 1997 after some users developed heart-valve problems. Another, for topiramate, an antiseizure medication.
While Edelson creates his own combination, a company called Vivus has developed the phentermine/topiramate combination into a new anti-obesity drug: Qnexa (pronounced kyoo-NEX'-uh).
In one study of more than 3,000 patients, those receiving a low dose lost on average more than 5 percent of their weight, and kept it off for a year. Patients on a higher dose lost more than 10 percent. But the numbers weren't enough to sway an FDA panel, which on Thursday said the drug should not be sold because the benefits are outweighed by safety concerns ranging from increased heart rate to thoughts of suicide to possible birth defects.
3 new weight-loss drugs: Will they work?
While the drugs are not approved specifically for weight loss, "We know they work," Edelson told CNN in a phone interview. While there are four other medications approved to treat obesity, in Edelson's experience, patients quickly build up resistance. "Patients tend to lose 10 or 20 pounds, but then they get stuck." With the combination, he says, they lose two or three times the weight, and keep it off longer.
"We've got to think of obesity as a disease, with 400,000 preventable deaths each year," Edelson said. "This is a great tool."
The final vote was 10-6. Dr. Abraham Thomas, a panel member and head of the Endocrinology and Metabolism Center at Henry Ford Health System in Michigan, voted "no" and said he was concerned that there was not enough safety data.
"The effectiveness was extremely good, much more effective than anything on the market. We just didn't have enough data to say the FDA should approve it," said Thomas. "I voted 'no' because we need to make sure a safety study gets started early."
You don't want to be in position later of 'Oh, I wish I would have known, I wouldn't have done this.'
--Dr. Lamont Weide, FDA advisory panelist
There were several potential safety issues raised at the meeting. Eighteen percent of patients taking Qnexa in the clinical trial dropped out because of adverse events, compared with just 9 percent of the patients getting a placebo.
Another flag: Patients receiving a high dose had increased heart rates, on average.
Dr. Lamont Weide, a panel member and the chief of endocrinology at the University of Missouri-Kansas City Medical School, said the heart-rate finding was worrisome in light of Qnexa's likely widespread use if it were to be approved.
"When you expand this to millions of people, people who should not be taking the drug, will be taking it," Weide said. "If you accelerate heart rate in someone with risk for heart attack and arrhythmias, that's a potentially very dangerous thing."
Of the individual components, most of the discussion was focused on topiramate. In some studies, patients on topiramate performed worse on tests of the ability to think clearly. Other studies showed a significant increase in suicidal thoughts.
Thursday's vote is not Qnexa's last chance at approval. The vote is strictly a recommendation, although FDA officials usually accept the advice of their advisory panels. A spokesman for Vivus said the drug maker is disappointed with the vote but is close to completing a larger study that will satisfy the safety concerns. "We're confident about the ultimate approvability of this drug."
A final FDA decision is expected by October.
At the meeting, Dr. Sidney Wolfe of the advocacy group Public Citizen talked about a study, published in the journal Diabetes Care three years ago, that showed a high rate of neuropsychiatric effects for patients using topiramate for weight loss. The authors said they did not think the drug was appropriate for such patients.
"That should have been the end of it right there," Wolfe said Friday.
But Edelson, who says he's been using the combination since seeing it described at a conference a year and a half ago, was dismayed by the panel's recommendation.
"I understand they need to make sure they've done their due diligence, but at the same time we're facing a crisis here. We're facing an army of obese patients, and we're using a pop gun. We've got a water gun," he said in an exasperated voice. "Finally, we have a new age tool and they're holding it back from us. I just don't understand it."
In his experience, says Edelson, "There clearly are some side effects, but they're mild and easily manageable by an experienced physician."
Dr. Melina Jampolis, a physician nutrition specialist and CNNHealth's Diet & Nutrition expert, said she steers clear of medication for most of her patients, and that weight loss drugs pose special risks.
"These medications need to be taken long-term, so you have to be a little more conscious of the side effects," she said.
Weide agreed that the lack of long-term data was a major concern.
"I think physicians are coming to realize that obesity is a chronic disease. It's not like a sore throat, where you take your medicine and go off it. You're probably going to be on it for a long time," he said.
Weide said he was uncomfortable supporting approval, based on trials lasting just a year.
"You don't want to be in position later of 'Oh, I wish I would have known, I wouldn't have done this,'" Weide said.
Unclear is whether Thursday's vote signals a greater hesitation by the FDA to sign off on new anti-obesity drugs. Two others, Contrave and lorcaserin, are scheduled for hearings this year.
Contrave is another combination of older medications -- in this case, an antidepressant and an opioid antagonist, used in anti-addiction therapy. In theory, it could blunt the craving for food the way it blunts the hunger for heroin or alcohol in an addict.
FOLLOW THIS TOPIC