STORY HIGHLIGHTS
South Africa's growth has ushered in more Western habits and problems of high-fat diets
Traditional, high-fiber diets are replaced with meat-centric, high-fat, sodium-rich foods
In townships, losing weight is associated with being unhealthy and having HIV
Gugulethu, South Africa (CNN) -- In restaurants in this township outside Cape Town, South Africa, barbecue grills crackle with chains of sausage, marinated chicken quarters and boulder-sized slabs of beef and lamb.
Organ meats -- livers, lungs and hearts -- are sold in bustling marketplaces.
In the city, customers order fried chicken, meat pies, biltong (beef jerky), French fries, sausages called boerewors and burgers, a combination of Western and South African fast foods.
Along with growing prosperity, a culture of high-fat foods has taken hold in urban South Africa. In a country where malnutrition is one of the major causes of children's deaths, South Africa is also experiencing an increase in obesity-related conditions such as heart disease, high blood pressure and diabetes.
The country has enjoyed economic growth in recent years and is host of the World Cup, which ends Sunday. But growth also comes with risk.
Cerebrovascular diseases, which cause strokes, and diabetes are the fourth- and fifth-leading causes of death in South Africa, according to the latest report on mortality. Ischemic heart diseases, which can cause artery blockage and heart attacks, are the 10th-leading cause behind HIV, which is ninth-leading killer.
Deaths caused by HIV infection declined in the country; however, these deaths could have been registered as other causes, according to a national report from 2007.
"We're in transition from poverty to economic development," said Dr. Thandi Puoane, associate professor at the University of the Western Cape School of Public Health.
The influx of people to urban areas has caused major dietary shifts that are more starchy, sugary, fatty and salty and feature bigger portions, according to South African research.
In townships, predominantly black communities located outside cities, being overweight does not carry negative connotations.
"Black South African women are not keen on weight loss, because in this era, people think you are thin, you have HIV -- that's the thinking," said Tandi Matoti-Mvalo, a dietitian.
And health experts worry that many people aren't receiving messages about proper diet and exercise.
"Because of the advertisements, people drink Coke and eat KFC and think it's hip and cool," Puoane said. "I haven't seen advertisements for broccoli and beans."
About 56 percent of women and 29 percent of men in South Africa were reported to be overweight or obese, according to a 2003 national survey, echoing similar findings from a 1998 report.
Black African people have the lowest rates of cardiovascular diseases, but there are some concerns about changing diets and habits.
"People in the townships, they feel they need to have meat on the plate daily," said Puoane. "They end up eating chicken fat and skin, they want that taste. People really, really want to have meat on their plate."
It's a departure from maize, porridge and beans.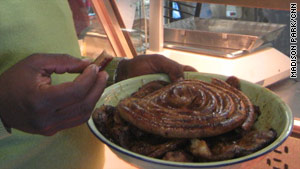 Tembela Mawela holds a platter of meat from Mzoli's, a restaurant and butcher shop.
At Mzoli's, a popular braai (barbecue) spot, Tembela Maweka, who lives in Kuils River, near Cape Town, waited for his platter of meat.
"When you have beers or whiskey, you have to have meat," he said. "You need that fat."
When asked whether he worried about the health implications of a high-fat diet, he paused.
"It might make effects in the body, like in the heart because of fat," Maweka said.
His remedy: "You eat, and drink and exercise."
A few miles away from the restaurant, traders in an outdoor marketplace sell organ meats such as stomachs and lungs. These have higher fat content but are more affordable, said Matoti-Mvalo.
Much like food deserts, described in American urban settings, residents of these areas face a vicious combination of the lack of money and access to nutritious foods.
"They cannot afford healthy food," Puoane said. "They cannot afford chicken breast. They end up buying chicken skins." Chicken breasts are stripped to be sold in affluent markets, and the discarded skins are sold in the townships, she said.
"Accessibility to fresh fruit and vegetables are a little bit difficult," Puoane said. "People have to spend money to get to a minibus taxi, go to the supermarket to buy healthy food. There's less accessibility to healthy food."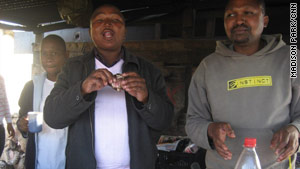 Dumile Klaas and Zandise Mtzang enjoy an afternoon snack in Gugulethu, near Cape Town.
On a mid-afternoon in Gugulethu, three men grabbed a snack at a food stand.
With a knife, they carefully sliced the meat from sheep legs, salted it and then wrapped it in bread. The platter for three with a bottle of Coca Cola cost about $6.
When asked whether they ever worried about their diet and health, they smiled.
"We might get a heart attack," Dumile Klaas joked.
"This is meat, and we like it," said Zandise Mtzang with a shrug. "Do you smoke? Well, that's dangerous, but people still smoke."
Gesturing to what was once a pile of meat, he said "It's the same thing here."
FOLLOW THIS TOPIC