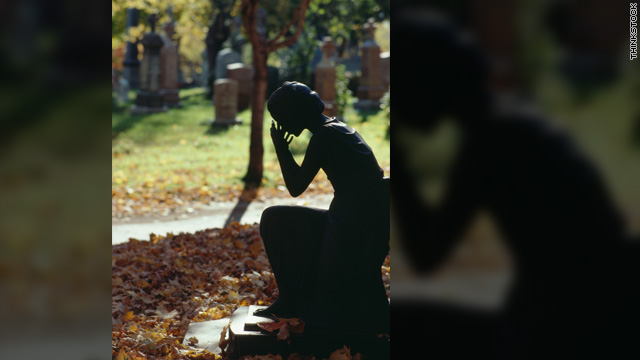 STORY HIGHLIGHTS
Yearly rituals such as going to cemetery and having a family meal are common
Besides personal tributes, there are cultural practices that revolve around day of death
Anyone who is unable to move on after memorial should seek professional help
(CNN) -- Sukhraj Beasla got some strange looks as she dragged a red wagon up the street to the library on June 10 last year, just as she used to when she'd get books with her grandfather.
But this time, she was a grown woman, the wagon was harder to pull, and he wasn't there.
"My grandfather instilled in me the love of books," said Beasla, a social media consultant in Lake Forest, California. "Every time I write something, I feel like he's just behind me, pushing the pencil. And if I feel like I ever have writer's block, all I need to do is just think about the time that we spent together, and it's like the words just come to me." Read her iReport
Beasla thinks of her grandfather every time she writes or looks at her book collection, but she does something special involving books every June 10 because that was the day he died in 2002.
Some people find comfort in paying tribute to someone who has died on anniversary of his or her death.
Pop legend Michael Jackson died one year ago Friday, and fans around the world have planned tributes from Thriller dances to YouTube videos to permanent memorials.
Local media in San Diego, California; Philadelphia, Pennsylvania; and New York have said that "Thriller" dances will occur in those cities in honor of Michael Jackson on Friday.
Jackson's mother, Katherine Jackson, and her granddaughter will be in the singer's hometown of Gary, Indiana, on Friday for the unveiling of a monument in his honor, according to the city of Gary, Indiana.
Having some kind of annual memorial on a death anniversary doesn't work for everyone, but it is helpful for many people, said Keren Humphrey, a counselor in Rockwall, Texas.
Rituals such as going to the cemetery and having a family meal are common, she said. When an accident was the cause of death, some people return to the scene each year, perhaps marking it with a cross or flowers, she said.
One client of Humphrey's volunteers at a homeless shelter each year in memory of her brother, who had been killed on the street while homeless.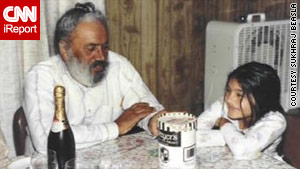 Sukhraj Beasla, right, and her grandfather, seen here in 1989, used to read together.
There are, however, unhealthy ways of approaching the anniversary of a death, Humphrey said.
Some people get stuck each year around the same time, so focused on the loss that they do not move forward. Some resort to alcohol or drugs as a means of coping, she said.
Anyone who feels unable to move on with life after taking a day to remember a lost family member or friend should seek professional help, she said.
A counselor first helps the patient figure out whether he or she also has depression in addition to grieving, and whether prior losses contribute to the insurmountable feelings of sadness. The counselor helps the patient focus on what's already making him or her feel better -- whether it be exercise, going out or talking to friends -- and emphasizing those things.
Besides personal tributes, there are cultural practices that revolve around remembering the deceased on the day of death.
In Judaism, the Yahrzeit is the commemoration of the day of someone's death, according to the Hebrew calendar. Mourners recite the Kaddish prayer three times that day, go to synagogue and light a candle that burns for 24 hours.
Linda Friedlander, 49, of Tallahassee, Florida, said she feels comforted and sad when she lights hers for her grandfather, aunt and mother because it reminds her of how much time has passed. She will also light it for her father, who died three months ago, next year.
"Don't fret about the 'coulda, woulda, shoulda' -- I did that with my mother. It just doesn't matter," she said.
Hinduism also has specific rituals for a death anniversary. A ceremony called shraddha takes place annually on the death of an ancestor.
Broader traditions among Indians are to light a candle or go to a temple, said Beasla, 29, whose family is Sikh. Beasla lights a candle each year for her grandfather on June 10, but she also honors his memory by surrounding herself with books.
When Beasla was a child, her grandfather would spend hours reading to her and other children in the kids' section of the local library, sitting on the ground or hunched on a tiny bench. He became everyone's grandfather, she said. Today, there is a plaque honoring him at that library.
"I know his memory is around a library or a bookstore or somewhere where you can be around books," she said. "That's where he could feel at peace."
She recommends remembering the good times you had with a deceased loved one, rather than the ones that make you sad.
"You feel guilty about it, but they wouldn't want you to grieve forever," she said.
Catholicism has All Saints Day and All Souls Day on November 1 and 2; at the same time, Latin Americans celebrate Día de los Muertos, the Day of the Dead. These are days for mourners to remember their loved ones, not necessarily on the day of death.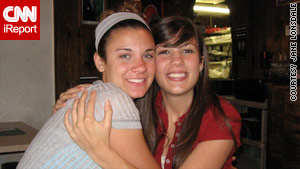 Jane Lonsdale, left, remembers the good times with her sister Mary, who died in 2007.
Every year on December 20, Jane Lonsdale and her family go to her sister Mary's favorite restaurant in downtown Cleveland, Ohio, and recount their memories of her.
Mary, who was two-and-a-half years younger than Jane, died in 2007 at 18 from a fatal cardiac dysrhythmia after a long battle with bulimia.
"You have that sadness, but also this joy that we're celebrating her life and this young woman that she was becoming," said Lonsdale, 23, a student at the University of Ohio. She shared her story with CNN's iReport.
Not long before she died, Mary Lonsdale had undergone intense therapy and hospitalization at a clinic in Portland, Oregon.
When she got back, things were starting to get better for her, Jane said. She visited Jane at college, forming the best and last memories that Jane has of her only sibling.
Today, the family's backyard water garden is dedicated to Mary.
"[My father] said that Mary was brought up into heaven on the 21st, on his birthday, so that was the best birthday present that he could ever get," Lonsdale said."That's how we console each other."