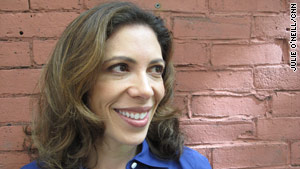 In watching her husband, Bruce Feiler, work on "The Council of Dads," Linda Rottenberg learned about male intimacy.
STORY HIGHLIGHTS
Husband's cancer taught Linda Rottenberg that it's OK to be vulnerable, to let others in
"Council of Dads" teaches how to incorporate friends into your family life
"As a mom, I know that the more people who love my children, the better off they'll be"
Editor's note: Imagine being a father and finding out you were going to die. Who would be there for your kids? Hear from one man who thought only of his daughters when he was faced with the news. Watch "Dads for My Daughters," a special Dr. Sanjay Gupta documentary to air June 19 and 20 at 8 p.m. ET on CNN.

NEW YORK (CNN) -- Would you tell us about the first time Bruce told you about his Council of Dads?
I instantly thought of the girls, and that this would be a wonderful way for them to get to know different sides of their father.
I also thought the process of creating the council would give Bruce something else to focus on besides the daily battle against his illness. And the moment he said the words "Council of Dads," the force of the idea struck me. Bruce, at one of his weakest moments, had come up with a truly powerful concept, one that had the potential to inspire a lot of people beyond our family. I felt compelled to help give life to this idea.
Read more Dads for My Daughters
Can you describe for us how Bruce selected the men who would be in his Council of Dads? Did you play a role?
...Saying the 'right thing' matters far less than the simple act of reaching out. The point is being present.
--Linda Rottenberg
Bruce jokes that after he asked my opinion about who should be in the Council of Dads, I instantly started vetoing some of his candidates. Some of the men we knew instantly would be in the council. They would represent key aspects of Bruce's character -- TravelDad, ValuesDad, ThinkDad, DreamDad.
I really wanted someone from his hometown of Savannah [Georgia] both because being from the South is so important to him and because I wanted someone who knew Bruce growing up. But I also felt strongly that there was one side of Bruce that was missing -- the side that views the world differently, that appreciates beauty as well as pain, and that cannot suppress the urge to topple authority. That's how "RebellionDad" snuck into The Council of Dads! I love the mix we ended up with.
What did you learn about fatherhood and men from watching Bruce work on The Council of Dads?
I feel like I got a window into male intimacy and male friendship. On the one hand, there certainly was a fair bit of jousting, one-upmanship, teasing about bald spots and conversations about sports cars. On the other hand, many of the conversations Bruce had with the dads surprised me for their emotional content. The men discussed their feelings, the emotional well-being of their children, and the challenge of juggling marriage, parenting and work.
If I die, who will teach my daughters?
Listening to Bruce and his Council of Dads often felt like being at preschool drop-off with all the moms! In fact, all my girlfriends went to buy the book just so they could learn the secrets of their husbands. And now they're saying to the men in their lives, "Go get you one of those Councils of Dads!"
Have you considered starting your own Council of Moms?
Yes. In fact Eden and Tybee asked the other day, "Daddy has a Council of Dads. Can you make a Council of Moms for us?" I've already decided on a few members, but I'm still working through what I call "Council Sudoku": Finding the right balance of women to represent different sides of my personality and different eras of my life while also giving them unique roles to play in the girls' lives reminds me of a puzzle grid where you keep fiddling until you finally land on a combination that works.

Video: Author's accidental diagnosis

Video: Feiler: Cutting out the cancer

Video: Feiler: Is the cancer back?
And like Sudoku, which is a 3x3 grid, I'm inclined to have nine members rather than Bruce's six (Women are multifaceted and need more council members, I've decided!) But what I learned from watching Bruce is that you can't simply e-mail invitations. I joked that he planned six marriage proposals. You have to make a moment.
Bruce is cancer free now. What role do the six men play in your daughters' lives now -- and in yours?
What's been moving is watching the girls develop real friendships with each of the men in their council. They're no longer just Bruce's friends. They're the girls' friends, too. They now come over before bedtime to play. Eden and Tybee even have nicknames for each dad -- Tractor Jeff, Chocolate-Chip David, Tadpole Ben, Chitchat Max. That reflects the fact that we gave each of the dads a specific role to play. In essence, Tybee and Eden gained a team of godparents. And as a mom, I know that the more people who love my children, the better off they'll be.
A father's 10 lessons for his daughters
As for me, I feel like it's created this new community of grown-up friends, too. Everyone knows that when you marry, you marry into a family. Friends, however, tend to stay separate: his and hers. Not to mention that most of us go into hibernation when we become parents. It's hard enough to juggle work and family, let alone add friends into the mix. But now these men are my friends, too. I can pick up the phone. I know they're there for me. And I know they deeply understand our lives and our children, which makes every conversation somehow easier and more meaningful.
Beyond the friendships, how did this experience change you as a person?
This experience changed me in multiple ways. First, as a female CEO, I had cultivated an independent, self-sufficient persona, one that I believed conveyed strength and authority. But the moment Bruce got sick, I threw self-sufficiency out the window and let others in. I allowed myself to be vulnerable. While it was scary at first, I realized that all my relationships, including those at work, changed for the better. Becoming vulnerable made me a more effective leader.
Becoming vulnerable made me a more effective leader.
--Linda Rottenberg, on facing her husband's illness
I also changed as a person. I always have been passionate and optimistic -- Bruce jokes my two modes of looking at situations are "thumbs up" and "thumbs sideways." I'm the person that people approached to reveal their aspirations, to share some good news, or perhaps to help overcome some obstacle.
But I was never the person anyone came to when a relative became ill, when someone close died, or when a situation proved too grim to fix. I lacked the vocabulary for pain and suffering. And because I didn't know what to do in those situations, I rarely stretched out my hand. But living through Bruce's cancer battle taught me that saying the "right thing" matters far less than the simple act of reaching out. The point is being present.
Admitting that life sometimes can be "thumbs down" still doesn't come naturally to me! But Bruce taught me -- long before his illness -- that looking into a scary place, peering into darkness, contemplating death, actually enables us to live life more fully, more vividly.
Bruce's book has a number of takeaway lessons, but what do you think is its overall message?
While it's a memoir, "The Council of Dads" is really a manual of living. Specifically it's about how to incorporate your friends into your family life. After reading the book, so many people have told me: "I spent the first 10 pages thinking about Bruce, then the rest of the book thinking about me. Who's my oldest friend? Who's in my Council?" "What life lesson do I wish to pass on to my children?"
Linda Rottenberg is the CEO and co-founder of Endeavor, a nonprofit that supports high-impact entrepreneurs in the developing world. Here, she discusses "The Council of Dads," created by her husband, Bruce Feiler, to support their two young daughters after Feiler learned he had a rare and deadly form of cancer.
FOLLOW THIS TOPIC