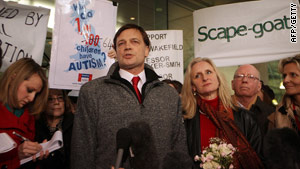 Dr. Andrew Wakefield, pictured here in January in central London, has been barred by the General Medical Council.
STORY HIGHLIGHTS
Doctor who linked childhood MMR vaccine to autism barred by General Medical Council
GMC: Andrew Wakefield "repeatedly breached fundamental principles of research medicine"
His study has been discredited and redacted
London, England -- The doctor who sparked fears that a childhood vaccine was linked to autism has been barred from practicing medicine after his study was discredited, Britain's General Medical Council announced Monday.
Dr. Andrew Wakefield "repeatedly breached fundamental principles of research medicine," a council disciplinary panel found, adding that "his actions in this area alone were sufficient to amount to serious professional misconduct."
The British medical journal The Lancet, which published a paper from Wakefield in 1998, retracted it in February.
Wakefield has 28 days to appeal or his name will be "erased from the Medical Register," the medical council said in a statement.
He apparently did not fight disbarment, the council said. No evidence was offered on Wakefield's behalf, the council said, and "no arguments or pleas in mitigation" were addressed to the panel.
The council could have given him a lesser punishment, such as disbarring him for a year, but it ruled that his conduct was so dishonest that temporary suspension was not appropriate.

Video: Autism study retracted

Video: Autism vaccine study flawed

Video: The truth about autism
The panel found Wakefield had ordered research on nine children without his hospital's ethics committee approval. Three of them had invasive procedures they did not need, the statement said.
That research led to Wakefield's flawed paper on the link between the measles, mumps and rubella vaccine and autism, which panicked many parents and led to a sharp drop in the number of children having the MMR vaccine.
"Dr. Wakefield had a clear and compelling duty to ensure that the factual information contained in the paper was true and accurate and he failed in this duty," the GMC ruled.
He failed to disclose that the research was being done to test a theory that there was a link between the vaccine and "a new syndrome."
Concealing that information was "dishonest, in that his failure was intentional and that it was irresponsible," the council ruled.
And he mislead readers about how children were chosen for the study, it found.
"His conduct resulted in a misleading description of the patient population. This was a matter which was fundamental to the understanding of the study and the terms under which it was conducted," the doctors' group said.
When he was challenged on how children were selected, he lied twice, it added.
Wakefield separately ordered investigations on five children while he was at London's Royal Free Hospital, although he was not a pediatrician and his terms of employment said he should have no involvement in the clinical management of patients, the council found.
He also accepted 50,000 pounds (currently $72,000) to act as an expert witness in an MMR court case, misled authorities about the payment, and misused half of it, the GMC found.
That created the appearance of a conflict of interests, which he then failed to admit to, it said.
He also had blood samples taken from children at a birthday party - which the panel found "an inappropriate social setting" - without ethics committee approval, paid the children 5 pounds each, and later joked about it in a public presentation, the GMC said.
"He callously disregarded the pain and distress young children might suffer and behaved in a way which brought the profession into disrepute," it concluded.
Wakefield theorized that the measles vaccine caused gastrointestinal problems and that those problems led to autism. In his view, the virus used in the vaccine grew in the intestinal tract, leading the bowel to become porous because of inflammation. Then material seeped from the bowel into the blood, Wakefield's theory said, affecting the nervous system and causing autism.
Subsequent research has been unable to duplicate Wakefield's findings.
William Schaffner, professor and chairman of the department of preventive medicine at Vanderbilt University School of Medicine, described the journal's level of action as "unprecedented."
"Since Wakefield's study came out, some 20 other studies have come out, and each one of these studies, done by different researchers, in different populations and in different countries, has denied the associations between vaccines and autism," he said. "Scientifically, this story is over."