STORY HIGHLIGHTS
Mobile Health 2010 starts with pre-conference workshops on Sunday

Text messages are personal, can be referenced easily, and can remind you to take meds

Expert: Apps that try to get you to do too much at once will not work

(CNN) -- Before iPhones, Foursquare and Facebook, B.J. Fogg envisioned a mobile fitness device that coaches the user, tracks her location, and shows her friends also exercising at that time.
The concept appeared in Fogg's 1997 dissertation about how computing and psychology can merge to change behavior, and people thought the idea sounded "Star Trek-ish." He went on to found Stanford University's Persuasive Technology Lab, where he began work on mobile applications long before most phones in wide use could support them.
Today, Fogg's ideas that once seemed like science fiction are in widespread use. Anyone can develop a smart phone application designed to influence behavior, and users can choose from a wide array of options to help them do everything from lose weight to sleep better. There are also text-based programs. But Fogg himself isn't in the business of selling iPhone apps; instead, he wants to help health experts and developers pool their knowledge to make effective phone-based health programs.
"That's nice that I was accurate, but it just reinforces to me how important it is to execute, and to focus and do," he said. "You have to go beyond ideas, you have to go beyond talking."
Most people carry cell phones with them everywhere, making them a powerful tool in creating new habits in a person's daily routine, Fogg said. Programs designed to improve health habits operate through "triggers," or calls to action, which can be as simple as "click here."
Psychology tells us that the best way to achieve a big goal such as weight loss is to break it down into small components and take each step at a time. People get motivated by calls to action, and by working new things into their existing routines rather than forcing drastic changes. Taking on too much too fast is why some people fail their New Year's resolutions.
To facilitate the creation of more effective mobile health technologies, Fogg has organized a conference at Stanford called Mobile Health 2010. It kicks off with pre-conference workshops on Sunday and runs through Tuesday.
Sponsors of the conference include the U.S. Food and Drug Administration and the Agency for Healthcare Research & Quality. Fogg hopes that organizations such as these will forge collaborations with companies and developers at the conference to make useful, effective mobile health solutions.
What makes mobile health interventions work
Mobile technologies can help people with health goals by guiding them through small steps, Fogg said. Weight Watchers and Jenny Craig -- both of which now also have iPhone apps -- have succeeded as weight loss systems because they are entire processes focused on creating habits and routines that can be maintained, he said.
Apps that try to get you to do too much at once will not work, he said. You will also have less success with overly complicated apps that demand frequent data entry, he said.
"People are willing to do one click, maybe two, to get it done; not five, not eight," he said.
Fogg cited what he called good examples of simple but powerful interventions not on the phone itself, but which are wearable devices that automatically monitor your fitness behaviors and transmit information to your computer. FitBit is a small device that tracks sleep, calories burned, and exercise automatically while you wear it. This avoids having to open the phone to enter information about your habits; you just look at your results to see how you're doing. The Philips DirectLife health monitor is a similar option. Both are $99, though; more expensive than most phone apps.
Why texting also works for health
You don't have to own a smart phone to let your cell phone help you achieve your goals. There are services that use text messages, which most cellular phones can receive, to help people achieve health and fitness goals.
One texting innovation that will be discussed at the Mobile Health 2010 conference is Text4Baby, a service that sends free messages each week to help expectant parents through pregnancy and the first year of child care. These messages, have been reviewed by U.S. government health agencies, contain information and advice about the mom and baby's health in the current week, based on the due date that the user enters when signing up.
Another service represented at the conference is called Health Txts. You can choose to receive various text messages to help you do things like exercise, reduce stress and stop smoking. There are also several medication compliance devices in the works that make use of wireless -- here's an overview.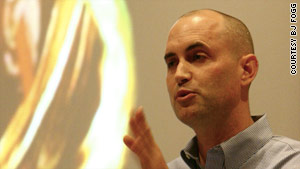 BJ Fogg has organized the Mobile Health 2010 conference at Stanford University.
Text messages are personal, can be referenced for long periods of time, and are already part of people's daily cell phone routine, said Heather Cole-Lewis, researcher at Yale University who has studied the effectiveness of texting for health purposes. They can serve as automated reminders or as direct links between patients and their health care providers.
Texting conveys "the idea that someone is interested in your health and you're not alone on this battle," Cole-Lewis said. Her March 2010 study in Epidemiologic Reviews, which included diabetes management and smoking cessessation programs in its analysis, found strong evidence for texting as a behavioral change tool.
Toward the future in mobile health
Five years from now, the apps and other mobile health services will probably not be shockingly different, but will fulfill current needs and visions, Fogg said. There will be more location-based interventions, and simpler versions of what's out there now, such as one-click calorie-counters.
Fogg and colleagues are about to release a tool called Behavior Wizard that will aid anyone who wants to create a technology-based health intervention in identifying how to go about changing specific behaviors. Its philosophy is that there are 15 ways behaviors can change -- for instance, breaking a habit vs. starting a new one are different. The user will be able to see what kinds of technologies have worked in the past to create specific kinds of change.
Perhaps further down the line, as technologies improve for understanding and managing chronic illnesses, cell phones may help people monitor their conditions, delivering text messages with information about what's going on in the body, said Dr. Joseph Smith, chief medical and science officer of the West Wireless Health Institute.
There are also interventions that may have important global reach, Smith said. Researchers at Johns Hopkins University are looking at how mobile phones may help peer educators augment HIV/AIDS care in Rakai, Uganda.
There is also a website for an online community of people who use mobile technologies for social impact called MobileActive.org.