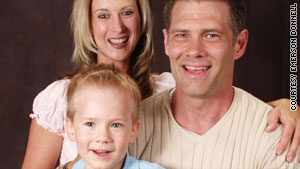 Emerson Donnell III said he had felt disconnected from his family years ago.
STORY HIGHLIGHTS
Overwhelmed by needs of children with autism, parents can neglect their marriage

Many in autism community believe that 80 percent of such marriages will end in divorce

Study finds that autism divorce rates (64 percent) are similar to families without the disorder
(CNN) -- Emerson Donnell III had heard that 80 percent of marriages that include a child with autism end in divorce. And he felt certain it would happen to him.
About two years after the birth of his son, he found himself feeling disconnected from his family. His wife, Jennifer, devoted most of her time and energy to Emerson IV, and they rarely had time for each other. His son barely acknowledged him.
"Autism is something you can't swallow all at once," he said. "You're first run over by the truck, overwhelmed and shut down. I sometimes wished I could be the guy who could say, 'I'm out of here.' That's the easy road. The hard road is sticking in."
It's a common problem for families with the disorder, autism experts say.
Overwhelmed by the needs of their children with autism, parents can neglect their marriages. Conventional wisdom has held that families of autism have a higher rate of divorce than others, but a study released Wednesday challenges this notion.
Researchers from Kennedy Krieger Institute in Baltimore, Maryland, found that 64 percent of children with an autism spectrum disorder have married parents, compared with 65 percent of children without the condition.
The authors are scheduled to present their findings Friday at the International Meeting for Autism Research in Philadelphia, Pennsylvania.
Despite widely held beliefs, the results of the study, based on nearly 78,000 children from the 2007 National Survey of Children's Health, showed that divorce is not more common in families of autism, said Brian Freedman, the lead author of the study and clinical director of the Center for Autism and Related Disorders at Kennedy Krieger Institute.
The study was based on a snapshot -- the marital status of the survey participants at the time. It was not a study over time.
When families receive a diagnosis of autism and then hear about high divorce rates, it can be crushing, Freedman said.
"It leaves many families with a sense of hopelessness about family and relationship. I felt like it was important to get better info about this out there," he said.
Autism is something you can't swallow all at once. You're first run over by the truck, overwhelmed and shut down.
--Emerson Donnell III
It's unclear where the the 80 percent divorce rate figure originated. Autism experts said they had not found any scientific research citing that number.
The notion that parents of autistic children are more likely to get divorced is a "a little bit like an urban myth," said Dr. Patricia Manning-Courtney, director of the Kelly O'Leary Center for Pervasive Developmental Disorders at the Cincinnati Children's Hospital Medical Center in Ohio.
"There's an assumption that the divorce rate is higher," she said. "Why would people perceive it to be higher? Is it because we hear about families that end in divorce? Maybe it's more public and gets talked about more? I don't know."
Time: Are marriage statistics divorced from reality?
Despite the conclusions from the recent study, Donnell, a Califon, New Jersey, resident, said he has a hard time believing that autism divorce rates are no different.
"With the additional financial and emotional stress, I can't imagine it's the same across the board," he said.
Donnell recalled the strain in his family life three years ago.
After a long day at work, Donnell wanted nothing more than a hug from his young son when he came home. But the 2-year-old would wince and push away all affection.
"It'd send me into an emotional tailspin," Donnell said of not being able to connect with his son. "I'd get frustrated, so I'd throw the keys on the counter and look for wine -- now my wife had two dysfunctional children on her hand."
His wife was absorbed in Emerson's care.
"Mothers focus just on the child. They put their own needs aside, their husband's needs aside, and their whole adult life aside, which is completely unhealthy. It consumes you," said Donnell, who wrote the book "Dads and Autism: How to Stay in the Game."
"Next thing you know, you don't have a relationship as a husband and wife," he said. "All you do is sit there and talk about autism."
These schisms among parents of autism tend to occur, Manning-Courtney said. From her 13 years of practicing, she observed that mothers and fathers reacted differently.
"The primary one is the division of labor," she said. "Moms sort of take over all care, and dads take over everything else -- breadwinning, money earning, the resource-providing role. That harsh division of labor can be tough over a long period of time."
Even when Donnell and his wife made an effort to get out of the house, dinner dates turned into discussions about autism therapy and doctor's appointments, Donnell said. While the two never argued, both of them felt angst.
"The picture of what parents have in mind of raising a child is different when raising a child with autism," Freedman said. "Many children with autism have behavioral challenges. Those can be challenging to handle. Taken together, it can cause stress for families."
Donnell felt irrelevant in his son's life, but he decided to take charge.
He set a routine where he would greet his son with a hug when he arrived from work. Little Emerson fought "tooth and nail" against this, but he eventually started to comply, even though the whole process of hugging and interacting was a mystery, Donnell said.
A few months later, Donnell was holding the then-2-year-old and trying to get him to say "Pop" to describe a Popsicle stick. The toddler looked frustrated, but instead of having a meltdown, he reached up to his father and gave him a hug and kiss on the cheek.
That left tears in Donnell's eyes.
These days, Donnell takes care of Emerson's therapies and schoolwork. His wife takes charge of Emerson's medical needs and his doctor's appointments. As they worked as a team, they bonded.
"We have real mutual respect for each other's strengths -- luckily in different places," he said. "It has opened both of our eyes."
He and his wife have tried to focus more on their relationship. After putting Emerson to bed, they have a baby sitter come over so they can go out for a date.
"It doesn't sound romantic, but that's the reality," he said.