FDA report cites deficiencies at McNeil plant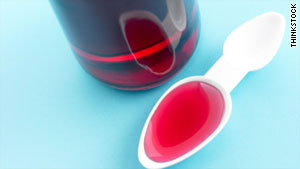 The FDA reported that bacteria was found in a plant that makes children's medication.
STORY HIGHLIGHTS
Bacteria was found at McNeil plant, where recalled children's medications were made
FDA official says it is "too early" to say what kind of bacteria was found at plant
The danger to consumers is remote, but parents are urged to get rid of recalled products
(CNN) -- Less than a week after the Food and Drug Administration and McNeil Consumer Healthcare implemented a voluntary recall of infant and children's liquid products, the FDA Tuesday released its preliminary inspection findings and cited numerous deficiencies in production of the recalled products.
According to the report, a bacteria was found in the Fort Washington, Pennsylvania, plant, where the medications were made. Deborah Autor, director of the Office of Compliance, Center for Drug Evaluation and Research at the FDA, said it was "too early" to say which bacteria was found and the FDA was not prepared to release that information.
The recalled products include liquid infants' and children's medications including Tylenol, Motrin, Zyrtec and Benadryl.
"We want to be certain that consumers discontinue using these products and that they know what to do if they have concerns about a specific product," said Margaret A. Hamburg, commissioner of food and drugs. "While the potential for serious health problems is remote, Americans deserve medications that are safe, effective and of the highest quality. We are investigating the products and facilities associated with this recall and will provide updates as we learn more."
McNeil Consumer Healthcare, a subsidiary of Johnson & Johnson, initiated the voluntary recall because some of its products did not meet required quality standards.
"Although the danger to consumers is remote, we are asking parents to get rid of these products immediately," Autor said. "If parents feel their child needs these products, they should seek the generic versions."
McNeil is making all efforts to correct the problems and has shut down production of 50 over-the-counter medications, Autor said. The FDA will follow up on the corrections and will make a decision then as to whether it should take further action against McNeil. If the company does not comply, it could face criminal penalties as well as seizure of its products.
According to McNeil's website, the company is now in the process of addressing the problems to provide safe products to consumers. It is not known when the plant will start production again.