Children's cold, allergy medicine recalled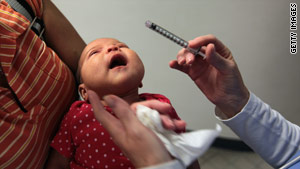 A child receives drops of Children's Tylenol after getting a vaccination.
STORY HIGHLIGHTS
Children's Motrin, Tylenol among drugs being recalled for failing to meet quality standards

Recall not based on adverse health effects, company says

Drugs were made in United States, distributed to other countries

(CNN) -- A voluntary recall has been issued for more than 40 over-the-counter drugs for children, including Tylenol and Motrin, because they don't meet quality standards.
"This recall is not being undertaken on the basis of adverse medical events," McNeil Consumer Healthcare said in a statement Friday. "However, as a precautionary measure, parents and caregivers should not administer these products to their children."
FDA commissioner Margaret Hamburg gave a similar recommendation in a statement Saturday, saying, "we want to be certain that consumers discontinue using these products," though she called the chance for serious health problems "remote."
"Some products in the recall may have a higher concentration of active ingredient than specified while others may have inactive ingredients that don't meet testing requirements, the company said.
The company said it issued the recall after consulting with the Food and Drug Administration. The affected brands include: Tylenol Infants' Drops, Children's Tylenol Suspensions, Children's Tylenol Plus Suspensions, Motrin Infant Drops, Children's Motrin Suspensions, Children's Zyrtec Liquids in Bottles and Children's Benadryl Allergy Liquids in Bottles.
The drugs were made in the United States and distributed to Canada, the Dominican Republic, Dubai, Fiji, Guam, Guatemala, Jamaica, Puerto Rico, Panama, Trinidad & Tobago and Kuwait.
"There are a number of other products on the market, including generic versions of the recalled products, which are intended for use in infants and children and are not affected by the recall," the FDA said Saturday in issuing guidance to parents.
More details are available by calling 1-888-222-6036 or visiting McNeil's website.