STORY HIGHLIGHTS
H1N1 flu pandemic started in April 2009 after discovery of new strain
California woman grieves loss of her child and urges flu shots
Michigan small business had half its employees sick or tending to ill children
(CNN) -- A year ago, scientists from the Centers for Disease Control and Prevention revealed that they had discovered a new flu strain that was sickening the young and healthy.
Over the next months, the rapid spread of the newly discovered virus led to a global pandemic and brought some parts of the world to a complete standstill. Mexico City closed all public gatherings for days. Some U.S. school districts shut their doors amid fears that bordered on panic.
The initial clamor for the H1N1 vaccine resulted in hours-long lines at some clinics and health departments. But as the supply increased over the fall, the demand waned, and skeptics questioned its safety. So far, 162.5 million doses of the vaccine have been made available in the United States.
A year later, the flu seems to have largely faded from the public consciousness.
Health agencies have been criticized for hyping the dangers of H1N1, which was initially called swine flu.
Nearly 18,000 deaths have been confirmed, according to the World Health Organization. There are probably many more that were not tested.
The H1N1 flu is still circulating; in recent weeks, an outbreak affected 11 students at a Hawaii school. Over the past year, the virus has changed habits and disrupted lives, some permanently.
A mother grieves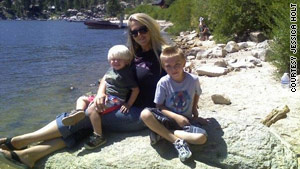 Jessica Holt had two young sons. Joey Holt and Jeffrey Dean both became sick with flu symptoms.
Jessica Holt, a mother of two, didn't worry about the flu. Her two boys, 7 and 3 years old, were both healthy and active.
"What I thought when I started to hear about H1N1 was, 'That's not going to happen to me. It's like bird flu,' " said Holt, of Rancho Cucamonga, California.
In November, her older son, Joey Holt, was sent home from school with a 103-degree fever. He complained of a stomachache. Two days later, she took him to see a doctor, who sent them home with a prescription for antibiotics and a recommendation for fluids and rest.
That night, Joey kept vomiting. His skin was pale and felt like an ice cube, his mother said. She called 911. En route to the hospital, Holt watched as Joey's heart rate dropped from 150 to 50 beats a minute. He said, "I love you, Mama. Hold my hand."
Then, "he was gone," Holt said.
"If I had gotten my son Joey vaccinated, maybe he'd be here right now," Holt said. "You don't want to walk in my shoes. I live every day with that regret: Why didn't I do it?"
An estimated 60 million people have been infected with H1N1, and 12,000 have died from the virus in the U.S., according to the CDC. It estimates that 10 percent of these deaths occurred in patients 17 or younger.
In contrast, the seasonal flu kills about 36,000 people a year, with 90 percent of these deaths occurring in people 65 years and older.
Holt started the Joey Holt Foundation and encourages people to get vaccinated through Families Fighting Flu. She plans to always vaccinate her family.
"There's nothing worse than losing my son," she said. "He wanted to be a doctor. He had so much potential. Because of my negligence, because I was not personally educated, there's no greater blame or regret than that."
Flu hits small business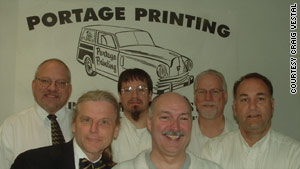 When the flu hit Vestal's business, the healthy employees worked extra shifts to meet their deadlines.
In November, nearly half of the employees at Craig Vestal's small business caught the flu, and many of them had to take care of their children, who also had H1N1. The workflow slowed at the Portage, Michigan, printing shop.
Then Vestal and two of his four children caught the flu, too.
It was like being "death warmed over," he recalled.
Despite the fever, nausea and vomiting, Vestal dragged himself to work and stayed inside his office to limit exposure for his employees. He said he had to deal with payroll and the other responsibilities of a small business owner.
His company managed to meet its deadlines.
Initially, "I was not concerned at all," he said of the flu. "No one ever cares. If your house doesn't get hit by the tornado, it's just something you hear in the news.
"You think about it differently afterwards. We take it more seriously. ... Nobody died, but it was a big enough disruption in everybody's life."
This year, Vestal will strongly encourage his employees to get the flu shot, which will be covered under their health insurance.
A hospital is swarmed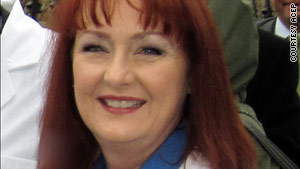 Dr. Angela Gardner said the attention to H1N1 was warranted, because it prevented more cases.
Conditions were already dire in Galveston, Texas, when word about the swine flu spread in April 2009. Dr. Angela Gardner was an emergency physician working at the University of Texas Medical Branch, which had been hit by Hurricane Ike seven months prior.
Because the hospital was still damaged, staff members were using tents and other temporary quarters when people started swarming in because of H1N1.
"We had people pouring in, worrying they had been exposed," she said. "There was no guidance about what to do. We ran out of flu swabs immediately. Then we didn't have testing."
Most of the people on the island were coughing already because of the debris and construction, Gardner said. Determining who had an upper respiratory infection was difficult when everybody was coughing.
Some were the "worried well," but others had symptoms. The hospital had little capacity to hospitalize patients.
Days later, they learned that no one had the H1N1 virus there, and the initial panic subsided.
"You hear from the lay people, 'we shouldn't have been so panicked because nothing happened,' " said Gardner, president of the American College of Emergency Physicians. "Well, nothing happened because people took it very seriously. I think it's an example of a process that worked."
The experience with H1N1 drove home the importance of flu shots, hand washing and good hygiene, said Gardner, now an associate professor of emergency medicine at the University of Texas Southwestern Medical Center at Dallas.
Top health officials including Health and Human Services Secretary Kathleen Sebelius and CDC leaders -- with an assist from "Sesame Street's" Elmo -- instructed people to cough into their elbows. Public service announcements promoted flu shots for pregnant women and vulnerable populations.
Gardner wondered whether these efforts and better hygiene practices reduced the cases of seasonal flu this year.
"It's easy to pass judgment with hindsight. If we had taken all these precautions and many, many people had still died, people wouldn't be saying we were overcautious. They would say we didn't do enough."
Kids wash hands while reciting alphabet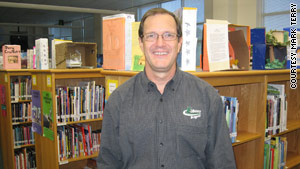 Principal Mark Terry said educators need to err on the side of caution when it comes to student safety.
Last spring, about 10 percent of the students at Eubanks Intermediate School in Southlake, Texas, were home with the flu. Principal Mark Terry and county officials decided to keep the middle school open, despite closures in neighboring districts.
Does he think some schools overreacted to H1N1 by shutting down? Educators tend to err on the side of caution, Terry said.
"With someone else's kid, you can't put them out with the chance there could be danger," he said. "I can look back and say, 'Yeah, yeah, it wasn't a big deal,' but you can't take a chance. To me, it wasn't overkill."
Today, his school's hallways and cafeteria have hand sanitizer dispensers. The scare forced students and teachers to become educated about flu prevention. Preschoolers in his school district sing the alphabet while washing their hands. A bevy of public service announcements instructed children to wash their hands with soap and water long enough to sing "Happy Birthday" twice or to recite their ABCs to clean effectively.
"There are video lessons on how to cover coughs and sneezes. It really heightened our health services that we give to kids," Terry said.