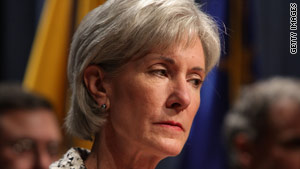 Kathleen Sebelius became health secretary days after the CDC reported a new flu strain last April.
STORY HIGHLIGHTS
Sebelius thanks health workers, but reminds them that they need to be vaccinated
H1N1 effort was "most ambitious immunization campaign ever," she said
But she says vaccination rates in minority communities need to increase
(CNN) -- The H1N1 vaccine was the "most ambitious immunization campaign ever," but vaccination rates need to improve in minority communities and among health workers, Health and Human Services Secretary Kathleen Sebelius said Monday.
"We shouldn't have to convince health providers that vaccines are safe and that they work," Sebelius told the National Immunization Conference in Atlanta, Georgia. "But, despite the fact that we had more health providers than ever getting vaccinated last year, there was still a sizable number who did not."
She credited local and state public health workers, nurses and immunization coordinators for delivering vaccinations via mass immunizations at school gyms and drive-by clinics, and for hammering away at prevention messages.
"When you see someone in the grocery store coughing into their sleeve, a parent who keeps a child home when he's sick, or someone at work disinfecting her keyboard, you can take a little of the credit for that," Sebelius said. Her comments came at the one-year anniversary of the flu pandemic.
She noted that vaccination rates in minority communities lag and that better outreach is needed in those communities.
"There is lingering apprehension about vaccines -- beliefs that they may not work, they are experimental," Sebelius said. "But with so many African Americans, Hispanics, American Indians and others experiencing rising rates of chronic disease, not getting vaccinated is many times more dangerous than even the perceived threat of the vaccine."
On April 21, 2009, the Centers for Disease Control and Prevention announced that scientists had identified a flu strain never seen before in California and Texas, and that the strain could lead to a serious outbreak.
The CDC, Food and Drug Administration and the National Institutes of Health immediately mobilized to address the situation, she said.
"H1N1 was an enormous challenge," said Dr. Thomas Frieden, the director of the CDC. "It also was a way of showing we can rise to tremendously stressful, complicated, evolved challenges and meet them."
Because H1N1 -- unlike the seasonal flu -- affected younger, healthier individuals, the prevention message had to be tailored to a different population. In response, public health campaigns enlisted the Sesame Street character Elmo, Facebook and a hip-hop doctor to spread the word, Sebelius said.
The CDC estimated that between 42 million and 86 million cases of 2009 H1N1 occurred between April 2009 and February 2010.
She said the U.S. government sought to convey a sense of urgency to educate the American people, but not to resort to panic over the new flu strain.
Public health agencies, including the World Health Organization, have been criticized for exaggerating the flu's threat.
Sebelius said one of the lessons learned from H1N1 involved communications with the public.
"We wanted to make sure the American people knew what we knew when we knew it, but we raised expectations too high," she said. "When vaccine manufacturers provided estimates of future production, we reported that. And when vaccine grew more slowly than anticipated, we had to revise the projections downward."
This may have caused some hardships, she said. H1N1 vaccines have been so widely available that unused leftovers doses are being discarded.