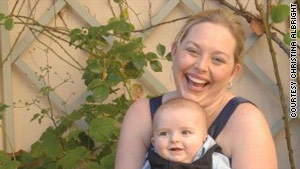 Courtney Bugler, 33, wishes she had accepted more offers of help when she underwent cancer treatment.
STORY HIGHLIGHTS
Researchers developing social networking tool for cancer patients, family, friends
Patients can ask for help; network members can offer assistance
It is not yet available to the public but in development
Atlanta, Georgia (CNN) -- Courtney Bugler moved from Illinois to Georgia while undergoing chemotherapy for breast cancer four years ago, but she didn't ask anyone except her husband for help packing up her old apartment.
"I definitely didn't take advantage of all the help that people were offering, and therefore I tired myself out when I didn't need to," said Bugler, 33, executive director of the Atlanta chapter of the breast cancer group Young Survival Coalition.
Many cancer patients like Bugler have a hard time asking for the assistance they need with household chores and other daily tasks. While patients feel guilty about inconveniencing others, their friends and family often don't know how to best offer their support, she said.
"We're used to being the superheroes; we're the ones who are running the house and taking care of the kids and doing that kind of stuff. So it's very hard when you're diagnosed with cancer to give that up and to accept help," Bugler said.
Researchers at the University of Washington are trying to bridge that gap with an online system called HealthWeaver. The project, which includes a social networking tool, aims to help cancer patients manage information about their care, get their questions answered and interact with others who can aid them in their treatment.
They presented the idea at the ACM Conference on Human Factors in Computing Systems in Atlanta this week.
Their envisioned Web site is a way for patients to ask for help, whether it be grocery shopping or a getting a ride to the doctor's office.
Patients can choose from a slew of categories of things they might like assistance with, giving them ideas about what elements of their daily life would be made easier with someone else's help.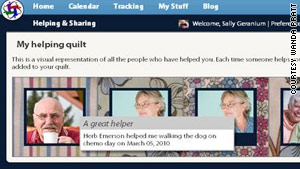 Each HealthWeaver profile will have a "helping quilt" featuring everyone who has signed up to help.
Friends and family members would also be able to offer something like watching a movie, and the patient would be able to confirm, negotiate or "remove" the suggestion.
A calendar displays the patient's upcoming events, including upcoming treatments and appointments for each person. Each profile has a "helping quilt" with small photos of everyone who has signed up to help that person in some way.
Bugler was not involved in this research but thinks it's a good idea. To an extent, this kind of interchange of assistance happens on the online message boards of the Young Survival Coalition, she said.
Online social networks are also crucial in helping patients in remote locations connect with others going through the same thing; when she received her diagnosis at 29, Bugler lived in a small town in Illinois, and her only way of connecting to other patients and survivors was through online support groups.
"I am so glad that if I was going to have cancer, I had cancer in this era where I had so many other ways to connect to connect to people," she said. "If it was 20 years ago, I wouldn't have met anyone, and I would have been totally alone."
I am so glad that if I was going to have cancer, I had cancer in this era where I had so many other ways to connect to connect to people.
--Courtney Bugler, 33-year-old breast cancer survivor
Besides the Young Survival Coalition, additional Web sites help bridge the gap between patients and those trying to help them. CaringBridge, available both online and as a mobile phone application, connects friends and family during a serious health event. Lotsa Helping Hands is a free online community that allows people to ask for help and to volunteer to help those who need it.
The University of Washington project also has status updates, so users can post how they're feeling or when their treatments are, as well as information about their health and life in general.
Having personal information about interests that don't necessarily relate to cancer helps people in a patient's social network better tailor their support, said researcher Meredith Skeels. The research project asked breast cancer patients, survivors and a patient's friend to contribute ideas.
"One of the participants described this in terms of her garden. She said, 'My garden is important to me. I put a lot of work into it. I really care about it,' " Skeels said. "She envisioned that if she could list her garden on a list like this, if people would remember that her whole life hasn't become about cancer, she still has the other things that she cares about, and they might offer to help her with her garden."
The social networking site is not yet available to the public, but the idea is that people would have the option to link their updates on the cancer networking tool to their Facebook profiles.
The researchers used Facebook Connect to implement the designs for the social networking tool. In two weeks, 20 cancer patients will test it out, and a larger field study will take place in a couple of months. It will not open up to the general public for at least six months, said Wanda Pratt, associate professor at the University of Washington.
The group is also developing a mobile phone application to help patients capture information, such as through voice recording or camera, relevant to their health care.
Bugler's advice to patients is that when someone says "let me know if I can help," take them up on that offer. They want to help and want to feel like they can do something for you.
"You don't let them leave until you give them something to help you with," she said. "Make them do your laundry."