STORY HIGHLIGHTS
Boston Marathon registration closed before all qualifiers were able to sign up
One qualifier, a physics professor, decided to stage a new race
70-year-old will run the new Exeter marathon; others plan to run Exeter and then Boston
(CNN) -- Among runners, it's a statement that awes: "I qualified for Boston."
An admirable finish in a marathon, a 26.2-mile racking of the mind, body and spirit, is four hours. To qualify for Boston, a man age 34 or younger must have run nearly an hour faster, a woman, a half-hour faster.
Tens of thousands try every year. Most fail.
So Georgia cardiologist Gordon Borkat, 70, was excited when he earned his golden ticket to the country's oldest and most storied race. A 4-hour, 21-minute marathon made him a gazelle in his age group.
Giddily, he jumped onto his computer to sign up for the marathon he dreamed of doing. Boston registration had been open for 68 days and usually stayed open for weeks longer.
The doctor stared in anger at a notice on the screen. Boston had reached its 26,700-racer cap faster than at any other time in its 114-year history. Registration was closed. Good luck next year.
This week, Borkat will still get on a plane to Boston, except he'll take an hour detour south to Exeter, Rhode Island, a tiny farming community where, two days before the Boston marathon, he and about 60 other qualifiers will run in a new, ragtag, elites-only marathon.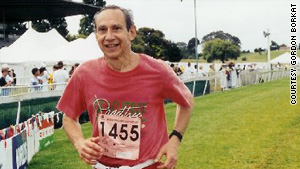 Dr. Gordon Borkat, 70, qualified for the Boston Marathon this year but was unable to get a slot for the race.
"I wrote the [Boston Marathon] organizer, explaining how much it meant to me. I tried to say how disappointed I was," Borkat said.
He got a letter back, politely explaining that a limit was a limit, he said.
Borkat fired off another letter, imploring. He heard nothing. "I said, 'Well, damn if this spoils it for me.' "
"I'm not Mr. Anti-Boston," said Michael Tamarro, a lean 41-year-old Rhode Island physics professor who started the Exeter race. He, too, qualified for Boston but didn't make the registration window.
"All I'm saying is, let's take it back to the basics," he said. "Leave the crowd, the charity runners, leave the event, and let it be about running. That's what I'm offering."
Allison Lassoe, a 47-year-old from Sheffield, Massachusetts, has done 31 marathons and run Boston twice. She agrees with Tamarro. "Sometimes, you want a tennis match in the park as opposed to Wimbledon," she said.
Though staging a new race is a huge challenge, Tamarro is an experienced organizer of 10Ks, so he knew how to calibrate the mileage, a tedious exercise that requires riding a bike and counting notches on a clicker. He called a friend with USA Track & Field to certify the course, which crosses a dairy farm and a patch called Yawgoo Valley.
Then he set out to provide the important stuff: EMTs, aid stations with food and water. Unlike Boston, which has enough portable toilets for a small nation to relieve itself, Exeter runners can use Sophie's coffee shop at mile 9 and 17.
Tamarro's "keep it pure" attitude is increasingly pervasive in distance running.
"A lot of us have gotten tired of the commercialization" of big marathons, said Bob Crowley, 52, whose running club stages a Don't Run Boston Ultra 50K every year in Milton, Massachusetts. It's one of dozens of backwoods marathons popping up across the country.
"No entry fee, no T-shirts, no trail markings. You get a little map, and most aid stations are unmanned, just jugs of water and electrolytes against a tree," Crowley said. "We like to think of it as 'run at your own risk.' "
Overall, the number of USA Track & Field-certified marathons jumped from 193 in 2007 to 218 in 2009, though some races do not seek formal certification, said Jim Estes, who directs the regulating body's long-distance program.
Marathoning Safety Tips
• Have a complete physical, including a heart exam, before starting a training program.
• Don't wing it. Train and wear a heart monitor.
• Drink a balance of water and Gatorade.
• Invest in RunnerID, a tag that will give emergency contact info and blood type.
• Consider walking, running and walking during the race.
• Listen to your body. Don't try to impress anyone. If something hurts, stop.
How hard-core can you go is a thrilling question for many Exeter runners, especially those planning to double their pleasure and pain. Several who entered Exeter didn't miss the Boston cutoff and are planning to run Exeter on April 17 and, 48 hours later, run Boston.
"Two marathons two days apart, what a hoot!" said Jonathan Wendell, a 55-year-old from Iowa who'll do the races with his wife, Kathleen. "Friends have asked, 'Whoa, what about your knees?' Our experience has been that gentle walking, quite a bit really, intermittently but all day after the race is a very good thing."
Kevin Turko, who said he "wasn't good at other sports," is gunning for membership in the elite 50 States Marathon Club, earned by racing in every state. The 23-year-old IT analyst from Connecticut ran his first marathon this year in 2 hours and 55 minutes, known in lay terms as freakishly fast for an amateur.
"This is Rhode Island," Turko said. "You take the chance to run that state when it comes up."
He and Gary Krugger, 25, should prove to be good competition for each other. Krugger started running two years ago when he was working third shift at a construction job and couldn't sleep. He's run 60 marathons, he said, in 29 states.
"I'm going to finish all the states by the end of this year," he said.
Laura Gehrig, 52, is one of the oldest women running Exeter. The Bismarck, North Dakota, orthopedic surgeon is concerned that she'll be embarrassed if she finishes over four hours.
"I can't be one in a crowd during this," she said. "Everyone can definitely see you."
Borkat is ready to go.
"We don't view ourselves as bunch of elite runners," he said. "But in order to qualify for Boston, you had to train hard, have a good day; everything must have been right.
"We felt special, and there's something about this race that feels special."