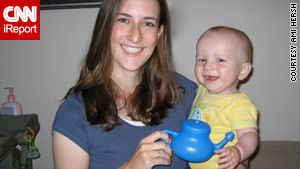 Elana Hersh felt sinus relief from a neti pot while pregnant with her son, Micah.
STORY HIGHLIGHTS
The saline solution in the neti pot both soothes and cleans the nose
If used properly, there's no such thing as overuse
Using water instead of solution can lead to swelling
(CNN) -- "Saline irrigation" may not sound sexy, but Kelly Nance says she's hooked.
It's an unlikely activity to draw such a following. However, Nance and others like her have become devoted to the practice of flushing water through their nasal passages to help them breathe easier.
Although doctors have long known that a saline solution can help unclog sinuses, the practice has gotten a newfound popularity with the "neti pot," a teapot-shaped container that flushes a saline solution through the nose --in one nostril and out the other, taking with it mucus and rinsing away irritants.
The first time Amy Huffhines of Mansfield, Texas, used a neti pot, it was on national television.
She had been getting daily sinus headaches, and when she came across a production crew in Chicago, Illinois, taking questions for Dr. Mehmet Oz, she asked about the neti pot. "The Oprah Winfrey Show" invited her to try the neti pot on television in 2007.
"I noticed immediately my ears felt real clear. I thought it would feel like drowning but it didn't," she said. A month later, she was invited back to the Oprah show, and reported that she had not had any headaches since using the neti pot.
Neti pots usually involve mixing saltwater (or using a prepackaged solution), leaning over a sink, twisting your head to one side, and inserting the spout into one nostril. Then, you would lift the spout until the solution pours into the upper nostril, and allow the liquid to drain out the other nostril. Breathe out and repeat with the other nostril, experts say.
What comes out of the nose often grosses out first-timers, but users say the relief outweighs the revulsion, and they get used to it. Whenever Nance tells friends to use a saline rinse, they'll usually say "I can not believe how much stuff came out of my nose," she said.
The Oprah episode Huffhines participated in helped launch the neti pot into more than just a passing sinus blockage remedy. For many people, it has become a crucial part of everyday life, especially during allergy season.
With pollen giving millions of Americans congestion, many people turn to the neti pot to help them breathe easier. CNN asked viewers to share their neti pot stories through iReport.
Elana Hersh, from New York, said the neti pot helped her during her pregnancy. When her sinuses gave her trouble, she didn't want to take oral decongestants or nasal sprays because she feared they could be harmful to her baby. The neti pot, however, was a good natural solution for her.
Her first time using the neti pot, she almost vomited. Her nasal pathways were so blocked that when she used the pot in one nostril, nothing came out the other one. But after a week or two of using it twice a week she started to feel relief. Read her iReport
"You have to use it a number of times before you get the technique down," she said.
The saline solution in the neti pot both soothes and cleans the nose, said Dr. John DelGaudio, chief of rhinology and sinus surgery at Emory University School of Medicine. Flushing the nose with saline is nothing new, it's just that the neti pot's design appeals to people, he said.
"There's really nothing magical about the neti pot," he said. "It basically provides a different way to put saline solution in the nose.
Nance, of Weatherford, Texas, uses a saline rinse system that is not a "pot," but is the same concept. After she had sinus surgery in January 2009, her doctor recommended using it. For allergy season, all she needs is the saline rinse and an oral antihistamine, she said. Her iReport
What seems like a ritual to others is really just practical, she says: Always do it in the same sink -- the process is "gross, but so good" she says in her iReport -- and always have a roll of toilet paper next to me. Going through the process, she does one side and blows her nose, and uses a full bottle of solution on each side.
Many of DelGaudio's patients are already using the neti pot, and he tells them to keep at it. For those who don't currently do nasal irrigation, generally people can use whatever they feel like, he said.
When used correctly, there is no such thing as overusing a neti pot, DelGaudio said. For someone with allergies, the more symptomatic they are, the more they benefit from frequent use, since it helps flush pollen out of the nose.
But if water is used in the neti pot, or the solution isn't the right concentration, the tissue in the nose can get swollen, DelGaudio said.
Proper handling of the neti pot was a hard lesson for April Vu, 31, of Tustin, California. She didn't read the directions the first time she used it, and blew her nose too hard, sending fluid back into her ear canal. Read her iReport
"At least it wasn't enough to discourage me from doing it the right way," she said.
Huffhines is still using the same neti pot the Oprah show gave her during allergy season, and her children use it too. She likes that she doesn't have to take medications for her sinuses. Read her iReport
On the down side, it takes time; less than five minutes perhaps, but still something to add to the daily routine.