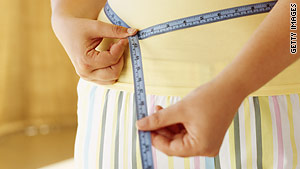 Despite the growing popularity of weight-loss camps, their success rate is mixed.
STORY HIGHLIGHTS
Experts caution that these retreats aren't for everyone and don't always work

Weight loss may not last, and may not be worth the cost of several thousand dollars a week

Research on residential weight-loss programs is limited, and the results have been mixed
(Health.com) -- Five years ago, Juli Ackerman never thought she'd be able to buy an off-the-rack wedding dress. At 5 feet 10 inches, the software-company executive from Newport, California, then 40, was 280 pounds. Her weight had always fluctuated, but she decided that she wanted to slim down once and for all.
She stumbled upon the Web site of the Hilton Head Health Institute, a self-billed "weight loss spa retreat center" in South Carolina, and signed up. "I went there not knowing much about what I was in for," she says. "I didn't want to get pampered; I wanted to get healthy."
Weight-loss retreats, spas, and resorts for adults -- the grown-up version of fat camps -- have been around for decades. But now, fueled by growing awareness of the health risks of obesity and the popularity of weight-loss shows such as The Biggest Loser, they seem to be on the rise. But do they work?
Yes, according to Ackerman. After two weeks of swimming and fitness classes, she lost 11 pounds. "It was a great jump start for me," says Ackerman, who returned to the institute twice and went on to lose more than 100 pounds. Last year, she was married on the beach; she weighed 165 pounds and was a trim and confident size 12.
But as they say in Jenny Craig ads, "Results not typical." Experts caution that these retreats aren't for everyone and don't always work. The weight loss may not last, and it may not be worth the cost, which can be as high as several thousand dollars a week.
Nicole McLaren, a 26-year-old student from Washington, D.C., signed up for a monthlong stay at Hilton Head, hoping to shed 30 pounds. She lasted just two weeks before throwing in the towel in July 2007.
"I had this whole concept in my head of The Biggest Loser," she says, referring to the intense (and compulsory) training the contestants get. That wasn't what she found when she arrived. "Everything was optional, so a lot of people just sat around and talked about losing weight," she says. "The only thing you had to stick to was [that] they portioned your food to about 1,200 calories a day."
Health.com: 25 diet-busting foods you should never eat
The structured environment, exercise classes, and prepared meals had sounded promising, but the $2,400-a-week price tag seemed too high when she found meals were limited to one option, she had to share a room with strangers, and the exercise classes were geared toward the resort's older clients. "I think I lost eight pounds, but that's only because they starve you," McLaren says. "When I left, all I wanted to do was eat!"
"Weight-loss camps are not an easy or quick fix," says Jennifer Hester, a sports exercise and education researcher at Leeds Metropolitan University, in the U.K. "The short-term investment of time and money does not automatically equate to healthy weight management in the long term."
A new generation of weight-loss resorts
Between 2000 and 2005, the number of accredited youth weight-loss camps in the U.S. nearly doubled. TV shows such as MTV's True Life: I'm Going to Fat Camp -- filmed at Camp Shane in Ferndale, N.Y., which opened its doors in 1968 -- helped bring weight-loss programs for kids and teens into the spotlight.
Similar programs for adults are now widely available. Instead of stressing extreme weight loss in a short period of time, these programs tend to focus on sustainable lifestyle changes. At first, women were the main participants, but by 2007, men made up 30 percent to 40 percent of spa customers, according to a Forbes.com report.
These weight-loss retreats market their services in a variety of ways. Some, such as the nationwide chain of Wellspring Retreats, emphasize outdoor activities such as whitewater rafting, surfing, and mountain climbing, while others, such as Duke University's Diet and Fitness Center, feature a clinic-like atmosphere. For a more relaxed approach, there's Green Mountain, a "non-diet" weight-loss program in Vermont exclusively for women. There's even a Biggest Loser resort in Utah.
While the theme and day-to-day schedule varies at each retreat, most programs are structured around exercise, healthy meals, and lifestyle education. At the Hilton Head Health Institute, Ackerman ate three restricted-calorie meals a day (followed by 20-minute walks), and had exercise sessions, nutrition lectures, cooking classes, and behavior modification seminars.
Health.com: Lost the weight? Here's how to keep it off
Features such as these don't come cheap. The cost of attending an adult weight-loss retreat ranges from about $2,000 to $7,000 per week.
Do they work?
Contestants on The Biggest Loser experience dramatic weight loss, but the show has come under fire because its results are sometimes temporary. In 2009, for instance, season-three winner Erik Chopin -- who lost 214 pounds on the show -- told Oprah Winfrey that he had gained most of the weight back. Do people who attend weight-loss retreats also lose a significant amount of weight, and are they likely to see a similar rebound effect?
Weight-loss camps are not an easy or quick fix.
--Jennifer Hester, sports exercise and education researcher at Leeds Metropolitan University in the U.K.
The research on residential weight-loss programs is limited, and the results have been mixed. Studies of the Pritikin Longevity Center & Spa, in Aventura, Florida -- the most researched program of its kind -- have found that guests lose between 4 percent and 5 percent of their body weight. (Other measures of health, such as their cholesterol levels and blood pressure, also tend to improve measurably.)
Health.com: Skinny up your weekend
As for the permanence of the weight loss, a study conducted by researchers from the University of South Carolina found that one year after their stay, just 22 percent of Hilton Head Health guests weighed 10 percent less than they did when they entered the retreat. Similarly, in a 2006 study of people who attended a weight-loss camp in Europe for more than five months, just over one-quarter maintained a 10 percent weight loss after four years.
Hester says that weight-loss camps are more likely to be effective if they are designed and administered by qualified health and fitness professionals, and if the program teaches people how to adopt healthy behaviors over the long term. "Unfortunately," she says, "some weight-loss camps promote rapid weight loss through very low calorie diets and/or a punishing exercise regimen. Both are unlikely to be sustained in the long-term and are not relevant for healthy weight maintenance."
Paul J. Gately, a professor of exercise and obesity at Leeds Metropolitan University (where he has conducted research with Hester), says that very few camps have a sufficiently comprehensive approach to weight loss. Programs should incorporate "not just the physical experience but the emotional, psychological, and social experience both during and following the intervention," he says. "All are critical in achieving strong outcomes."
The weight-loss regimens used in clinical research are created using the best available scientific evidence, Gately adds. By contrast, "there's almost no evidence whatsoever" for commercial weight-loss retreats, he says. "If you know your intervention works, you [would] have a huge amount of evidence of it, because it would be a very strong selling point. [Instead] it becomes about who markets these services the best way."
Health.com: Walk a little, lose a lot
Is a weight-loss retreat for you?
Attending a weight-loss retreat is not a decision to be made lightly. The expense can be considerable, and you'll need to take days -- if not weeks -- off from work or other commitments.
Ackerman says that for her, the Hilton Head Health Institute was a good investment of time and money, since she has applied the principles she learned to her everyday life. She now works out twice a week with a personal trainer, practices Pilates, and takes regular walks. "I would have written any check to get healthy," she says. "What it cost was minimal compared to what I feel like I got back."
Not everyone walks away with such a rosy opinion, however. Today, McLaren says, she feels turned off by weight-loss programs altogether. She has considered attending the Biggest Loser resort (which is more affordable than the Hilton Head program), but she's worried that it will just be more of the same.
Gately warns against using one person's experience -- good or bad -- to determine whether a camp will work for you. Until further research into the effectiveness of these programs is conducted, success stories like Ackerman's (and disappointments like McLaren's) should be considered mere anecdotes.
"On any intervention, people will lose weight," says Gately. The important thing, he adds, "is the degree to which the average person is going to be able to change their lifestyle."