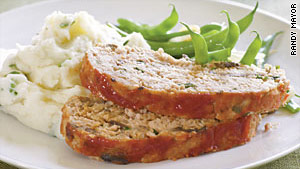 Turkey meatloaf has a lot less fat than traditional meatloaf.
STORY HIGHLIGHTS
Turkey meatloaf has only 3.7 grams of fat in two slices

Preparation time is just over 1 hour

Reader says it was not too spicy
(CookingLight.com) -- Meatloaf is a family favorite and with good reason.
There's something about the moist texture and the sweet ketchup topping that children and adults love. When it's put on a plate with a side of mashed potatoes to dip into, everyone is happy.
Most recipes use fatty cuts of meat, but it's still possible to keep your meatloaf moist and delicious while cutting out much of the fat in the recipe.
The key ingredient: turkey.
Cooking Light: Make it meatloaf
Here's some feedback Cooking Light received from a reader:
"This is one of the better turkey meatloafs I have had. The mushrooms made for a great texture and the sauce was good, too. I didn't find it to be too spicy. Make sure you drain some of the liquid from the mushrooms before you add it to the turkey. It will be in my regular rotation," Tim writes.
Cooking Light: 10 surprisingly health foods
Spicy Turkey Meat Loaf with Ketchup Topping
Ingredients
1 tablespoon butter
2 cups chopped onion
1 (8-ounce) package presliced mushrooms
3 garlic cloves, chopped
3/4 cup panko (Japanese breadcrumbs)
1/4 cup fat-free, less-sodium chicken broth
3 tablespoons chopped fresh flat-leaf parsley
1 tablespoon low-sodium soy sauce
1 tablespoon Sriracha (hot chile sauce, such as Huy Fong)
1 tablespoon Worcestershire sauce
1/2 teaspoon freshly ground black pepper
1 1/2 pounds ground turkey breast
1 large egg, lightly beaten
Cooking spray
1/2 cup ketchup
1 tablespoon brown sugar
1/8 teaspoon dry mustard
1/8 teaspoon ground nutmeg
Preparation
1. Preheat oven to 350°.
2. Melt butter in a large nonstick skillet over medium heat. Add onion, mushrooms, and garlic to pan; cook 8 minutes, stirring occasionally.
3. Remove from heat; cool 5 minutes.
4. Combine mushroom mixture, panko, and next eight ingredients (through egg) in a large bowl; stir well to combine.
5. Shape turkey mixture into a 9 x 5--inch rectangle on a broiler pan coated with cooking spray.
6. Combine ketchup, brown sugar, mustard, and nutmeg in a small bowl, stirring with a whisk. Spread ketchup mixture evenly over top of meat loaf; bake at 350° for 40 minutes or until a thermometer registers 160°. Let stand for 10 minutes before serving.
Wine note: The topping is much like an Italian red sauce. Crane Lake Sangiovese 2006 ($5) from California, a lighter-bodied red, is an especially good choice with lean turkey and quite refreshing with spicy flavors. -- Jeffery Lindenmuth
Nutritional Information
Yield: 8 servings
Serving size: 2 slices
Calories: 184
Fat: 3.7g (sat 1.6g,mono 1g,poly 0.5g)
Protein: 23.2g
Carbohydrate: 15g
Fiber: 1.2g
Cholesterol: 69mg
Iron: 1.3mg
Sodium: 405mg
Calcium: 30mg
More Recipe Makeovers from Cooking Light
Enter for a chance to win in our $5,000 Grocery Giveaway
Copyright 2011 Cooking Light magazine. All rights reserved.