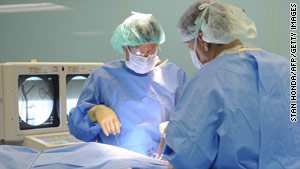 Wasteful spending accounts for half of the $2.2 trillion spent on health care in the United States, says a 2008 report.
STORY HIGHLIGHTS
Hospitals mark up prices to make up for underpayments from government, expert says
Wasteful spending accounts for half of the $2.2 trillion spent on nation's health care, report says
Doctor says there is little financial incentive for hospitals to find cost savings
This week on CNN, senior medical correspondent Elizabeth Cohen has explored financial waste in the health care industry. On Thursday, she'll explore solutions in her Empowered Patient column.
(CNN) -- In a home office, slipped inside file cabinets and stacked on top of workspaces, Cindy Holtzman has amassed a collection of "medical waste." She's not hoarding used syringes or old bandages. She's hanging on to hospital bills that are loaded with outrageous examples of money that was poorly spent.
"Nobody usually looks at their bills," Holtzman said. "There could be lots of mistakes."
Holtzman, a consumer advocate with Medical Billing Advocates of America, looks at medical bills for a living. Among the excessive charges she's seen: A patient in Florida was billed $140 dollars for one Tylenol pill; a patient in South Carolina was billed $1,000 for a tooth brush; a patient in Georgia was billed more than $4,000 for 41 bags of IV saline solution when she went to the emergency room for a two-hour visit and used just one bag.
In the Georgia example, Holtzman says, the patient's insurance company paid the entire claim.
"Usually any kind of bill that's under $100,000, they don't look at the details. And that's where something like that can be paid in error," she said.
iReport: Medical spending too wasteful?

Video: $1000 toothbrush?

Video: Is cheaper care better care?

Video: Why medical bills are so high
It was only after Holtzman says she investigated the erroneous IV bag charges that the insurance company got a refund and the bill was corrected
"It just took a phone call," said Holtzman. "That's why costs are so high. Because things are getting paid without insurance companies sometimes looking at the bills."
The patient's hospital declined to speak to CNN, as did the patient's insurance company, which declined because of patient privacy concerns.
Expensive charges aren't always a mistake.
Rich Umbdenstock, president and CEO of the American Hospital Association, says hospitals mark up prices on medical bills to make up for lower payments the government pays through Medicare and Medicaid.
"They're making up for underpayments elsewhere," Umbdenstock said. "Certainly if you're the patient to whom the cost is being shifted you feel you are paying more than you should. The public programs need to pay their fare share. At the same time hospitals are trying to lower their cost of providing care, so that they don't have as great a gap."
Consider this: For every dollar the nation spends on health care, 50 cents is wasted.
According to a 2008 report by Pricewaterhouse Cooper's Health Research Institute, wasteful spending accounts for $1.2 trillion of the $2.2 trillion spent on health care in the United States. The medical waste includes costs associated with inefficient insurance claims processing, defensive medicine, preventable hospital readmissions, medical errors, and unnecessary emergency room visits.
"Our best estimate is that for the country as a whole, probably half of what we're spending on health care delivery today is technically waste from a patient's perspective. There are better ways of doing it," said Dr. Brent James, chief quality officer for Intermountain Healthcare, a nonprofit health system in Salt Lake City, Utah.
The way a doctor chooses to treat a patient may also contribute to waste. Variations in treatments waste the health system $10 billion annually, according to the report. When a hospital like Intermountain swaps out expensive procedures for cheaper, equally effective treatments it actually loses money. It can no longer charge for those pricier procedures.
We're nearly always financially punished every time we save money.
--Dr. Brent James
"The old belief that better care is more care, turns out it's just not true," James says. "The big problem. It costs you money. Most of these savings go back to insurers or the government, those windfall savings. We're nearly always financially punished every time we save money."
Umbdenstock acknowledges the payment system is flawed.
"Under a fee-for-service payment system the incentive is to do more. To generate more fees. And yes, the fundamental structure of payment today is based on paying for the unit of service. So we've had a lot of discussion around how to turn those incentives around and pay not based on volume but pay on value, quality and cost," he says.
Patients with high deductible insurance plans also risk wasting their own money on health care services. Prices for common procedures can vary widely among hospitals, and they typically don't come with a price tag.
"Each facility has the discretion to charge a different price," said Heather Staples, a consultant who analyzes health care prices for large employers in New Hampshire. "Depending upon the procedure it could be a few hundreds of dollars of difference, or it could be $5,000 or $8,000 of difference across facilities."
Experts say a higher price does not always mean better quality of care. It can pay to shop around for treatment services on your own; however, only a handful of states provide easy access to information on how much medical procedures cost.
"There is an increasing number of people with high deductible plans," Staples said. "There's more people on the hook. They need this information to be able to make an educated decision."