New study: Young marijuana smokers at higher risk for psychoses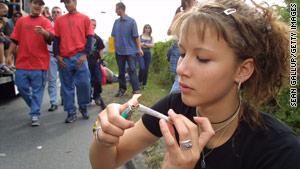 Teens who started using marijuana at ages 14 or 15 had a higher risk of schizophrenia, according to a new study.
STORY HIGHLIGHTS
Those who started using when they were 14 or 15 had about a two-fold risk of schizophrenia
Researcher likened marijuana risks to the dangers of tobacco smoking
Study didn't consider how much marijuana used, only age when they started using
(CNN) -- Teenage marijuana smokers are at higher risk for developing psychoses -- such as schizophrenia, hallucinations and delusions -- compared with those who don't smoke marijuana, a new study says.
The study tracked 3,800 people born from 1981 to 1984, according to researchers at the Brain Institute at the University of Queensland in Australia. They asked the test subjects at ages 14 and 21, and their mothers, about their mental health record and whether they had used any drugs, specifically cannabis. Fourteen percent acknowledged using marijuana for six or more years.
"We looked at the association between how old they were when they first started to use cannabis. And then, on the other hand, we looked at how their mental health was and, in particular, whether they had psychotic disorders or isolated symptoms, such as hallucinations or delusions. And indeed we found a highly significant relationship," said psychiatrist John McGrath, a professor at the Brain Institute, the study's lead researcher.
"For those who started using cannabis when they were 14 or 15, they had about a two-fold risk of schizophrenia."
Previous studies also have looked at the relationship between marijuana use and psychosis.
"The quality of the evidence is really mounting up," McGrath said. "There have been several studies now, which all point in the same direction, and there's consistent and robust evidence that there's an association between cannabis use and increased risk of psychosis."
The University of Queensland study did not consider how much marijuana the teens used, only their age when they started using.
"Even though we don't have the gradient or the dose they'd taken, we found the relationship to age," McGrath said. "What we think it suggests is that the adolescent brain is more vulnerable to drug abuse. Now, other studies have shown the more you smoke, the more regularly you use cannabis, the risk goes up."
McGrath likened marijuana risks to the dangers of tobacco smoking, and the decades and many studies it took for health officials to acknowledge the correlation between lung cancer and tobacco.
"From a public-health perspective, we need to educate young people that they might think cannabis is a safe drug to use, but the evidence shows it's not quite as safe as we thought."
CNN's Matt Cherry and Richard Benson contributed to this report.