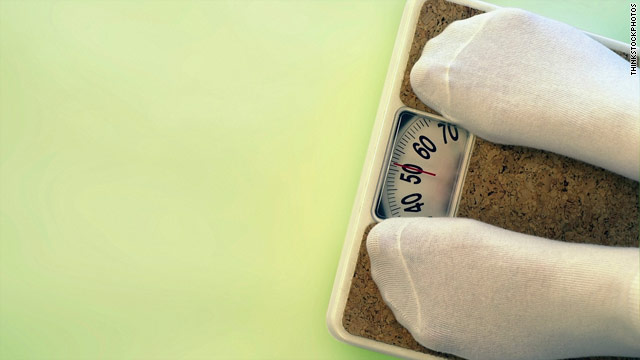 STORY HIGHLIGHTS
Eating healthy and losing weight may actually reverse rather than just slow clogging

Type of diet the study participants followed didn't seem to make a difference

"Weight loss improves cardiovascular health," expert says

(Health.com) -- Eating the wrong food and gaining too much weight can clog arteries with fatty deposits, potentially leading to life-threatening heart attacks and strokes.
A new study suggests this process works both ways: Eating healthy and losing weight may actually reverse -- rather than simply slow down -- the accumulation of these fatty deposits, a condition known as atherosclerosis.
In the study, middle-aged people with heart disease or diabetes who lost more than 12 pounds over a two-year period successfully reduced the size of the deposits (or plaques) clogging their arteries, rather than merely halting their growth.
What's more, the type of diet the study participants followed didn't seem to make a difference, as long as they lost weight.
A low-carb, low-fat, or Mediterranean-style diet all had positive effects on artery health, according to the study, which was published in the journal "Circulation."
Most studies that have examined the effect of weight loss on atherosclerosis have also involved putting people on powerful drugs like cholesterol-lowering statins, says James O'Keefe, M.D., the director of preventive cardiology at the Mid-America Heart Institute, in Kansas City, Missouri.
"This [study] is just relying on diet alone and got very impressive results, as good as you see with drugs," says O'Keefe, who was not involved in the current research.
The study looked at 140 people in Israel between the ages of 40 and 65 who were at least moderately overweight and had heart disease or type 2 diabetes. In addition to following one of the three diets, 20 percent of the participants took a statin, and roughly 30 percent took blood-pressure medication.
After two years on a diet, roughly two-thirds of the study participants had less clogging in their neck arteries than when the study began. (Although the carotid artery in the neck is not responsible for heart attacks, its condition would likely be similar to that of the coronary arteries, which are more difficult to image, the researchers say.)
Health.com: 10 best foods for your heart
The volume of the plaques in their neck arteries declined by about 5 percent, on average, or slightly more than the average annual increase in people with atherosclerosis, as other studies have shown.
People who had greater weight loss and reduction in blood pressure tended to have healthier arteries, the researchers found. The people whose arteries became less clogged lost about 12 pounds, on average, while their systolic blood pressure (the top number) fell by around 7 points.
By contrast, the people whose atherosclerosis worsened lost just 7 pounds, on average, and reduced their systolic blood pressure by just 1 point. (The use of statins did not seem to be a significant factor, the researchers reported.)
"Long-term adherence to weight-loss diets are effective for reversing carotid atherosclerosis as long as we stick to one of the current options of healthy diet strategy, [and] even if we experience some partial weight re-gain over time," says the study's lead author, Iris Shai, Ph.D., a registered dietitian and researcher in cardiovascular epidemiology at Ben-Gurion University of the Negev, in Beer-Sheva, Israel.
Health.com: A sample menu for a low-fat diet
In a previous paper, published in the New England Journal of Medicine in 2008, the same team of researchers reported that the three diets used in the study were equally likely to lead to weight loss.
Both the low-fat and Mediterranean diets limited daily calorie intake to 1,500 for women and 1,800 for men. In addition, both emphasized grains, vegetables, fruits, and legumes, and cutting down on high-fat snacks and sweets. The people on the Mediterranean diet were also instructed to consume 30 to 45 grams of olive oil and a handful of nuts every day.
Men and women on the low-carb, Atkins-style diet didn't have to restrict their calorie intake, but they were limited to 20 grams of carbs per day for the first two months of the study, gradually increasing their intake to 120 grams daily. Alice Lichtenstein, Ph.D., a professor of nutrition science and policy at Tufts University, in Boston, Massachusetts, says that the new findings confirm what experts have been saying for years.
"Weight loss improves cardiovascular health," says Lichtenstein. "The way you lose the weight isn't the critical factor; the critical factor is actually that you lose the weight."
The three diets featured in the study aren't the only way to lose weight, Lichtenstein adds.
"Different people will adhere to different types of approaches to restrict calories," she says. "Some will do well if they cut fat out of the diet; some will do well if they have a higher fat content and eat lots of fruits and vegetables."
The one type of diet Lichtenstein doesn't recommend is fad diets.
"You don't want people to go off on these really wild or extreme diets because history suggests people don't stick to them," she says.
Losing weight is easier said than done, of course. The study participants had access to resources that most dieters do not. They met regularly with dietitians, and they chose their lunches from a selection of foods labeled with their calorie, carb, and fat content.
Following a similar regimen on your own would be difficult, says Shai. In fact, she says, most people would need a dietitian's help to stick to any of the three weight-loss approaches.
O'Keefe agrees. While some people can achieve lasting weight loss on their own, he says, they will be more likely to succeed if they get some professional help.
"People tend to sort of fall off the diet with time," he says. "If it's continually reinforced, if they have a lot of feedback, they tend to do better."
Copyright Health Magazine 2011