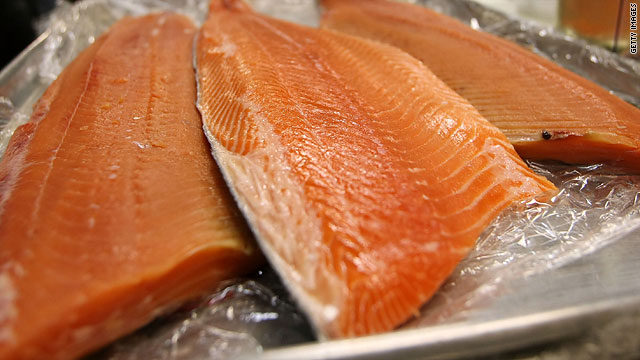 STORY HIGHLIGHTS
FDA assures that Chilean farmed salmon is safe to eat
Chilean salmon are infected with anemia virus that has killed other fish
In 2009, US got 30 percent of its salmon imports from Chile, USDA reported
A previous version of this story incorrectly reported where the virus has been found. In addition to Chile, the virus has been reported in Norway, Canada, Scotland and the United States, according to the U.S. Department of Agriculture.
(CNN) -- The Food and Drug Administration says Chilean salmon is still safe to consume despite a virus that has killed scores of fish.
"We have no information that there is any harm that can come from eating Chilean salmon," said Ira Allen, a spokesman for the FDA Center for Food Safety & Applied Nutrition.
The infectious salmon anemia virus, known as ISA or ISAV, causes the illness in the fish, but it's not harmful to humans. The virus also has been reported in locations outside Chile including Norway, Canada, Scotland and the United States, according to the U.S. Department of Agriculture.
More than 60 percent of all farmed salmon imported into the United States was from Chile in 2004 but by 2009 it was down to 30.1 percent, according to the U.S. Department of Agriculture.
Last month the government of Chile took steps to clean up the way it farms salmon, including moving fishing operations to a different area of the Chilean coast.
But the virus, which appeared at least two years ago, persisted.
Andrea Kavanagh, manager of the Salmon Aquaculture Reform Campaign, a nonprofit affiliated with the Pew Environment Group in Washington, said more government involvement is needed. "Pew has been concerned about the use of pesticides and chemicals in salmon, and we've been prodding the FDA to do more testing." Pew Environment Group is dedicated to improving worldwide conditions for raising salmon.
The group sued the FDA for documents of the agency's recent inspections of Chilean salmon and found that Chile was using medications and chemicals to raise its salmon that are not approved for use in either the United States or Europe, she said.
"This is an aquaculture industry issue, not a public health issue," countered Gavin Gibbons, a spokesperson for the National Fisheries Institute, a nonprofit organization dedicated to education about seafood safety, sustainability, and nutrition. "Farmed salmon is safe."
Registered dietitian Ann Cain said that may be true, but consumers will likely stop eating farmed salmon. "There's such a mistrust of the food safety regulations that, in general, people are skeptical," said Cain, a senior editor at myrecipes.com.
MyRecipes.com: 10 healthy ways to get omega-3s
There are other sources to get omega-3s such as mackerel and tuna, Cain said.
Cain and noted food writer and dietitian Annemarie Colbin both say it's healthier to eat wild Alaskan salmon anyway. Farmed salmon typically has color added to it to give it the pink hue of untouched salmon.
"Wild salmon may be a little bit more expensive, but it's better," said Colbin. "Just stick to wild salmon and you'll be fine."
Norway is one of the biggest salmon suppliers in the world and is picking up business that Chile is losing. The Financial Times reported Thursday that Statistics Norway shows the Norwegian-produced Atlantic salmon wholesale price jumping 20.6 percent.