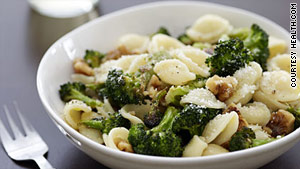 High in nutrients, nuts can be a heart-healthy snack.
STORY HIGHLIGHTS
Nuts are a good source of fiber and protein

Be aware of calorie intake

Serving size is about 1.5 ounces

(Health.com) -- High in fat and calories, nuts were a dieting no-no during the low-fat era. Now these nutrient-packed powerhouses are making a comeback as a top heart-healthy snack.
And what's not to love? They taste delicious, are naturally low in sodium, contain no trans fats or cholesterol, and are a good source of fiber and protein -- the perfect combo for a hunger-quenching nibble. A low-sugar content also makes them a healthy choice for diabetics, who are at greater risk for developing heart disease.
Health.com: 10 Food Rules for Pain Patients
Nuts are rich in good fats like omega-6 fatty acids (walnuts are also rich in heart-healthy omega-3 fatty acids) and monounsaturated fatty acids, both of which have been found to improve cardiovascular health by lowering LDL or bad cholesterol. (And don't be afraid of the 'F' word -- a recent Spanish study found participants who ate nuts at least twice a week were more than 30 percent less likely to gain weight than those who almost never ate nuts.)
Besides healthy fats, nuts (especially walnuts, pecans, and chestnuts, according to one Norwegian study ) are loaded with powerful antioxidants, which may contribute to their cardio-protective effects by slowing the development of atherosclerosis.
They are also full of essential B vitamins and minerals, including magnesium, calcium, and potassium, which are all important for regulating blood pressure and have been associated with a lower risk of stroke. Selenium and vitamin E, which function together as a potent antioxidant, are both found in nuts, especially Brazil nuts and almonds.
Health.com: Are Eggs Healthy? Take Our Quiz
How much do you need?
"Unsalted nuts, like walnuts and almonds, can be built into a healthful diet as long as you watch the amount you eat, because nuts are high in calories [around 160--200 calories per ounce]," says Janet de Jesus, a nutrition education specialist at the National Heart, Lung, and Blood Institute. To keep your ticker in top shape, the institute recommends following the DASH eating plan, a diet that has been shown to prevent and lower high blood pressure and emphasizes consuming four to five servings of nuts, seeds, and legumes a week.
According to DASH, a serving size of nuts is 1.5 ounces (about 1/3 cup) or 2 tablespoons of nut butter. You can avoid overindulging by divvying up a large container of nuts into individual baggies for grab-and-go snack packs. Store in the fridge to maintain freshness.
So how can you get more nuts in your diet? Toss them with vegetables, pasta, or rice dishes, or sprinkle a handful on a salad for a tasty crunch. (Try toasted pecans or hazelnuts with roasted Brussels sprouts or top steamed broccoli or green beans with almonds. Walnuts or pine nuts add a rich and buttery flavor to roasted winter squash.)
Health.com: 8 Hearty Beef Stews
Stir chopped nuts into your morning cereal for a satisfying breakfast. Or add a touch of honey and cinnamon to a mixture of nuts, dried fruits, and cholesterol-lowering oats, and bake on a cookie sheet for a yummy and energizing homemade granola.
For a quick afternoon pick-me-up, top apple or pear slices or whole-grain toast with almond or cashew butter. Supercharge your smoothie with a tablespoon of peanut butter for added protein and belly-blasting monounsaturated fatty acids. (Make sure to choose natural varieties of nut butters that have no added fats or sugars and if you are watching your sodium intake, reduced sodium or no added salt as well.)
Need another nutty recipe idea? Try this tasty pasta dish featuring cancer-fighting broccoli and walnuts. It's easy to prepare for a quick weeknight meal and is low in saturated fat, cholesterol, and sodium. Not a fan of walnuts? Just substitute toasted pine nuts or pecans.
Health.com: Surprising Heartburn Triggers
Orecchiette With Roasted Broccoli and Walnuts
Ingredients
• 8 ounces orecchiette or other short pasta
• 1 bunch broccoli (1 1/2 pounds), cut into small florets
• 1/4 cup walnuts, roughly chopped
• 2 tablespoons olive oil
• 2 garlic cloves, chopped
• 1/2 teaspoon kosher salt
• 1/4 teaspoon pepper
• 1 1/2 tablespoons unsalted butter
• 1/4 cup grated Parmesan cheese (1 ounce)
Preparation
1. Preheat oven to 400°.
2. Cook the pasta according to the package directions. Reserve 3/4 cup of the cooking water, drain the pasta, and return to the pot.
3. Toss together broccoli and next 5 ingredients (through pepper) on a rimmed baking sheet. Roast, tossing once, 18--20 minutes or until the broccoli is tender.
4. Toss the pasta with the broccoli mixture, butter, and 1/2 cup reserved pasta water. (Add more water if the pasta seems dry.) Sprinkle with Parmesan cheese before serving.
Nutrional Information
• Calories 428
• Fat 19g (sat 5g, mono 7g, poly 5g)
• Protein 16g
• Carbohydrate 53g
• Fiber 7g
• Cholesterol 16mg
• Iron 4mg
• Sodium 267mg
• Calcium 161mg
Copyright Health Magazine 2011