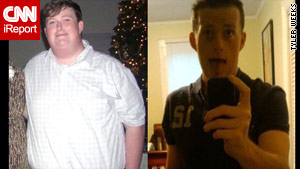 Tyler Weeks has gone from 344 pounds to about 219.
STORY HIGHLIGHTS
Tyler Weeks went from 344 to 218 while still eating his favorite foods

Weeks even experienced a few weeks where he gained weight

He says it is impractical to drastically change your diet

As his weight-loss success progresses, he is desiring more healthy food

(CNN) -- Few, if any, weight loss stories begin with someone gaining six pounds, but this one does. The thing is, holiday weight gain hasn't fazed Tyler Weeks; he even saw it coming. He wasn't about to shy away from the holiday cookies and dinners. He ate, and ate well.
So he knew his weekly Wednesday visit to the scale wasn't going to be one of progress. Gaining a few pounds is not even a setback, it's just life, Weeks says.
It's all part of his new mentality, and so far that mindset has helped him go from 344 pounds to 218 pounds in about a year.
Name: Tyler Weeks, a 24-year-old freelance Web designer, from Columbia, South Carolina.
Background: Until last year, he had terrible eating habits, he says. He was 30, and then 50, and then more than 150 pounds overweight.
He looked at himself in the mirror last January. He had just devoured fast food French toast sticks -- a standard breakfast he estimated at 1,500 calories -- and he was, in his words, "not very pleased" with what he saw in the mirror. So he ordered a scale off the Internet, knowing he knew he was too heavy for an ordinary scale. He changed the way he looked at food and weight loss.
How much he lost: A little more than 125 pounds. On January 15, 2009, he weighed 344.2 pounds. On December 30, he was down to 218.8 pounds. His lowest weight was 212.6 two weeks earlier. He wants to lose about 25 more pounds.
iReport: Share your weight loss success story
How he lost it: Weeks makes one thing very clear; he still eats the things he loves. Instead of chowing down on a couple of dozen wings, he stops now at 10 -- well, most of the time. There are times when he still enjoys an all-out, greasy, fatty, calorie-laden meal. The key is not doing it as often as he used to, he says.
"Something in January just clicked," he says. "Instead of trying some fad, some quick diet gimmick, I decided to change my lifestyle. I decided to count calories and to be more active."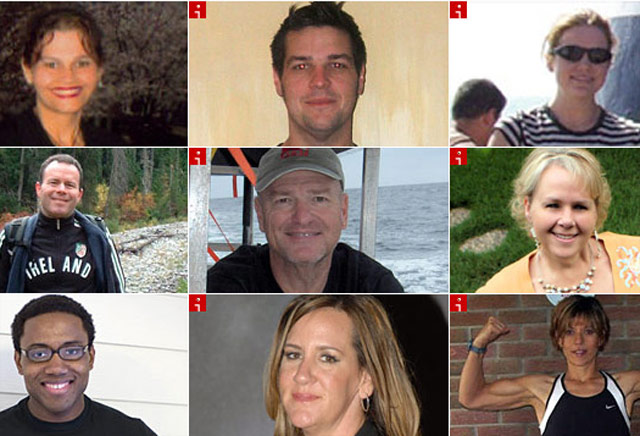 Weight loss success stories
Weeks says that as he has traveled his weight-loss journey, he has talked with a few trainers and some nutritionists. He thinks they are well intentioned, but for him a lot of their advice is irrelevant.
"The problem that I have is that they do a lot of good and they help people," he says. "But their advice isn't very practical.
"If someone had told me in January that I had to stop cold turkey and eat salads, grilled chicken ... all day long, I wouldn't have lost this weight and to gradually have progressed into a healthier lifestyle."
How he is keeping it off: He doesn't always. During the Thanksgiving holiday Weeks gained weight; he also gained at the end of the year. He feels like that's OK, because he will more than make up for it in subsequent meals.
And healthy eating habits are starting to infiltrate his meals. He says he is starting to pay more attention to sodium and fat and other items on nutritional labels. He also drinks more water and selects more vegetables and lean meats.
He might still crave French fries or potato chips, but he says as he eats better he is starting to crave bananas or grapes.
Advice to others: Eating pizza is not cheating. Not even if you eat half a pie.
"There is no diet," he says. Don't get upset if you have a 2,000-calorie meal at your favorite restaurant. Just get up the next day and start over, he says. Eat a good breakfast and don't kick yourself.
"If you want to go crazy a couple of times a week, then fine," he says. "Just eat well most of the time. It all comes down to calories."
It also helps to find a fun physical activity. If you hate running on a treadmill at the gym everyday, don't do it.
Weeks plays basketball. Playing with a regular group of guys gives him a support network and a group that he has to be accountable to several times a week.
His blog, www.344pounds.com, offers another measure of accountability. He says that the attention it gets makes him feel like he needs to stay on track. The desire to please his readers impacts him when he goes a few days without eating well.
He suggests that people who want to lose weight find a few people to report their calorie and food stories to. It doesn't have to be through an Internet posting, it can be a few friends or relatives to call or e-mail, folks who will take a interest in the person's success.
"Just someone to keep it in your head that you need to keep going," he says. "It's a long process, but it is so worth it."