Sheriff: Inmate tried to give serial stabbing suspect a poisoned apple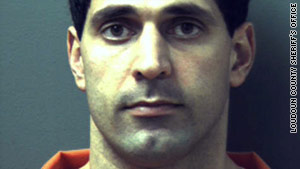 Authorities say Elias Abuelazam was targeted with a poisoned apple from a fellow inmate.
STORY HIGHLIGHTS
An apple is covered with oven degreaser, the sheriff says
The inmate faces a charge of attempted poisoning
The sheriff says accused serial stabber Elias Abuelazam never took a bite
(CNN) -- Authorities say a fellow inmate working in the kitchen of a Michigan jail tried to serve a poisoned apple to a serial stabbing suspect after the two had an altercation behind bars.
Accused serial stabber Elias Abuelazam never took a bite, Genesee County Sheriff Robert Pickell said Thursday. But Andre Franklin, 34, now faces a charge of attempted poisoning for the September incident.
The tainted apple, sprayed with oven degreaser with "poison components in it," never made it out of the kitchen, Pickell said.
"We found out immediately," he said but declined to say how guards learned what happened.
Pickell said Franklin apparently targeted Abuelazam after the two "had some words with each other."
Abuelazam is a suspect in 18 stabbings in Michigan, Virginia and Ohio. Five of the attacks were fatal, Genesee County prosecutor David Leyton has said.
He has been charged with homicide in three of the five deaths and has been charged with six counts of assault with intent to commit murder.
Abuelazam has pleaded not guilty and remains jailed awaiting trial.
Pickell said Franklin had nearly completed all of his time for a simple assault charge and was a trustee: a nonviolent prisoner who qualified for jobs that could help reduce his sentence. But if convicted of attempted poisoning, Franklin could face up to 15 more years behind bars, Pickell said.
He is in jail in lieu of $5,000 bail.
FOLLOW THIS TOPIC