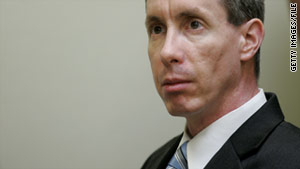 Warren Jeffs, 55, leads the Fundamentalist Church of Jesus Christ of Latter Day Saints.
STORY HIGHLIGHTS
Warren Jeffs faces bigamy, sexual assault charges in Texas
He was extradited from Utah
Case stems from alleged spiritual marriage to girl, 12
(CNN) -- A judge in San Angelo, Texas, on Wednesday entered pleas of not guilty on behalf of polygamous sect leader Warren Jeffs, who is scheduled to go on trial next month on bigamy and sexual assault charges.
Jeffs, who calls himself a prophet, spoke sparingly at his arraignment, but he told the judge he expects to have an attorney by a January 5 hearing, court officials said.
Jeffs, 55, leads the Fundamentalist Church of Jesus Christ of Latter Day Saints, also known as the FLDS. The charges stem from an alleged spiritual marriage to a 12-year-old girl.
Jeffs' Nevada-based attorney, Richard Wright, earlier sought to delay the trial, which is to begin January 24. But Judge Barbara Walther denied that request, saying the church leader has long known about the charges in Texas and had plenty of time to seek counsel.
No defense attorney attended Wednesday's arraignment.
The sect leader was extradited several weeks ago from Utah and faces charges in Tom Green County.

Warren Jeffs faces Texas trial
Prosecutors filed the charges two years ago, after authorities raided the sect's Yearning for Zion Ranch in Eldorado, Texas, and removed more than 400 children. At the time, authorities said they feared the children were sexually abused.
Most of the children were returned to their families at the ranch, but some men were charged with sexual abuse.
FLDS member Bill Shapley, 71, said he firmly believes that Jeffs is a prophet and is being wrongly persecuted.
"I've known him for many years," Shapley said. "I've never seen a flaw in him."
The 10,000-member FLDS splintered from the Mormon church over polygamy, which the mainstream church renounced a century ago. The FLDS openly practices polygamy at the Texas ranch and in two towns straddling the Utah-Arizona border -- Hildale, Utah, and Colorado City, Arizona.
Critics of the FLDS say underage girls are forced into "spiritual" plural marriages with older men and are sexually abused. Sect members have denied sexual abuse.
Jeffs was convicted in Utah in a case stemming from the marriage of an underage girl to her cousin, but that conviction was overturned in 2007.
In June, a judge in Arizona dismissed similar charges against Jeffs at the request of prosecutors, who cited the "much more serious charges" in Texas. Jeffs had been charged in Arizona with four counts of being an accomplice to sexual conduct with a minor.
CNN's Divina Mims contributed to this report.
FOLLOW THIS TOPIC