STORY HIGHLIGHTS
Elizabeth Smart, Chandra Levy cases came to a close in 2010
Natalee Holloway, JonBenet Ramsey mysteries continue to fascinate
Lindsay Lohan, Snooki and Paris Hilton dominated celebrity justice headlines
Year also saw convictions in two violent home invasions, child murders
(CNN) -- A would-be terrorist hid explosives in his underwear, and a bomb scare rattled Times Square in 2010. School bullies allegedly drove other kids to suicide. Witnesses recounted the day an Army psychiatrist gunned down 32 colleagues at Fort Hood, Texas, leaving the hallways slick with blood.
A man police call the Grim Sleeper was charged in a string of serial killings and investigators continue to look for more victims. A teenager known as "The Barefoot Bandit" was arrested in the Bahamas while allegedly on the run from charges that he stole cars, boats and planes. People actually were rooting for him on Facebook.
In Italy, American exchange student Amanda Knox insisted the courts made a terrible mistake in convicting her and a former boyfriend of murdering her British roommate.
Continuing a decade-long trend, 2010 again witnessed the disconnect between the serious business of the courts and the entertaining legal dramas that become national obsessions.
Besides the big criminal cases, the courts dealt with some heavy-duty social issues: Same-sex marriage and immigration reform are winding their way toward possibly game-changing decisions, most likely in the U.S. Supreme Court. Some are calling the court fight over California's Proposition 8, which seeks to ban same-sex marriage, the civil rights issue of our times.
Two obsessions from years past were finally laid to rest. Elizabeth Smart confronted her kidnapper in court and a Salvadoran gang member was convicted of killing Chandra Levy. Two others, the Natalee Holloway and JonBenet Ramsey cases, continue to make news with no resolution in sight.
And there was enough celebrity justice to keep the tabloids well stocked with exclamation points.
Competing for our attention -- and usually winning -- were the petty crimes and misdemeanors of Lindsay Lohan, Paris Hilton and Snooki.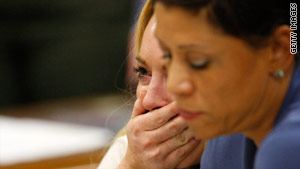 Lindsay Lohan spent more than half of the year behind bars, in court, and in rehab.
"I don't think the public and media can get enough of celebrities," said Laurie Levenson, a professor at Loyola Law School in Los Angeles, California. Levenson, a former federal prosecutor, is a veteran commentator on high-profile cases. She thinks that while they are a big distraction, celebrity cases also hold universal lessons.
"Let's start with Lindsay Lohan," Levenson said. "Really pathetic. Her own worst enemy. Her situation has pointed out how little the criminal justice system really can do in these situations."
Lohan has admitted she is an addict, her mother said. She's attractive, wealthy, entitled, but still an addict and dealing with addiction continues to challenge the courts, Levenson said.
"The criminal justice system's options are limited -- jail, rehab or probation. ... No matter what judges do, people will complain. If Lindsay is sent to jail, people say she is being treated more harshly as a celebrity; if she is given probation, people complain of 'celebrity justice.' "
Levenson added, "The truth is that there are too many people in this same situation and we have to find the resources and a better way to deal with drug problems."
Meanwhile, director Roman Polanski avoided extradition to the United States for sentencing in a case dating back to the 1970s. The victim, who had sex with Polanski when she was 13, wanted to simply move on. Ultimately, the Swiss refused to extradite Polanski, much to the frustration of Los Angeles County District Attorney's Office.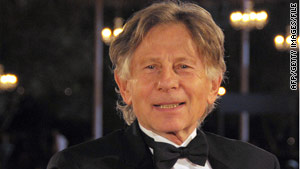 Switzerland will not extradite Roman Polanski, shown here at a film festival in November 2008.
"Roman Polanski should be sending holiday gifts to the Swiss authorities," Levenson said. "Actually, I understand completely why the courts there refused to extradite him. It was a chicken-and-the-egg problem. Without knowing what sentence he would receive, it was unclear whether he was subject to extradition. However, we could not know what sentence was appropriate until after he was returned."
Elizabeth Smart's 2002 kidnapping came to a dramatic conclusion as she confronted her captor, a homeless street preacher, in court. She called Brian David Mitchell a hypocrite and said what he did was selfish and wrong. Mitchell, 57, was convicted and faces life in prison on the charges. He is scheduled to be sentenced in January.
Reputed Salvadoran gang member Ingmar Guandique, 20, was convicted in November of the 2001 murder of Washington intern Chandra Levy. He also faces life in prison when he is sentenced in February.
The trial touched on Levy's long-rumored affair with Gary Condit, a former congressman from California. Condit testified, but would not say whether he had been intimate with the 24-year-old intern. An FBI forensics expert testified that Condit's DNA was found in panties recovered during a search of Levy's apartment.
In the end, although the evidence seemed to confirm the affair, it had nothing to do with Levy's murder, apparently a random act of violence in a public park.
"I think we learned this year that there can be a 'rush to judgment' as Johnnie Cochran once so famously said," Levenson said.
Chandra Levy disappeared while jogging nine years ago; her body was found in a park.
"Gary Condit was no saint, but he didn't kill Chandra Levy. Forgive me for saying this, but the media has to stop jumping on these cases and assuming that talk show hosts know who the real killer is. Criminal justice is serious business and the presumption of innocence should be treated seriously."
The JonBenet Ramsey case was also marked by a national rush to judgment. The 6-year-old beauty pageant contestant's parents, long cast under what prosecutors called "a cloud of suspicion," were cleared several years ago. But the case has never been solved. It was re-opened this year, and investigators reached out to JonBenet's brother, who was a child when she was killed in 1996. He had nothing to add, the family's lawyer said.
In the Natalee Holloway case, a jawbone was recovered on the beach in Aruba. It was human, but not hers, tests showed. Vacationing divers with an underwater camera took a photo offshore that resembled a skeleton. The lead didn't pan out. Meanwhile, thousands of miles away, Joran van der Sloot, long linked to Holloway's disappearance but never charged in her case, is in jail, charged with killing a young woman in Peru.
And then there were the cases that were less famous, but no less important.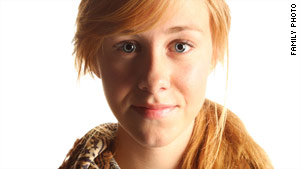 The murder of Chelsea King, 17, by a sex offender led to a tougher new law in California.
"We need to remember that there are some very serious issues that our criminal justice system faces," Levenson said, "whether they are horrific murders of families, kidnappings and rapes of children, or problems in the training and supervision of our law enforcement officers."
Two home invasion murder cases, one in Connecticut and the other in Florida, showed that violence can intrude at any time. Parolee Steven Hayes was convicted and sentenced to die for the 2007 murders of Jennifer Hawke-Petit and her daughters Hayley, 17, and Michaela, 11, in Cheshire Connecticut. A co-defendant awaits trial.
And, in Pensacola, Florida, a jury has recommended death for Leonard Patrick Gonzalez Jr., for the murders of Byrd and Melanie Billings, a couple who opened their home to disabled children. The killers dressed as ninjas. Others await trial.
In California, sex offender John Gardner III admitted he killed 17-year-old Chelsea King and led police to the body of 14-year-old Amber DuBois. In response to outrage from the community, lawmakers passed and Gov. Arnold Schwarzenegger signed "Chelsea's Law," establishing sentences of life without parole for certain violent sex offenses against children.
FOLLOW THIS TOPIC