Alleged child abductor, murder suspect back in Virginia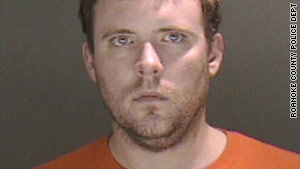 Jeffrey Scott Easley, 32, is suspected of kidnapping a 12-year-old girl and murdering her mother, police say.
STORY HIGHLIGHTS
Jeffrey Scott Easley will be arraigned on child abduction charges Friday
He is accused of taking a 12-year-old girl on a cross-country trek
A Virginia police chief said he is a "very good suspect" in the slaying of the girl's mother
He arrived back in Virginia from California, where he was caught, late Wednesday
(CNN) -- A Virginia man accused of kidnapping a 12-year-old girl and taking her cross-country is back on the East Coast, set to be arraigned on abduction and other charges.
Jeffrey Scott Easley, 32, is a "very good suspect" in the murder of the girl's mother, Roanoke County police Chief Ray Lavinder has said. Yet, while no one yet has been charged in Tina Smith's death, law enforcement are pressing forward against Easley related to the alleged abduction of the dead woman's daughter.
Flanked by two county detectives, Easley arrived in Roanoke around 8:30 p.m. on Wednesday, according to a statement released Thursday from Roanoke County spokeswoman Teresa Hall. Days earlier, he'd waived extradition in San Francisco, California, where he and Brittany Smith were found outside a supermarket last Friday.
Bad weather forced the postponement of his scheduled arraignment Thursday in Roanoke County Juvenile and Domestic Relations Court. The new plan is for Easley to be appear at 1 p.m. Friday, when he'll face child abduction, credit card theft and credit card fraud charges, according to Hall.
Until then, Easley is being held without bond on the abduction charge "under special observation," under the direction of the Roanoke County Sheriff's Office medical department. Hall said that this is "common practice, when anyone comes in under these circumstances."
Shortly before being reunited his daughter, Benjamin Smith, expressed gratitude Monday to the numerous people who worked on the case and who publicized the names and faces of Brittany and her alleged abductor. He singled out Theresa Shanley, who recognized the pair outside a San Francisco supermarket, as "my hero."
Police believe that 41-year-old Tina Smith, who was Easley's girlfriend, was killed between the morning and evening of December 3, Lavinder said. On that same day, surveillance video shows Easley and young girl shopping for a blue domed tent at a Walmart in Salem.
Lavinder said authorities believe that the two left Virginia, heading toward California, that night or early the next day. They traveled cross-country in Tina Smith's silver 2005 Dodge Neon sedan, which was found in a parking lot adjacent to San Francisco International Airport after authorities found Easley.
Shanley said she spotted the girl last Friday, as she sat on a curb outside the northern California store while Easley was begging for money.
The Safeway was within walking distance of the makeshift campsite containing the tent in which Easley and the girl had been staying.
Easley did not resist when police arrested him shortly after 2 p.m. Friday, San Francisco police Officer Albie Esparza said.