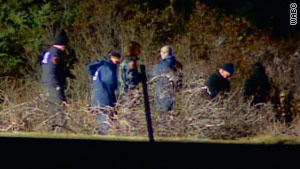 The bodies were discovered during the search for a missing person, police say.
STORY HIGHLIGHTS
NEW: Man says he heard screams and called 911 on May 1
NEW: Missing Maine woman, 22, is thought to be among victims
Remains of four women were found near a Long Island beach
The bodies were discovered during the search for a missing person
New York (CNN) -- Federal agents have joined police in their investigation into the discovery of four female bodies found near a Long Island, New York, beach, according to Suffolk County Police Commissioner Richard Dormer.
"I held a meeting between members of my staff and the FBI's New York office today concerning the discovery of four bodies in Gilgo Beach during the past several days," Dormer said Wednesday. "The FBI has offered all available resources in support of our investigation."
The FBI was not immediately available for comment.
The bodies were discovered during the search for a missing person, police said.
The first body was found Saturday, and three more were found Monday, Suffolk County police said.
All were discovered on a quarter-mile stretch of Oak Beach, "which indicates they were dumped there by the same person or persons," Dormer said. "It's too coincidental that there were four bodies in the same location."
He said police could be dealing with a serial killer but have not been able to sufficiently link the bodies to make that determination.
The bodies were found stuffed in bushes along an isolated strip of waterfront property, Dormer said.
They were in various stages of decomposition and at least one of the bodies could have been there for as long as two years, police said.
Authorities were searching for Shannon Gilbert, 24, of Jersey City, New Jersey, when the bodies were found. She was last seen alive on May 1, CNN affiliate WABC reported.
Suffolk County Detective Lt. Gerard Pelkofsky told WABC that Gilbert worked as a prostitute and had last arranged to meet a client on Fire Island about a mile from Oak Beach, he said.
"Common sense tells us it's not a coincidence," Pelkofsky said.
On May 1, a Long Island resident -- who lives a few miles from where the bodies were found -- said a young woman who "looked like she was partying all night" came to his door at about 5 a.m.
"She was screaming 'Help me, help me!' and said somebody was chasing her," said Gustav Coletti, who lives in the town of Oak Beach.
He described the woman as a "young, light-brown-haired person in her early 20s."
Coletti said he called 911 after opening his front door to the woman, prompting her to flee into the weeds along an embankment near his house.
Moments later, Coletti said, an Asian man driving a dark-colored sport utility vehicle pulled up alongside his home, looking for the woman.
"Things got out of hand at a party and I'm just looking for her," Colletti quoted the man as saying.
When Colletti informed him that he had called the police, the man said that he "should not have done that" and drove off in the direction of where girl had fled, Colletti said.
Meanwhile, police in Scarborough, Maine, issued a statement Wednesday that said they are working with New York authorities in regard to the disappearance of 22-year-old Maine native Megan Watermen.
Watermen was reported missing earlier this year, said police spokesman Joseph Thornton.
Watermen's mother, Lorraine Ela, said police told her "that they do think Megan is one of the victims."
"Nobody will know until DNA or dental records are done," she said.
Authorities say none of the bodies has been identified.
FOLLOW THIS TOPIC