Lawyer: DNA tests shed doubt on conviction of 'stocking strangler'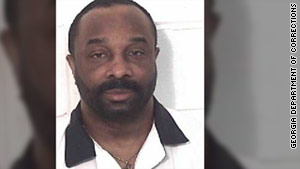 Carlton Gary, 59, was convicted in 1986 of killing at least three women in Columbus, Georgia.
STORY HIGHLIGHTS
Results of DNA tests came out Monday related to the case of Carlton Gary
Dubbed "the stocking strangler," he was convicted of killing 3 women in Georgia
One set of DNA matches Gary's, another does not, and a third is inconclusive
Lawyer says this proves Gary's innocence; district attorney says he's still guilty
(CNN) -- The attorney for the convicted Georgia "stocking strangler" said Monday that new DNA results prove his client's innocence, while a district attorney vowed that he'd remain on death row given a preponderance of evidence tying him to the crimes.
Carlton Gary, 59, was convicted in 1986 of killing at least three women between 1977 and 1978 in Columbus, Georgia, and was considered a suspect in the deaths of four others under similarly gruesome circumstances. The nickname arose after the killer left stockings around the women's necks.
He was hours away from being executed December 16, 2009, when Georgia's Supreme Court issued a stay. One reason was Gary's requests for genetic testing that, he claimed, would clear him using technology that was not available at the time of his conviction.
Law enforcement officials sent four samples, related to the three women Gary was found guilty of murdering, to the Georgia Bureau of Investigation's forensic sciences division. They included vaginal material -- including sperm cells -- from Jean Dimenstein, Kathleen Woodruff and Martha Thurmond, as well as a swab from Thurmond's abdomen.
Results released Monday revealed a DNA match with Gary for the Dimenstein sample, according to District Attorney Julia Slater of the Chattahoochee Judicial Circuit in western Georgia. Nothing definitive could be determined from Woodruff's specimen.
In Thurmond's case, forensic scientists found sperm that came from a male, but it did not match the DNA that Gary provided.
Jack Martin, an Atlanta attorney, said the new information proves that his client did not rape or murder Thurmond. He also pointed to other evidence -- including a shoe print at one crime scene and a bite mark at another -- that suggests, at least, the need for a new trial.
"This evidence ... proves his innocence of the crimes for which he was convicted and sentenced to death," Martin said in a statement.
But Slater said that Gary is still guilty and that there is no need for a new trial.
"We absolutely do not believe that this should undermine the convictions," she said. "We will argue against any sort of new trial."
On Monday, the district attorney requested a status hearing December 20 to re-examine Gary's case.
She also appointed Susan Boleyn as a special assistant district attorney to assist the country's proscution team. Boleyn had been with the Georgia attorney general's office between 1976 and 2009, during which time she had been the state's lead attorney in the case against Gary.
CNN's Greg Botelho contributed to this report.
FOLLOW THIS TOPIC