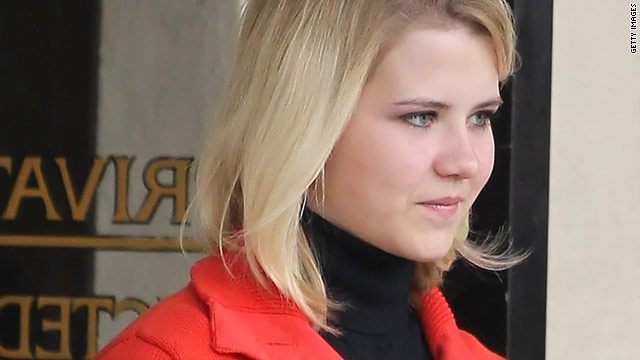 STORY HIGHLIGHTS
Elizabeth Smart now hopes to became a prosecutor, her father says
On Friday, a federal jury found the now 23-year-old's kidnapper guilty
Her mother called the ordeal a victory for women and crime victims
Her father has been a national leader for preventing youth crimes
(CNN) -- Elizabeth Smart, said her father, had "been through hell."
Waking up with a knife at her throat. Whisked away and tied up, then raped day after day. Threatened with death and having her family killed, if she dared speak up or escape. Then, eight years later, recounting all the horrors over three days in a Utah courtroom, in front of a jury and her abductor.
And now, after the federal jury in Utah convicted Brian David Mitchell, Elizabeth Smart wants to get back to court -- this time, by becoming a prosecutor to give voice to other victims seeking justice.
"It's subject to change," Ed Smart told HLN's Jane Velez-Mitchell on Friday, about his daughter's plans to become a lawyer. "But usually when she gets a thought in her mind, she sticks to it."
Hours earlier, the jury found Brian David Mitchell, 57, guilty of kidnapping the then 14-year-old girl and transporting her across state lines intending to engage in sexual activity

Elizabeth Smart thrilled over verdict

Smart jury discusses verdict

Elizabeth Smart kidnapper found guilty
Elizabeth, now 23, hinted at her reasoning while addressing reporters after the verdict. The months of preparation, four-week trial and two days of deliberation, she said, gave her newfound faith in the U.S. justice system and hopeful that her decision to confront her kidnapper in court might inspire other crime victims likewise to speak up.
"I'm so thrilled to stand before the people of America today and give hope to other victims, who have not spoken out about their crimes, about what's happened to them," Elizabeth Smart said. "We can speak out, and we will be heard."
Calling Friday a "wonderful day," her joy, optimism and positive demeanor mirrored that of her parents, Ed and Lois. Still, it also flew in the face of what she testified to going through over nine months in 2002 and into 2003 -- "sealed" to her captor in a ceremony, forced to have sex with Mitchell and watch him have sex with his legal wife, Wanda Barzee, and generally being treated "like an animal."
Ed Smart acknowledged that the abduction put a strain on his marriage with Lois, but their union became even stronger as they learned to lean on one another's strengths. And once Elizabeth was found, the Smarts didn't give up their fight.
Elizabeth herself returned to school, her church and, for the most part, her life prior to her abduction. All the while, the family sought justice in her case and on a national level, with Ed Smart in particular fighting for funding and attention for childhood crime victims and becoming head of the Surviving Parents Coalition.
"Our family feels that we have received so much, that we have to make a difference," Ed Smart told reporters Friday, making a pitch for more funding for the federal Internet Crimes Against Children Task Force Program. "I feel very compelled to send a very strong message to Washington: Our children need something, they have to be saved."
Lois Smart described Friday's verdict and, more generally, her daughter's Elizabeth return to some semblance of normalcy over the previous seven years, as achievements not just for her family, but for women of violent and sex crimes everywhere.
"This is an exceptionally victorious day for us all -- as mothers, as women, as daughters, that ... these things don't have to happen to us," Lois Smart said. "There is a way to put those people behind us, and we can move forward with our lives."
Still, the family's faith in the legal system had been tested in the months after Elizabeth's rescue, when attempts to prosecute Mitchell in the Utah state court system floundered over questions about Mitchell's sanity.
But federal prosecutors took up the case, convinced they could convince a jury that Mitchell, a homeless street preacher, knew right from wrong. During the trial, the defense didn't dispute what Mitchell had done, but they argued that he shouldn't be found guilty because he was insane.
The Smarts never bought the argument, claiming that Mitchell was hiding behind the guise of religion.
"There are people that suffer from mental illness, but Brian Mitchell is not one of them," said Ed Smart. "He is a liar, he is a predator, he is a sex offender."
The prospect of the trial was daunting for Elizabeth, though. Ed Smart recalls talking beforehand with his daughter, who conceded that testifying in such vivid, gruesome detail was going to be extremely difficult. But she went through with it, determined to have the truth be told and have justice prevail.
This is an exceptionally victorious day for us all -- as mothers, as women, as daughters, that ... these things don't have to happen to us.
--Lois Smart
And when the jury issued its verdict -- over the loud singing of Mitchell -- the Smarts stood up and were smiling.
"We wanted to jump up and down and clap," said an exuberant Ed Smart. "We just wanted to yell out."
Even before the verdict came down, Elizabeth Smart was looking beyond the trial. On Thursday night, while the jury was in the midst of its deliberations, Ed Smart saw his daughter looking up how she could finish her Mormon mission in France, finish her undergraduate music studies at Brigham Young University, then apply for law school.
Ed Smart said the family's dealings with law enforcement weren't all positive, recalling how Elizabeth once stuck her tongue out at a prosecutor who asked her to "give [him] a smile" shortly after she was freed. But he credited the prosecution team that eventually won her case, and Elizabeth's strength and conviction, with providing the impetus for her new career focus.
Friday's verdict, he said, helped his daughter to realize how much good can come out of a courtroom, even when victims like her end up reliving horrific crimes.
"It's [provided] closure for her," Ed Smart said of the trial. "A lot of things came out that she did not necessarily want to come public with. But she's been able to move forward with her life."
FOLLOW THIS TOPIC