Former Goldman-Sachs programmer convicted of stealing source code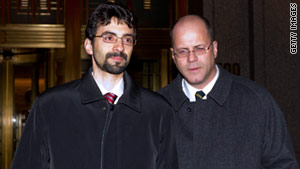 Sergey Aleynikov, left, was convicted of theft of trade secrets and transporting stolen property.
STORY HIGHLIGHTS
Aleynikov faces up to 15 years in prison
Aleynikov quit Goldman-Sachs to go to Chicago start-up
He is convicted of stealing the code to help his new company
High frequency trade technology is highly competitive
New York (CNN) -- A former Goldman-Sachs programmer faces 15 years in prison after being convicted Friday of stealing the company's high-frequency trade technology, according to the U.S. district attorney for the Southern District of New York.
Sergey Aleynikov, 40, was found guilty in Manhattan federal court of one count of theft of trade secrets and one count of transportation of stolen property in interstate and foreign commerce, U.S. Attorney Preet Bharara said in a press release. He was placed on home detention with electric monitoring until his March 18 sentencing date.
Aleynikov was convicted of stealing the source code for Goldman-Sachs' high-frequency trade technology -- a market trading system described by Futures Magazine as "like day-trading on near fatal doses of amphetamines" -- after leaving the firm to accept a job at Chicago-based start-up Teza Technologies.
He was accused of stealing the code to help his new company develop its own program for high-frequency trading, an extremely competitive area that generates millions annually. Firms like Goldman-Sachs fiercely protect their code as companies vie for as much as a millionth of a second advantage over other companies.
Aleynikov told authorities after his arrest in July 2009 that he only wanted to collect "open source files" on which he had worked, but later realized he collected more files than he intended, according to court documents. He also said he did not plan to sell the information, Bharara said in the press release.
Goldman-Sachs spokesman Ed Canaday gave a "no comment" Friday on the case.
Both Aleynikov and his attorney, Kevin Marino, declined to comment on the verdict Friday.
"As today's guilty verdict demonstrates, we will use the full force of the federal law to prosecute those who steal valuable and proprietary information from their employers, whether those firms are on Wall Street or Main Street," Bharara said.
"The brazen theft of intellectual property by Sergey Aleynikov had the potential to cause serious harm to the company, and now he will pay for his crimes. We will continue working with our law enforcement partners to investigate and prosecute corrupt professionals who exploit their access to employer's secrets."