Arraignment set for father of NY subway bomb plotter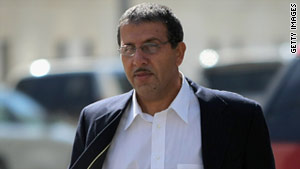 Mohammed Zazi, the father of terror suspect Najibullah Zazi, arrives at federal court in October 2009.
STORY HIGHLIGHTS
Mohammed Zazi is charged with obstruction of justice and witness tampering
If convicted, he could face life in prison
His son has pleaded guilty to a plot to detonate explosives in New York's subway system
New York (CNN) -- The father of would-be bomber Najibullah Zazi is scheduled to be arraigned Thursday after he was slapped with additional charges two days earlier.
Mohammed Zazi, who had faced a single charge of conspiracy to obstruct justice, now faces seven more charges that include obstruction of justice, witness tampering and visa fraud, the U.S. District Court of Eastern New York said Tuesday.
If convicted, the 54-year-old Colorado man could face a maximum life sentence in prison.
"[This] does not change anything from our perspective," said Zazi's defense attorney, Deborah Colson said after the additional charged were filed. "Mr. Zazi intends to plead not guilty next week."
Colson asked that "the public withhold judgment until the facts are revealed."
Federal prosecutors say Zazi conspired with others to "alter, destroy, mutilate and conceal ... glasses, masks, liquid chemicals and containers" with the intent "to impair the objects' integrity and availability for use in one or more official proceedings."
His son, a native of Afghanistan who worked as an airport shuttle driver in Colorado, pleaded guilty in February to a plot to detonate explosives in New York's subway system in September 2009.
The younger Zazi admitted his role in the conspiracy, saying, "In spring 2008, I conspired with others to join the Taliban, to fight along with the Taliban against the United States.
"We were recruited to al Qaeda instead," he said.
While at a terrorist training camp in northwest Pakistan's Waziristan region along the Afghan border, Najibullah Zazi "had discussions with al Qaeda about targets including the New York City subway system," he said.
The younger Zazi said he learned how to make explosives at the camp, later pleading guilty to conspiring to use weapons of mass destruction, conspiracy to commit murder in a foreign country and providing material support to a terrorist organization.
Since Zazi's arrest, two of his acquaintances have been indicted in the case, as well as Zazi's father and uncle.
FOLLOW THIS TOPIC