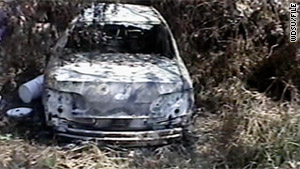 This Chevy Malibu was burned in September 2005 with Henry Glover's body inside.
STORY HIGHLIGHTS
NEW: U.S. Attorney said culture of New Orleans police department is changing
Three current and former officers are convicted in Henry Glover's death
Two others are acquitted of all charges in the September 2, 2005, killing
The case is part of a Justice Dept. review of New Orleans police post-Katrina
Read more about this story from CNN affiliate WDSU.
(CNN) -- Three current and former New Orleans, Louisiana, police officers were convicted Thursday for shooting and burning a man in the chaos following Hurricane Katrina, then later trying to cover up the crime.
Two other officers -- one current and one former -- were acquitted at the close of the 19-day trial.
U.S. Attorney Jim Letten painted the split verdicts as a victory for prosecutors, as well as for the hurricane-ravaged city and its beleaguered police department. The crimes, one of several involving New Orleans police that have been and are set to go to trial, occurred just days after the hurricane hit the city.
"Tonight's verdict is a critical phase in the recovery and healing of this city, of the people ... and this region," Letten said.
"This is a really positive move toward healing."

Glover verdict will help heal
The jury found one-time New Orleans police officer David Warren guilty of manslaughter for killing 31-year-old Henry Glover on September 2, 2005. He was also found guilty of deprivation of rights under color of law -- a charge that relates to abusing one's status as a police officer while breaking the law.
Prosectuors contended that Warren fired at Glover from the police station's balcony after he allegedly saw Glover heading toward the station with something in his hand.
After Glover was shot, bystanders drove the victim to a nearby school looking for help. Instead, the men were allegedly beaten by police officers at the school, who then left the school with a car that had Glover's body in it.
Ex-Lt. Greg McRae was found guilty on four of five counts, including using a fire to commit a felony -- that is, burning the Chevy Malibu with Glover's body inside the car. The jury convicted him on three counts of deprivation of rights under the color of the law, and found him not guilty on one such count.
Lt. Dwayne Scheuermann, facing the same charges as McRae, was acquitted on all counts.
Former Lt. Travis McCabe was found guilty on one charge of obstructing a federal investigation and two counts of making false statements.
Lt. Robert Italiano was acquitted after being charged with making false statements.
The case is part of the Justice Department's Civil Rights Division's ongoing investigation in what it calls "patterns or practices" of alleged misconduct within the New Orleans police department in the aftermath of Hurricane Katrina.
Earlier this year, federal prosecutors announced the indictments of at least four New Orleans police officers accused of killing two men in the infamous Danziger Bridge incident. The shootings occurred at the bridge on September 4, 2005, six days after Katrina slammed into the Gulf Coast.
An indictment alleges that two separate shootings at the bridge resulted in the deaths of a teenager and a 40-year-old disabled man.
Letten said that the New Orleans police department, under recently hired chief Ronal Serpas, has made significant strides in ending corruption and addressing other problems since Hurricane Katrina. And he said the jury's decision Thursday should help address old problems and help the department move forward.
"There was and is a culture that is changing, and I think that needs to be changed," Letten said. "This is part of the process that, I think, helps to change that culture."
FOLLOW THIS TOPIC