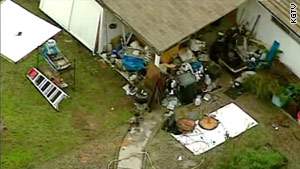 Authorties burned this cache of explosives in Escondido, California, on Thursday.
STORY HIGHLIGHTS
NEW: "This has gone according to plan," a sheriff's spokeswoman says
Authorities have said the house must be burned because it is dangerous
Some residents evacuated from area, part of interstate closed during burn
The suspect is arrested on bomb-making and bank robbery charges
(CNN) -- Authorities set fire Thursday to a Southern California house that held the nation's largest ever cache of homemade explosives.
The single-story suburban house in an unincorporated area near Escondido, California, was engulfed in flames, shooting three to four stories high, and a towering black plume rose like chimney smoke. The controlled burn didn't appear to threaten nearby houses and was called successful in incinerating the materials without any explosions, officials said.
"This has gone according to plan," said Jan Caldwell, spokeswoman for the San Diego, California, Sheriff's Department. Authorities waited for the right weather conditions to produce a straight, thick plume, she said.
"It is highly unlikely that anything is left that is toxic," Caldwell said. "Right now, I believe that the worst of the situation is over."
The house also contained hazardous chemicals and grenades.
"You probably heard some snaps and pops, and that was from the hand grenades in there and some ammunition in there," Caldwell said.
Sixteen air monitoring devices, including one as far away as 2 miles, registered some toxicity but the pollution dissipated, Caldwell said.
"There was a spike in air toxicity, but it's fine and it's all gone," Caldwell said.
Residents may be able to return to their homes as early as Thursday afternoon, she said.
The house is expected to smolder for much of Thursday, and on Friday, bomb and arson crews are scheduled to sift through the ashes and debris to make sure no hazardous materials remain, Caldwell said.
Sheriff William Gore told CNN that removal of the charred debris should begin next week.
About 130 homes had been evacuated in the suburban neighborhood. Authorities had also built a 16-foot wall coated with a fire-retardant gel on the property to protect a nearby house, and they also sprayed water on another adjacent house during the burn.
The house was deemed too dangerous for bomb squads because hoarded clutter inside the house was feared to conceal a large volume of volatile explosives, authorities said.
San Diego County authorities decided the fire was the safest way to destroy the homemade explosive and hazardous chemicals inside the house.
A federal judge earlier cleared the way for authorities to set afire to the house, which a prosecutor called a "bomb factory."
George Djura Jakubec, the resident of the home, had asked the judge Wednesday to delay the home razing so that his lawyer could retrieve evidence.
But the judge ruled against the appeal.
Part of a nearby interstate was shut down during the burn, the sheriff's department said.
Numerous bomb experts and hazardous materials teams were on site to help with the burn, the sheriff's department said.
The case began November 18 when officials found about 9 pounds of hexamethylene triperoxide diamine, or HMTD, in the backyard of the home after a gardener accidentally ignited some of the material.
One expert likened the 9 pounds to a large car bomb, which could blow out the house's windows and doors and damage adjacent houses.
Inside the home, bomb crews discovered more HMTD and another type of homemade explosive: pentaerythritol tetranitrate, or PETN.
Jakubec, a 54-year-old computer software consultant, was arrested and is being held in lieu of $5 million bail on bomb-making and bank robbery charges.
CNN's Angela Massie contributed to this story.
FOLLOW THIS TOPIC