Murder suspect's dad: Help sell cars, get an interview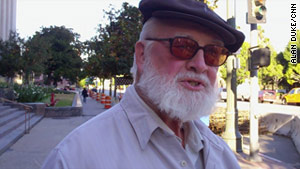 David Beresford-Redman sought the media's help in selling three cars belonging to his son, Bruce Beresford-Redman.
STORY HIGHLIGHTS
Bruce Beresford-Redman's dad offers interview in exchange for facilitating car sales
A judge denies Beresford-Redman's motion to dismiss his arrest warrant
The former "Survivor" producer is accused in Mexico of killing his wife
He is fighting extradition from Los Angeles to Mexico
Los Angeles (CNN) -- Moments after a federal judge denied former "Survivor" producer Bruce Beresford-Redman's motion to have his murder arrest warrant dismissed, his father made an unusual offer to reporters.
David Beresford-Redman, who has shunned cameras and microphones until now, walked down the steps of the U.S. District Courthouse after his son's hearing handing out a sheet describing three cars.
"The first organization that comes up with buyers for those cars will get an interview on camera," Beresford-Redman said.
The cars were owned and driven by his son and daughter-in-law, Monica Beresford-Redman, before she was found dead in a sewer at a Cancun, Mexico, resort, he said.
Since Bruce Beresford-Redman is facing extradition to Mexico to face a murder charge, his father and mother have custody of their two children and control of their property.
"They're part of the estate," he said. The $56,000 raised from the sale would go to the young children, he said.
"They're great cars," Beresford-Redman said.
The sheet describes a 2003 Porche Targa as a "gorgeous, fast, clean car."
The 1998 Mercedes-Benz SL Roadster is "like nothing you ever drove."
As for the 2004 Chevy Suburban, "If you want a SUV, this is for you."
Tuesday's hearing made it clear Bruce Beresford-Redman wouldn't be needing the vehicles anytime soon.
U.S. Magistrate Suzanne Segal rejected his lawyer's argument that his arrest on a Mexico extradition request was unconstitutional because the government has not presented evidence of probable cause.
Defense lawyer Vicki Podberesky said afterward she would likely appeal the decision.
Beresford-Redman had already been denied bail while he awaits extradition. Segal ruled last week that there was a risk Beresford-Redman would flee during the extradition process, which could take months.
A Mexican judge signed an "aggravated homicide" warrant last May accusing Beresford-Redman of killing his wife, Monica Beresford-Redman, "by asphyxiating her" at the Moon Palace Resort on April 5. Her body was found in a resort sewer on April 8.
It took six months for the paperwork to wind its way through law enforcement and diplomatic channels before he was arrested at his Rancho Palos Verdes, California, home last month.
FOLLOW THIS TOPIC